FRIEND OF ICOGRADA, FRIDA LARIOS, WINS THE 2005 STUDENT SIGN DESIGN AWARD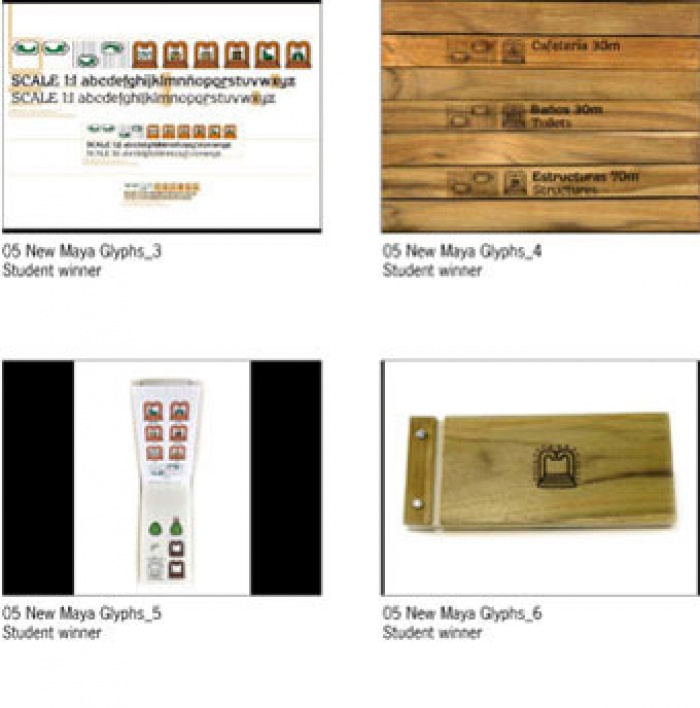 24.10.2005 News
Hertfordshire (Great Britain)
- On 12 October 2005, at a prestigious ceremony at the Royal Society of Arts, the Sign Design Society presented the winners of the 2005 Sign Design Awards with their prizes. The judges had a challenging task and commented on the overall scope and quality of the entries. In particular, they were pleased to see many innovative and exciting entries from students, which bodes well for the future. In recognition of this, the judges decided to award several commendations in this category.
The 2005 Awards attracted entries from around the globe. Countries featured were Belgium, Bulgaria, China, El Salvador, England, Germany, Greece, India, Iran, Ireland, Japan, Korea, Scotland, Spain, USA and Wales.
The winner in the Student category, which was sponsored by Focal Signs and Labels, was Frida Larios for the New Maya Glyphs Archaeological Site in El Salvador. The judges loved the use of vernacular images based on original Maya Glyphs and the excellent use of natural materials completely apposite to this historic site. There was also a very clever transfer of the signage images into other wayfinding items, including the beautiful guide book. The script devised was felt to be both elegant and in keeping with the surroundings. This would be a positive contribution to people s experience when visiting the site and shows the value of designing good signs which relate well to the subject. Frida Larios received her trophy from Barry Gray, Chairman of the Society,on behalf of Tony Baugh, Key Account Manager of Focal Signs and Labels.
Frida Larios is currently studying for an MA in Communication Design at Central Saint Martins College of Art and Design. With a wide variety of new ideas and the very high standard of entries in the Student category, which bodes well for the future of the industry and profession, several commendations were also given in this category. Christian Bird, Aynur Ciftci and Venera Stoycheva were presented with their certificates by Barry Gray and there were two other recipients of commendations, Katrin Burghardt and Saira Hussain, who were unable to be present.
The Sign Design Society was founded in 1990 to raise awareness of all aspects of signing and wayfinding and to draw together the many types of people involved, from academics to sign manufacturers, sign designers to wayfinding consultants. Bad signing is at best irritating and, at worst, dangerous and life-threatening. Good signing often goes unnoticed. The Sign Design Awards aim to highlight examples of excellence and innovation in the design and implementation of signing.
You can find out more about The Sign Design Society by visiting the SDS website (
www.signdesignsociety.co.uk
) or by contacting the Society at one of the coordinates given below.
---
For further information please contact:
Sheila Torrens
Administrator, The Sign Design Society
66 Derwent Road
Kinsbourne Green
Harpenden
Hertfordshire
AL5 3NX
T/F: 01582 713556
E:
enquiries@signdesignsociety.co.uk