Fourth Design Montreal Open House to take place 1-2 May 2010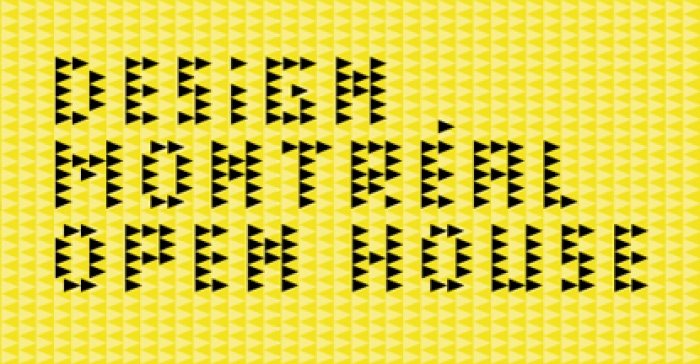 08.04.2010 News
Montreal (Canada)
- Helen Fotopulos, Executive Committee member responsible for Culture, Heritage, Design and the Status of Women, has unveiled the program for the fourth annual Design Montreal Open House. She was accompanied for the occasion by the event spokespersons, actress Macha Limonchik and the Creative Director and founder of the orangetango agency, Mario Mercier. A total of about 100 Montreal design agencies, projects and presentation venues will be accessible to the public at no charge on Saturday and Sunday, 1-2 May.
Step into designers' worlds
As usual, visitors will have the opportunity to meet the winners of national and international design competitions in their work surroundings. Architects, fashion designers, graphic designers, industrial designers, interior designers, landscape architects and urban planners will show off their latest achievements using models, drawings, photos, video screenings, interactive installations and more.
"The Open House is a chance for Montrealers to get to know the professionals who are responsible for Montreal's designation as a UNESCO City of Design and to go backstage in the world of design creation," Ms. Fotopulos said. "This is a superb opportunity to rub shoulders with designers and to exchange ideas with visionaries who transform our everyday surroundings into works of art."
For her part, Ms. Limonchik said: "In the work of our designers, we see the reflection of what we are today as well as hints of what we'll become tomorrow. But above all, designing is about a passion for transforming. The raw materials, first of all, but, in the process, our perceptions as well. Our designers re-imagine our vision of the world."
And Mr. Mercier added: "Our professions are viewed, judged and appreciated through the physical objects, images and spaces that result from our projects. This event is an invitation to visit our studios and offices and see how we work. It's a chance to truly get to know the creative process."
Design for all!
Visitors of all ages - from inquisitive first-timers to seasoned design aficionados - will be delighted. The event offers a diverse line-up of programming, including some activities that are brand-new this year.
Members of the public will be able to soak up the sights and sounds of the city thanks to themed walking itineraries offered as podcasts, explore the works of emerging designers, enjoy exhibitions by graduating students in the various design and architecture disciplines, and visit art and design landmarks in Montreal. In addition, a wide range of family-friendly events is planned, with entertaining and educational activities for young people aged 10 and up.
Local talents, international reputations
This year, nine talented designers will be showcased as part of the exhibition-performance Regard 9 at the Society for Arts and Technology (SAT), Saturday, May 1, from 17:00-20:00. Selected by guest curator Frédéric Gauthier, founder and head of comic-book/novel publisher La Past?que, these emerging designers share an approach to their practice that is off the beaten path, favouring creative processes that blend artisanal manufacturing techniques with intensive research into materials, their origin and their history. Several of them have had their work shown abroad. Visitors are invited to watch them create one-of-a-kind works right before their eyes. This activity will be followed by a party lasting until midnight.
Create your itinerary and use public transportation
The Design Montreal Open House organisers, in partnership with the STM and Bixi, invite everyone to take public transit, ride bicycles or walk to the participating venues in each neighbourhood. An interactive map will be available on the
www.DesignMontrealOpenHouse.com
website to help visitors plan itineraries based on their interests and share them with Facebook friends. And four bloggers will suggest activities and reveal their favourites.
The Design Montreal Open House is an initiative of the Ville de Montreal in collaboration with the professional design community and in partnership with the Minist?re de la Culture, des Communications et de la Condition féminine, pursuant to the Agreement on the Cultural Development of Montreal. The Design Montreal office was created in January 2006 by the Ville de Montreal. Its mission is to implement the municipal action plan aimed at improving design throughout the city and positioning Montreal as a UNESCO City of Design.
To view the full program schedule, choose which sites to visit and which designers to meet, visit
www.DesignMontrealOpenHouse.com
.
---
For more information, please contact:
Hél?ne Reeves
T: +1 514 872 5323 / +1 514 573 6892