GIANCARLO ILIPRANDI RECEIVES AN?HUAC IN DESIGN MEDAL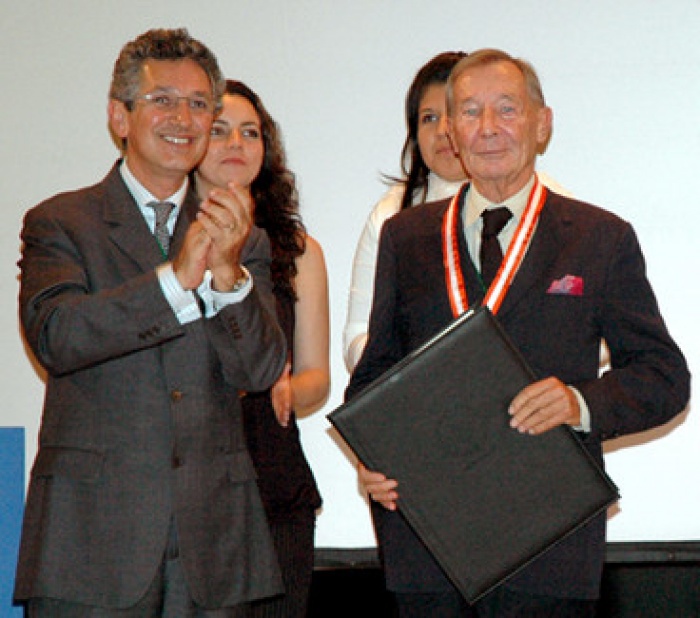 14.10.2008 News
México City (México)
- Past Icograda President and Lifetime Friend, Mr. from Milano, Italy, has received the An?huac in Design Medal from the
School of Design at the An?huac University
in Mexico City, Mexico, an Icograda Education Member. The award was given in recognition of his renowned world class career as a Graphic Designer, and for being an example and leader in design tendencies.
In the past, the medal has been granted to well known designers such as Giuseppe Zeca, Peter Olpe, Peter Schneider, Kenji Ekuan and Luis Almeida, among others.
About Giancarlo Iliprandi
Giancarlo Iliprandi graduated in painting and stage design at the Brera Accademia di Belle Arti. In 1953 he opened a graphic design studio and in 1993 he founded Iliprandi Associati, which deals with corporate, editorial and environmental communications. Author of several books and publications in periodicals, numerous articles and short essays, he is currently teaching at the Faculty of design at in Italy, an Icograda Member School.
Mr. Iliprandi is an honorary member of AIAP and ADI. He has won several prizes and awards including a Gran Premio Internazionale at the XIII Triennal in Milan, a certificate of merit at Typomundus 20/1 "for the outstanding contribution to development of graphic art of the 20th century", eight mentions at the ADI Compasso d'Oro and three Compasso D'oro. Milan Polytechnic awarded him an honorary degree in 2002.
Visit
Giancarlo Iliprandi's website
.
---
For more information on the An?huac in Design Medal, please contact:
L.D.G. Mónica Puigferrat Novella
Coordinadora de Difusión
Licenciatura en Dise?o Gr?fico
Escuela de Dise?o
Universidad An?huac
T: +52 56 27 0210 x 8448/8128
E:
mpuigferrat@anahuac.mx
W:
www.anahuac.mx