GOOD DESIGN PRESENTATION (GDP) 2006, ASIA'S LARGEST DESIGN FAIR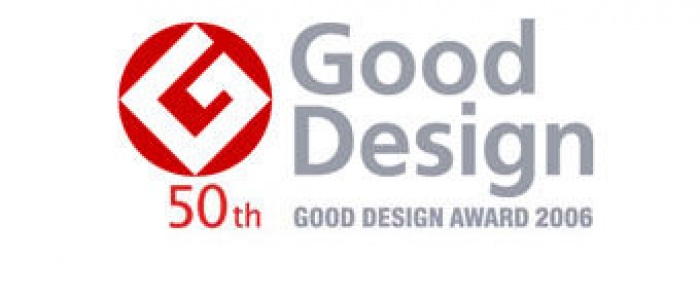 25.07.2006 News
Tokyo (Japan)
- Japan Industrial Design Promotion Organization (JIDPO), a comprehensive design promotion body, is pleased to announce the Good Design Presentation 2006. "This design fair is a commemorative project celebrating the 50th anniversary of the Good Design Award," said G-Mark chairman of the jury, Toshiyuki Kita. The event is scheduled for 23 > 26 August at Tokyo Big Sight (Tokyo International Exhibition Center). Management support is provided by Tanseisha Co., Ltd. (Taito-ku, Tokyo; president and CEO, Makoto Watanabe), a major event management firm.
Introducing the Good Design Presentation
The Good Design Presentation (GDP) 2006 is Asia's largest design fair. Here, nominees are announced for this year's Good Design Award in the only system of its kind in Japan for evaluating and recognizing excellence in design. Approximately 2,500 Good Design Award entries for fiscal 2006 that have passed the first screening are selected in the categories of Product Design, Architecture and Environment Design, Communication Design, New Territory Design, and Long-Selling Good Design*. Visitors can see the latest in design from a spectrum of fields under one roof.

Stage Events
Presentations and screenings take place at the venue on specially erected stages, given by screening committee members and designers in various fields including automotive design. Designers in hot fields discuss topics of interest. Through wide-ranging programs, the GDP educates many visitors on the ties between design and everyday life and inspires people by revealing design's potential to give us a glimpse of the future. It is acclaimed as an enjoyable way to learn about design. This year, an extra day has been added to the event, affording time to introduce these new projects and in anticipation of greater attendance. The event is expected to draw some 40,000 visitors from Asia and around the world.

One of the exhbition zones will be dedicated to design communication.

Design Communication
In this exhibition zone, companies, organisations, and nationwide design institutes that fulfill vital roles in our everyday lives in many fields share their work and business ideals through design.

Exhibiting Companies (34)
RC Japan Co., Ltd., Isuzu Motors Design Center, Inax Corporation, Willcom, Inc., Okamura Corporation, Orix Real Estate Corporation, Studio for Heuristic Learning Environments, Tokyo Lights (International Design Competition for Street Lighting), Cuore ed Amore Corporation, CSK Holdings Corporation, Shiseido Co., Ltd.,
Sharp Corporation, Shoei, Star Flyer Inc., Sumitomo 3M Limited, Sekisui House, Ltd., Denso Corporation, Tokyo Electric Power Company, Incorporated, Token Nas Stainless Co., Ltd., Toto Ltd., Nikko Company, Nissan Motor Co., Ltd., Plus Corporation, Planet, Inc., Hokkaido Good Design Competition, Hoya Corporation Vision Care Company, Honda R&D Co., Ltd., Microsoft Corporation, Matsushita Electric Works, Ltd., Misawa
Homes Co., Ltd., Mitsubishi Motors Corporation, Yaskawa Electric Corporation, Radishbo-ya Co., Ltd., and Recruit Cosmos Co., Ltd.

Exhibiting Schools (8)
Osaka University of Arts, Graduate School of Engineering Osaka University, Kyushu University User Science Institute (USI), Tama Art University, Chiba University (National University Corporation Chiba University), Tohoku University of Art & Design (TUAD), Nihon University College of Art, and Musashino Art University (MAU)

Exhibition Title
Good Design Presentation (GDP) 2006
Open to the Public: 23 > 26 August

23 August 18:00 to 21:00
24 August 10:00 to 18:00
25 August 10:00 to 20:00
26 August 10:00 to 16:00

Location
East Exhibition Hall, Tokyo Big Sight (Tokyo International Exhibition Center)
3-21-1, Ariake Koutou-ku, Tokyo 135-0063, Japan

Exhibiting Company/Institute:1400 (approx)
Entrance Fee:1,000 yen(include TAX/4 days pass)

Organisers:
JIDPO and Tanseisha Co., Ltd.

Supporters:
Ministry of Economy, Trade and Industry (METI), Tokyo Metropolitan
Government, Japan Chamber of Commerce and Industry (JCCI), Japan Keirin
Association, Japan Broadcasting Corporation (NHK), Asean-Japan Centre, ICSID

Special Assistance:
Japan Design Net (JDN) and Mindshare Inc.

Art Direction:
Kashiwa Sato

---

For further information please contact:
Keiko Arima (Ms)
E: gdp@g-mark.org

The Good Design Award 2006 is an Icograda endorsed event.