CREATING ADDED VALUE THROUGH DESIGN FOR EXPORT PRODUCTS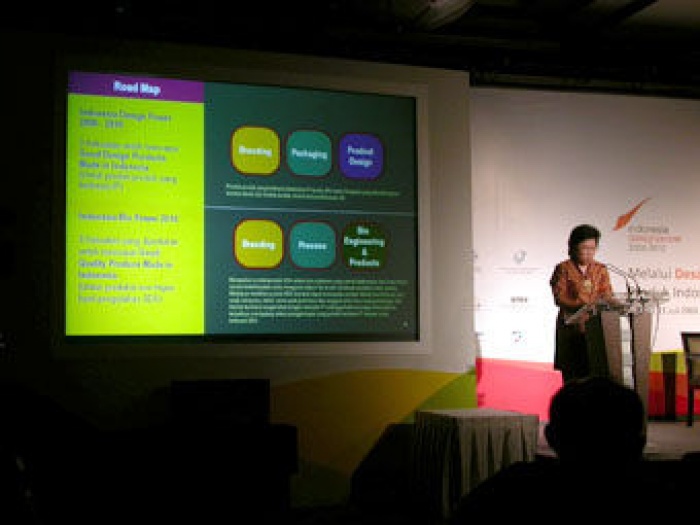 25.07.2006 News
Jakarta (Indonesia)
- Indonesia's four-year plan to enhance its export product quality through design was unveiled at the recent
Indonesia Design Power Seminar & Workshop
in Jakarta, held from 12 >15 July 2006. The main organiser was the Indonesia for the World Consortium. The proceedings were officiated by His Excellency Bapak Fahmi Idris, Minister of Industry, Her Excellency Ibu Dr Mari Elka Pangestu, Minister of Trade, Her Excellency Ibu Mufidah Jusuf Kalla, Head of Dekranas, His Excellency Bapak Suryadharma Ali, Minister of Cooperation and SMEs, Bapak Mohamad S. Hidayat, Head of KADIN and Bapak Rahmat Gobel, Indonesian Chamber of Commerce and Industry..
Speakers during the seminar included Ridwan Kamil (Urbane, Indonesia), Saxone Woon and Theresa Yong (Design Alliance Singapore), Punlarp Punnotok (Design Alliance Thailand), William Harald-Wong (Design Alliance Malaysia), Shauna Li Roolvink (Brandhub, Singapore) and Jean Pierre Pirson (Interni, Belgium)
The release of the plan was followed by a two-day workshop for designers (furniture/living, packaging, crafts), entrepreneurs of SMEs with export potential, scholars and representatives from policy-making government bodies.
---
For further information please contact:
National Design Centre
W:
www.designcenter.or.id