GUY SCHOCKAERT HONOURED WITH 2007 ICOGRADA'S PRESIDENT'S AWARD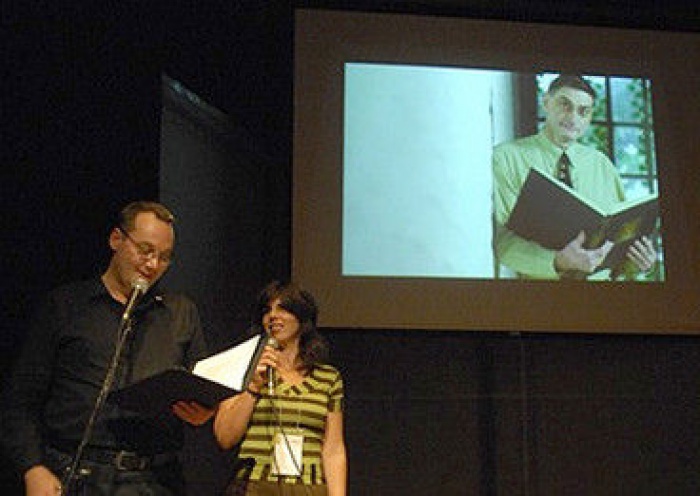 31.10.2007 News
Montreal (Canada)
- Beginning in 1970, the Icograda President's Award has been presented on a biennial basis to honour an outstanding contribution to the work of Icograda. This year, Jacques Lange, Icograda President 2005-2007 selected Guy Schockaert as the recipient. The presentation was made on 25 October 2007 in La Habana, Cuba at the Museo Nacional de Bellas Artes, following the first day of the Icograda General Assembly 22.
Guy Schockaert was born in Courtrai, Belgium in 1949. After studying graphic arts and visual communication at the Institut Saint-Luc, Bruxelles he became an assistant to Michel Olyff before becoming self-employed as a graphic designer in 1971. His graphic studio "Ad hoc Design" specialises in corporate identity, books and brochures for a range of clients including Alfac, 3M, Plantin, Sic and RTBF. Schockaert advocates "rigour and emotion" in the message.
Schockaert has given numerous talks and is a tireless proponent of professional organisations such as Icograda. In total, he served on the Icograda Executive Board for eight years: as Treasurer from 1993-95; as President Elect from 1995-97; as President from 1997-99; and Past President from 1999-2001.
He is one of the initiators of "Design for the World", an organisation dedicated to finding design solutions to humanitarian problems. Since 2003 he has been President of Ydesign Foundation in Belgium. In the last five years, he has taken up teaching, of which he says, "Teaching is a hard and difficult job...Passing on a single message per session is already a success."
In his presentation, Mr. Lange recognised Schockaert's outstanding contribution to Icograda and the design profession, particularly his relentless efforts to foster unity and understanding amongst designers from all over the world. He read messages from past Icograda board members and Icograda presidents while a video tribute to 'Mr. Icograda' played in the background.
Following a brief speech, Mr. Schockaert concluded, "If I had three words to summarise this quick address to you, dear friends and fellow designers, they should be about commitment, listening and respect. Commitment to a profession and the organisations that support it. Listening to the world outside. Respect for anyone who is in need for the better. My experience with Icograda has a lot to do with passion. And passion never gives up."
The previous recipient of the award was Craig Halgreen in 2005, then Europe's Corporate and Communications Manager of Sappi Fine Paper. Mr. Halgreen received the recognition for his role in Sappi's 'Ideas that Matter' programme.
---

For further information please contact:

Brenda Sanderson
Icograda Managing Director
455 Saint Antoine Ouest, SS10
Montreal, QC
H2Z 1J1 Canada
T. +1 514 448 4949, x 226
E: secretariat@icograda.org
About Icograda

Icograda (the International Council of Graphic Design Associations) is the world body for communication design. Founded in 1963, it is a voluntary assembly of associations concerned with design practice, management, promotion, education, research and journalism. Icograda promotes communication designers' vital role in society and commerce and unifies the voice of visual communicators worldwide. The vision, mission and core values of the Council are collectively embodied in the statement 'leading creatively' and manifested through our Members' diverse activities to use design as a medium for progressive change. www.icograda.org