HECTOR VILLAVERDE RECEIVES THE EDUARDO MUNOZ BACHS HONORARY AWARD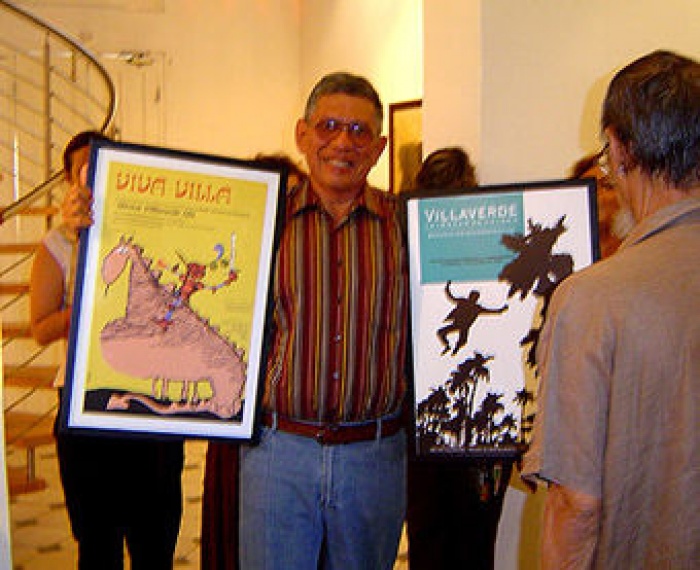 29.04.2007 News
La Habana (Cuba)
- On Friday, 27 April 2007, Hector Villaverde, President of Prografica, received the "Eduardo Munoz Bachs Honorary Award", in a ceremony that took place on the occasion of World Graphics Day.
The award, a recognition to lifetime achievement in graphic design, is given yearly by the Visual Artists Association (UNEAC). The jury recognised Mr. Villaverde's solid contribution to Cuban design in the past 40 years and his commitment to the promotion of cultural values in our profession.
The "Eduardo Munoz Bachs Honorary Award" was established in 2005. The two previous recipients are Alfredo Rostgaard and Fremez.
Mr. Villaverde received a diploma which recreates one of Bachs' posters, in this case "Viva Papi", a film poster of 1982.
The ceremony took place in the Villa Manuela Gallery and was attended by several designers, photographers and critics.
---
For further information please contact:
Comite Prografica Cubana
Calle San Ignacio y Teniente Rey, Plaza Vieja
Centro de Desarrollo de las Artes Visuales
La Habana
C.P. 10100
Cuba
T: + 537 861 2779
F: + 537 204 2744
E: villaver@cubarte.cult.cu
W: www.prografica.cult.cu

About Prografica
Prografica is a Professional Member of Icograda.