HELMUT LANGER APPOINTED HONORARY PROFESSOR BY NAGOYA UNIVERSITY OF ARTS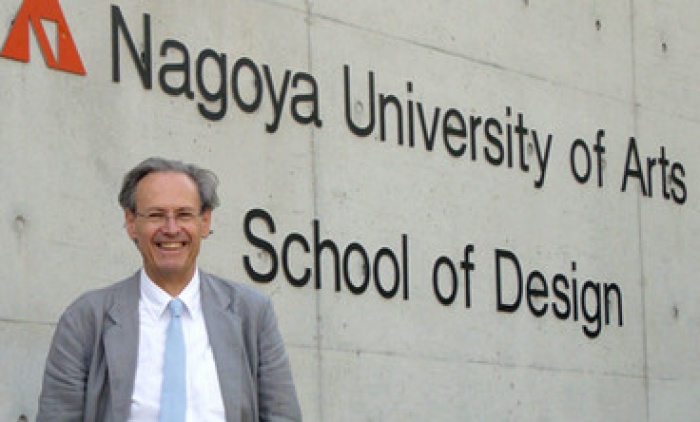 17.08.2008 News
Koeln (Germany)
- Past Icograda President, Helmut Langer of Germany, is the first non-Japanese designer to receive the title of Honorary Professor from the Nagoya University of Arts in Japan. The title has been granted in recognition and appreciation of his brilliant international achievements in the field of design and of the important contribution he has made to design education at the Nagoya University of Arts. Particular mention has been made of his programmes for 'Green Design' and 'Social Design'. The title of Honorary Professor has only been granted on three previous occasions to foreigners by the Nagoya University of Arts and Helmut Langer is the first German designer to receive such an honour from any Japanese University.
Since 1993 Helmut Langer has being a visiting lecturer and has directed workshops at the Nagoya University of Arts. These lectures have been translated and circulated in Japan and are regarded as the seminal work for responsible and ecological design.
In addition his contribution to the design scene in Japan includes:
1989 as the then President of Icograda, he presided over the first board meeting of the organisation in Tokyo, the first to be held in Asia. He also took co-responsibility for the Icograda-JAGDA Pan Pacific Design Congress Tokyo 1989 - the first international design conference in Japan.
1990 Appointed adviser to the International Design Centre Nagoya (IdcN).
1991 Member of the Jury for the International Design Competition in Osaka.
Adviser to the Japan Design Foundation for design conferences in Kobe and Fukuoka
Speaker at design conferences in Kobe and Fukuoka.
2002 Guest Professor at the Nagoya University of Arts in charge of multi cultural communication design projects including one for the official 'Germany in Japan' Year, in cooperation with the Goethe Institute and also for the 'Japan EU Year' by the Japanese Government.
About Helmut
Helmut Langer is director of Helmut Langer Design - Sustainable Conception and Visual Design for Global Communication - based in Cologne Germany.. He is Chairman of the advisory board of the Institute for Design Research in Germany and a member of the International Institute for Information Design (IIID), Austria. He is an Honorary Member of the Graphic Design Biennale, Brno (CZ) and of the International Poster Biennale in Mexico. He lectures at Ecosign / Akademie fur Gestaltung in Cologne.
He served as Board Member and President of Icograda from 1987 to 1993. As the only German designer he was a contributor to the European White Book on Design, published by BEDA for the European Commission. He has spoken at design conferences and conventions throughout the world and has served as juror for innumerable international design competitions. His recent international commitments, in addition to his work in Japan, include:
2007 Lecturer at the National Institute of Design (NID) Ahmedabad, India.
2008 Lecturer at the Hangzhou Normal University and the Tongji University in Shanghai, China.
2008 Invited to speak at Universidad Autonoma Metropolitana in Mexico City.
---
For more information, please contact:
Helmut Langer
P.O. Box 51 07 13
50943 Koeln
Germany
T: +49 221 38 87 29
F: +49 221 34 29 85
E:
email@helmut-langer.eu
W:
www.helmut-langer.eu