HKDA AWARDS 07 EXHIBITION NOW OPEN IN INNOCENTRE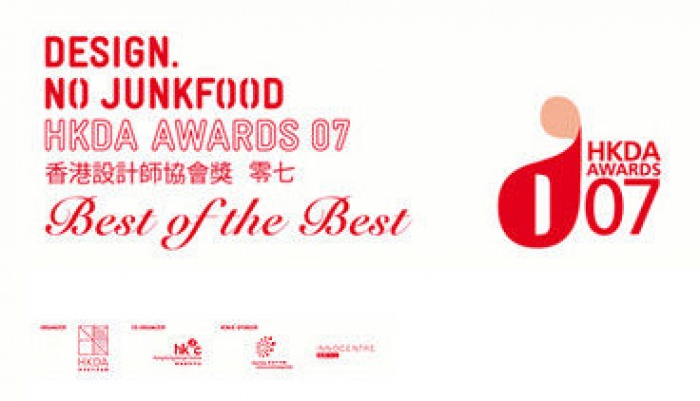 08.01.2008 News
Hong Kong (China)
- In order to showcase design to the general public, Hong Kong Design Centre has co-organised with Hong Kong Designers' Association to bring the "HKDA Awards 07" Exhibition, one of the exceptional Hong Kong design awards exhibitions, to the InnoCentre from 8-30 January 2008.
Organised by the Hong Kong Designers Association (HKDA), the HKDA Awards has been a who's who of design excellence in Hong Kong and Asia Pacific for over 30 years. It is a comprehensive, multi-disciplinary award for professional designs in the fields of graphic, product, spatial and new media. The exhibition showcases 90 winning designs from the graphic, product, spatial and new media categories based on the theme of the HKDA Awards 2007, "Design. No Junk Food". This is a statement of HKDA's determination to promote professionalism and higher quality in design. HKDA Awards is an Icograda endorsed event and the most prestigious platform for the best design works in Asia-Pacific, and the region's design competition with the highest "entry barrier" in terms of professional quality.
For complete HKDA Awards detail, please visit the Hong Kong Designers Association s website:
www.hongkongda.com/awards07/
Venue:
Exhibition Chamber 1, InnoCentre,
72 Tat Chee Avenue,
Kowloon Tong
Dates:
8 > 30 January 2008
Hours:
10:00 > 19:00, Monday > Sunday
Admission:
Free of charge
---
For further information please contact:
T: +852 2522 8688
E:
info@hkdesigncentre.org
W:
www.hkdesigncentre.org

About the Hong Kong Design Centre
Hong Kong Design Centre (HKDC) is a non-profit organisation that works with government bodies and associations related to industry, commerce, trade, education and culture, to promote design as an essential component in business and to increase awareness of the ways in which design can contribute to our quality of life and prosperity. Founding members include the Hong Kong Designers Association (HKDA), the Interior Design Association Hong Kong (HKIDA), the Hong Kong Fashion Designers Association (HKFDA), and the Chartered Society of Designers Hong Kong (CSDHK). The Hong Kong Design Centre is an Associate Member of Icograda.

About Hong Kong Designers Association
The Hong Kong Designers Association (HKDA) was founded in 1972.The Association is the first of its kind in Hong Kong, and is a design body to advocate public interest in design and higher professional status for practising designers in Government, cultural, entertainment, commercial and industrial sectors, for full-time, part-time teachers and administrators on the academic side of designing. HKDA is a Professional Member of Icograda.