Icograda announces 2011 honourees at IDA Congress opening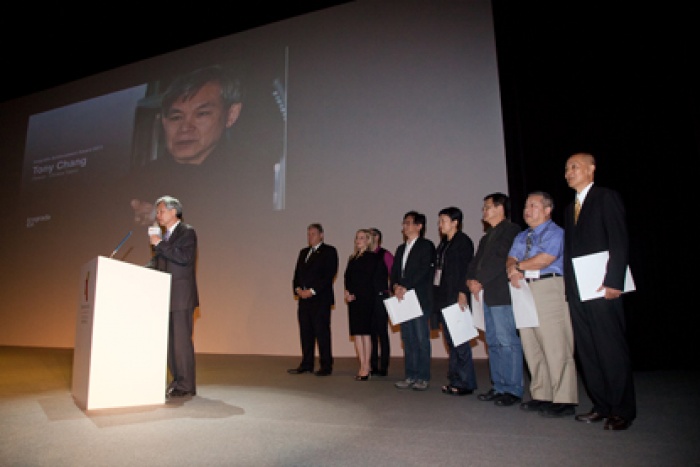 24.10.2011 News
Taipei (Taiwan – Chinese Taipei) – Icograda announced the recipients of its highest honours – the President's Award, the Education Award and the 2011 Icograda Achievement Awards. Russell Kennedy honoured Mervyn Kurlansky (Denmark) with the President's award. Apex Pang Soong Lin (Taiwan – Chinese Taipei) accepted the Icograda Education award. Achievement Awards were presented to Lin Horng-Jer, Stony Cherng, Tzung-Kuei Yang, Han-Pin Chen, Taddy Ho and Tony Chang. The announcements were made on 24 October, the opening day of the inaugural IDA Congress. President Kennedy made note of the significance of Tony Chang's role in developing the inaugural IDA Congress.
The 2011 IDA Congress is the key initiative of the International Design Alliance. The congress is a unique gathering of thought leadership exploring the intersection between design and five key sectors of global relevance: economic development, the Internet, biotechnology, urbanism and international migration. The Congress programming brings together designers with non-design stakeholders to promote the value of design and explore design-led approaches as an enabler of innovation. The Congress theme – Design at the Edges – highlights the edges between design practice and other fields having a stake in design; the blurring of the boundaries between the design disciplines, as well as their unique attributes; and 'cutting edge' work and ideas – thinking that pushes the boundaries of all disciplines.

In presenting the Icograda Education Award, President Kennedy also noted the launch of the Icograda Design Education Manifesto 2011 and Iridescent, Volume 1, 2009–2011 on 27 October during the Icograda General Assembly 24.
---
About the recipients
Mervyn Kurlansky (Denmark)
Icograda President's Award 2011
Beginning in 1970, the Icograda President's Award has been presented on a biennial basis to honour an individual's an outstanding contribution to the work of Icograda.
Mervyn chaired the London Seminars from 1996 to 1999. For the 25 anniversary, Mervyn edited Masters of the 20 Century: The Icograda Design Hall of Fame, a comprehensive 100 international designers who spoke at the London Seminars.
During his term as President, Mervyn oversaw one of the biggest transitions of Icograda's history – nurturing the IDA from an idea into a functioning alliance. Along with Icsid President Luigi Ferrara, Mervyn translated the partner's 'Host City' project into what has become a thriving Secretariat located in Montreal, Canada. President Kennedy highlighted the significance of the award being bestowed on the opening day of the inaugural IDA Congress, given Mervyn's longstanding commitment to multidisciplinary collaboration and vision for the IDA.
Beyond his Icograda accomplishments, Mervyn has led a distinguished professional career. After serving as the Graphics Director of Planning Unit, the design consultancy service of Knoll International, in 1969 he joined Crosby/Fletcher/Forbes and in 1972 co-founded Pentagram. His work is in the permanent collection of the Museum of Modern Art, New York and has been featured in several publications and exhibitions worldwide.
Mervyn is a Fellow of the Chartered Society of Designers, the International Society of Typographic Designers and the Royal Society for the encouragement of Arts, Manufactures & Commerce. He is a member of Alliance Graphique Internationale and the Association of Danish Designers.
Apex Pang Soong Lin (Taiwan - Chinese Taipei)
Icograda Education Award 2011
The Icograda Education Award was created in 2006. It is presented to an educator from a member institution of the Icograda Education Network in recognition of outstanding innovation or achievement in design education.
Above: Apex Pang Soong Lin accepts the 2011 Icograda Education Award. Photo: Sean Teegarden

Apex has been an acclaimed mentor of design in Taiwan and, in 2007 became the only graphic designer to receive Taiwan's 'National Award for Literature and Arts.' He is a member of the committee looking at the Education theme within 'Embracing 2030,' – a centennial project to help Taiwan identify its vision for development over the next two decades. The Education group asks what will Taiwan's educational system look like in 2030? How can Taiwan achieve the goals? And what preparations should be made?
This year, Apex served as an Icograda-appointed juror for the 2011 Adobe Design Achievement Awards (ADAA). The more than 40 ADAA finalists and winners were in attendance, having won a free trip to attend the IDA Congress as part of their award.
Apex received his MFA from the Graduate Institute of Fine Arts, National Taiwan Normal University, where he has been vice president of the school. The University became part of the Icograda Education Network this year.
In avant-garde and contemporary design, Apex has taken Taiwanese design into international realms. He established Taiwan Image Poster Design Association in 1990, and has been actively encouraging Taiwanese designers to participate in international competitions, cross-strait exhibitions, and other activities ever since.
Icograda Achievement Awards 2011
Created in 2001, the Icograda Achievement Award honours an outstanding career. The awards are presented to an individual or a team in recognition of outstanding and consistent achievement in the practice, education or promotion of communication design. The awards are granted by the Icograda Executive Board based on member nominations.
Lin, Horng-Jer, Kaohsiung Creators Association
Nominated by the Kaohsiung Creators Association, Horng-Jer Lin has practised design for the last 27 years. His work appears in several museum's permanent design collections. He has been an active member of Kaohsiung Creators Association for the past 20 years and is a former director-general. He is a respected design educator. In recent years, he has focused his attention on local design – shifting away from Western influence – and by extension has shared Taiwanese design with the world.
Stony Cherng, Taiwan Graphic Design Association
Nominated by the Taiwan Graphic Design Association, Stony Cherng is founder and Creative Director of Stony Image, a design company originally specialising in corporate brand building and total strategy in packaging design. Her work has been featured locally and internationally and has won numerous awards. As a designer, lecturer, writer, strategic planner and development consultant Stony doesn't wait for thing to happen – she works to achieve her vision. She has sought ways for traditional Chinese industries to survive the fast-moving commercial world. To that end, she turned her business into a cultural-focused design consultancy.
Tzung-Kuei Yang, Graphic Design Association of Taiwan
Nominated by the Graphic Design Association of Taiwan, Tzung-Kuei Yang has spurred growth in the Taiwanese design industry as a designer, educator, publisher, curator, editor-in-chief and leader in several associations. He has played a key role in recording national contemporary design history through numerous print publications including 'Graphic Arts' magazine which he has published for 25 years. Through events, exhibitions and seminars, he has worked to connect designers and increase the profile of local design – distinguishing himself as a vital member of the Taiwanese design community.
Han-Pin Chen, Taiwan Amoeba Design Association
Nominated by the Graphic Design Association of Taiwan, Han-Pin Chen holds master's degrees both in marketing and distribution management and in design. He has worked in the design field for more than forty years and has taught for over a decade. He began in advertisement design for commodities, then established a unique style in real estate marketing and design in Taiwan and more recently has worked largely in public artwork and design in built environments. He is among five founding member of the Taiwan Amoeba Design Association, established in 1971. Through this and his role as a design educator he has had a profound impact on the state of Taiwanese design.
Taddy Ho, Taiwan Poster Design Association
Nominated by the Taiwan Poster Design Association, Taddy Ho is the Chairman of Taiwan Poster Design Association and the Permanent director of the Graphic Design Association of Taiwan. He has been recognised internationally for his work in art, design and advertising over the last 35 years. His work blends communication design into multimedia experiences. He has promoted design competitions and actively encouraged students and professional designers to submit their work. He is a design educator and has also participated in evaluating courses and updating design curriculum. Finally, Taddy has dedicated much time and energy to preparing the 2011 IDA Congress.
Tony Chang, Taiwan Design Center
Russell Kennedy noted the particular significance of recognising Taiwan Design Center CEO, Tony Chang.
Above: President Russell Kennedy congratulating Tony Chang.

Tony has dedicated the last four years leading the local organising team to develop the first IDA Congress – making a personal pursuit of advancing the goals of the Taiwanese designers and the people of Taiwan (Chinese Taipei). At the same time, he served as a member of the Icsid Executive Board, was a contributor to the first World Design Survey, brought the Taiwan Design Centre into IFI's network along with that of Icsid and Icograda, and championed creating a united voice for Taiwanese designers through the establishment of the Taiwan Design Alliance.
He has done this while managing the Taiwan Design Centre's move into their new location at the Songshan Tobacco Factory Cultural Park, in addition to putting together the Taiwan World Design Expo and Young Designers Workshops as parallel events to the IDA Congress.
Icograda Design Education Manifesto 2011
The Icograda Design Education Manifesto advocates that design education must be a learning-centred environment, enabling students to develop their potential in and beyond academic programs. Marking the 10 anniversary of the Manifesto, the 2011 Manifesto was translated and individually designed by six pairs of design mentors and pupils – one for each official UN language: Arabic, Simplified Chinese, English, French, Russian and Spanish. These, along with 22 expert essays, are published as a book, designed by Fabrica. The Icograda Design Education Manifesto 2011 will be launched at the Icograda General Assembly 24, on 27 October 2011.
Iridescent: Icograda Journal of Design Research
Launched in 2010, Iridescent: Icograda Journal of Design Research is an online journal established to advance Icograda's strategic aim to support the development of design education (theory, practice, and research).
This peer-reviewed publication invites researchers and scholars worldwide to submit innovative design research in any of the six official language of the United Nations (English, French, Spanish, Russian, Chinese and Arabic). One of Iridescent's goals is to make emerging work available to a broad international audience, establishing a benchmark for design research in the process.
Iridescent, Volume 1, 2009–2011, which includes 15 papers from Xin: Icograda World Design Congress 2009 and and 5 from the inaugural agIdeas 2011 International Design Research Lab, will be presented to the Icograda General Assembly 24 delegates.
---
For more information, please contact:
Gabriel Gosselin
Communications Manager
E fggosselin@icograda.org
T +1 514 569 3505