Adobe Reveals Winners of 2011 Design Achievement Awards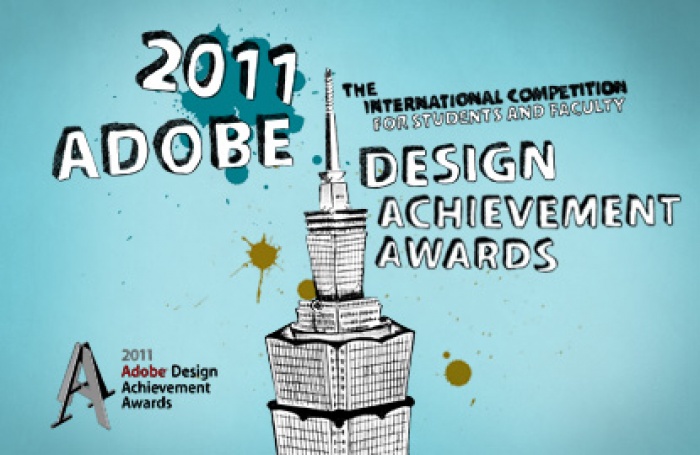 23.10.2011 News
Taipei (Taiwan - Chinese Taipei) - Adobe, in collaboration with Icograda, announced the winners of the 11 annual Adobe Design Achievement Awards (ADAA) at an awards ceremony held on 23 October in Taipei, Taiwan (Chinese Taipei). The awards honour the most talented and promising student graphic designers, photographers, illustrators, animators, digital filmmakers, developers and computer artists from higher education institutions worldwide who have created individual or group projects with Adobe software.
For the first time, education faculty was also recognised in award categories honouring teaching excellence. The ADAAs received 4605 submissions overall this year from more than 73 countries, a 61 percent increase in student participation year over year - a record number since the competition began in 2001.
"Today's best design students are tomorrow's professional photographers, film-makers and game designers," said Ann Lewnes, senior vice president, Global Marketing, Adobe. "Adobe is proud to honour their incredible work through the Adobe Design Achievement Awards."
"Over the years, the tools themselves have become so sophisticated that the students are able to realise their ideas in a much more sophisticated way than ever before," said ADAA judge Liz Danzico, chair of MFA in Interaction Design Program, School of Visual Arts, New York City. "This competition showcases those great ideas that are expressed with a high level of technical ability."
To recognise the art of teaching and create new opportunities to celebrate innovation in design education, new categories were introduced to the ADAA this year: Innovation in Traditional Media in Education, Innovation of Interactive Media in Education and Innovation in Video and Motion in Education. Awards were given in the latter two categories.
"There are very few avenues for recognising what the faculty is doing," said ADAA judge Meredith Davis, director of graduate programs, graphic design, North Carolina State University. "I am thrilled that the ADAA provides an opportunity for teachers to talk about the world of technology in the art of teaching that just doesn't have a forum somewhere else."
For the third consecutive year, Adobe collaborated with Icograda to attract submissions from the Icograda Education Network, and select an international panel of design experts to judge the prestigious awards.
Last night's awards ceremony honoured students and educators whose projects were selected from among 42 finalists. Winners were recognised in 15 categories across Interactive Media, Mobile Design, Video and Motion, and Traditional Media:
Student Awards
Education Faculty Awards
Innovation of Interactive Media in Education a team of educators led by Douglas Williams, 'Rigglefish: Engaging Middle and High School Children in Scientific Inquiry and Genetics,' University of Louisiana, United States
Innovation in Video and Motion in Education Ryan Woodward, educator, 'Thought of You,' Brigham Young University, United States
Winning entries can be viewed at the ADAA Gallery, along with the entries of the finalists from 2011 and prior years. The work of the 2011 finalists is also being showcased 22-30 October in a special gallery as part of the Taipei World Design Expo . This year's winners were selected by a global panel of industry judges based on originality, effectiveness in meeting the communication objective, and contestant(s) skills in applying Adobe products. Faculty entries were judged on educational innovation in teaching impact and the development of applications to better an overall educational administrative or curricular experience for the students and public they serve.
Judges include: John Bielenberg (United States), professor, California College of the Arts in San Francisco; Liz Danzico (United States), chair of MFA in Interaction Design Program, School of Visual Arts; Meredith Davis (United States), director of graduate programs, graphic design at College of Design, North Carolina State University; Anthony Dunne (United Kingdom), head of design interactions department, Royal College of Art in London; Juan-Carlos Fernandez (Canada), creative director/founder, Ideograma Consultores; Gillian Crampton Smith (Italy), founder and director of the Interaction Design Programme, IAUV University of Venice; Troy Innocent (Australia), program convenor, games & interactivity, Swinburne University of Technology; Apex Lin (Taiwan), vice president, National Taiwan Normal University; Kees Overbeeke (Netherlands), professor, Eindhoven University of Technology; Dean Poole (New Zealand), creative director, Alt Group; Viebke Sorensen (Singapore), professor and chair of the School of Art, Design, and Media, Nanyang Technological University; Ellen Wagner (United States), partner and principal analyst, Sage Road Solutions; Hugh Dubberly (United States), Dubberly Design Office; and Toby Curnow (New Zealand), design director at Alt Group. View judges' commentary on the 2011 Adobe Design Achievement Awards at 2011.adaagallery.com.
Individual winners and leaders of the group category winners received a US$3000 cash prize, winner's certificate and trophy, round-trip airfare to Taipei, and lodging during the 2011 IDA Congress. Additionally, individual winners received a copy of Adobe Creative Suite 5 .5 Master Collection software; group winners each received his/her choice of Creative Suite 5.5 Design Premium, Creative Suite 5.5 Web Premium or Creative Suite 5.5 Production Premium education version software. Student individual winners and leaders of the group category are appointed to the Icograda Youth Advisory Panel and receive a one-year mentorship with a design leader from the Icograda network.
---
Diala Lada
Project Manager
T +1 514 448 4949 x 230
E dlada@icograda.org
Gabriel Gosselin
Communications Manager
T +1 514 448 4949 x 234
E fggosselin@icograda.org
Mirka Janus Adobe Systems Incorporated T +1 408 536 2876 E
mjanus@adobe.com
Brian Domingo Edelman T +1 650 762 2916 E
brian.domingo@edelman.com
About Adobe Systems Incorporated
Adobe revolutionises how the world engages with ideas and information - anytime, anywhere and through any medium.
adobe.com.
About Icograda
Icograda (International Council of Graphic Design Associations) is the world body for professional communication design. Founded in 1963, Icograda promotes communication designers' vital role in society and commerce.
icograda.org