Icograda Announces the Panellists and Agenda for the Professional Platform Meeting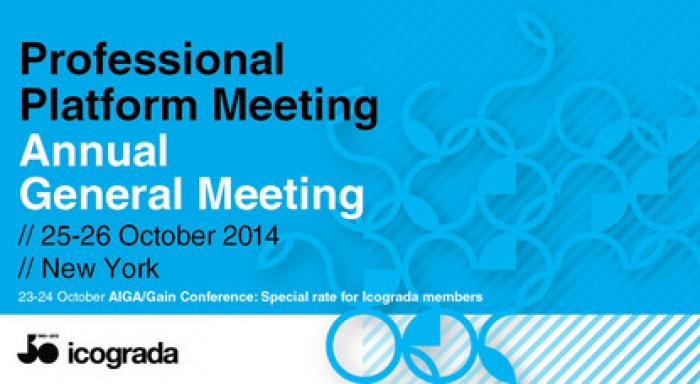 24.09.2014 News
At the upcoming Professional Platform Meeting 25-26 October 2014 in New York, Icograda will facilitate three sessions of dynamic presentations and panel discussions.

Empowering designers and design organizations, communicating the value of design, and defining future steps for change will be topics addressed by a diversity of expert speakers. The full a Meeting Agenda is available .

The list of Professional Platform Panellists includes:
• Adrian Jean, President, Graphic Designers of Canada
• James Harper, National President, Design Institute of Australia
• Eili-Kaija Kuusniemi, Board Member, Grafia
• Yuri Nazarov, President, Association of Designers of Russia
• Patricia McKiernan, Executive Director, Graphic Artists Guild
• Lionel Gadoury, Past-President, Association of Registered Graphic Designers
• Katsuhiko Shibuya, International Committee Chair, JAGDA
• Tyra von Zweigbergk, Vice President of the Board, Svenska Tecknare
• Kevin Swanepoel, President, The One Club
• Ismail Cihangir Istek, Head of VC Department, Istanbul Bilgi University
• Ric Grefe, Executive Director, AIGA
• Umut Suduak, President, GMK

The Icograda Professional Member Platform Meeting will take place on 25-26 October 2014 in New York, hosted by AIGA and conducted at Parsons The New School for Design.

To register for the Professional Platform Meeting, click here.


---
About Icograda Platforms
At the 25 General Assembly (November 2013, Montreal), Icograda established three member-category 'Platforms' with the aim of enhancing member involvement in Icograda projects and activities. By addressing cross-disciplinary, professional and organizational challenges, as well as focusing on specific discipline issues happening within Educational, Professional and Promotional 'Platforms', the Annual Platform Meetings were conceived of with the goal of increasing member involvement in determining Icograda policies, benefits and strategy.