ICOGRADA EDUCATION NETWORK HOSTS COLLOQUIUM ON VIRTUAL DESIGN ARCHIVES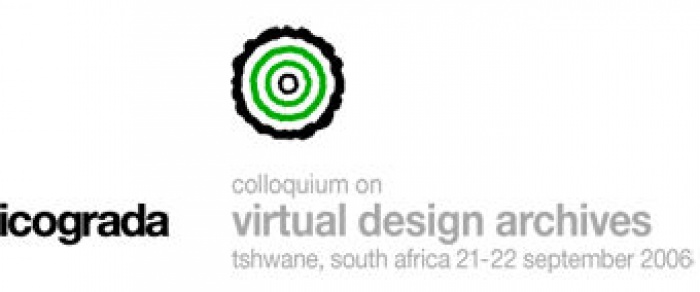 06.09.2006 News
Montreal (Canada)
- On 21-22 September, the Icograda Education Network (IEN) will host its inaugural Colloquium on Virtual Design Archives in collaboration with the University of Pretoria. Icograda has planned for this colloquium to be a participatory, working meeting that is primarily about the sharing of best practices and developing an international framework going forward.
Icograda has long identified the importance of and need for accessible online documentation of communication design history and acknowledges the associated logistical, managerial, technical and financial difficulties in establishing ventures, which are both reputable and sustainable.
In 2003, Icograda decided to lead by example when it announce an agreement with Brighton University UK to be the official archivists of the then forty year old organisation. It was envisaged at the time that this physical archive of Icograda records would eventually have an online dimension. A virtual archive can never replicate the tactile benefits of a physical archive but the accessibility of an online environment to reach to millions of people can not be underestimated.
The colloquium has attracted speakers from across the globe including presenters from the United States, United Kingdom, South Africa, New Zealand, Netherlands and Australia, including:
Content and Context: Creating Meaning in Virtual Environments
Catherine Moriarty, University of Brighton (United Kingdom)
Dutch Archive of Graphic Designers (NAGO)
Karin van der Heiden, Amsterdam (The Netherlands)
Mirage, Oasis or River?
Problems and Possibilities of Virtual Design Archives
Frances Joseph, School of Art & Design, AUT (New Zealand)
Australian National Design Archive
Russell Kennedy, Icograda Vice President
AIGA Design Archive
Ric Grefe, CEO AIGA (United States)
Virtual Design Archives: Bridges or Barriers?
Dr. Mike Pringle, Surry Institute of Art and Design (United Kingdom)
Virtual Archives in Developing and Third World Economies
Prof. Ian Sutherland, Durban Institute of Technology (South Africa)
The second day will be devoted to working sessions exploring issues relating to establishment and operation of a Virtual Design Archive. Topics for discussion include: models for governance of archive councils and membership criteria, curatorial policies and archive categories, intellectual property/copyright, content acquisition, delivery specifications, physical archives and partnership agreements.
Icograda feels a responsibility to help stimulate activity and promote development of educational resourses that will provide a legacy to future generations.
---
For further information please contact:
Brenda Sanderson,
Icograda Director
T: +1 514 448 4949, x 226
F: +1 514 448 4948
E: bsanderson@icograda.org

The Colloquium on Virtual Design Archives is presented with the support of the University of Pretoria, Adobe and Bluprint Design.To download the programme, please .