ICOGRADA ENDORSES MIX06: MIGRANT INDIGENOUS EXCHANGE 2006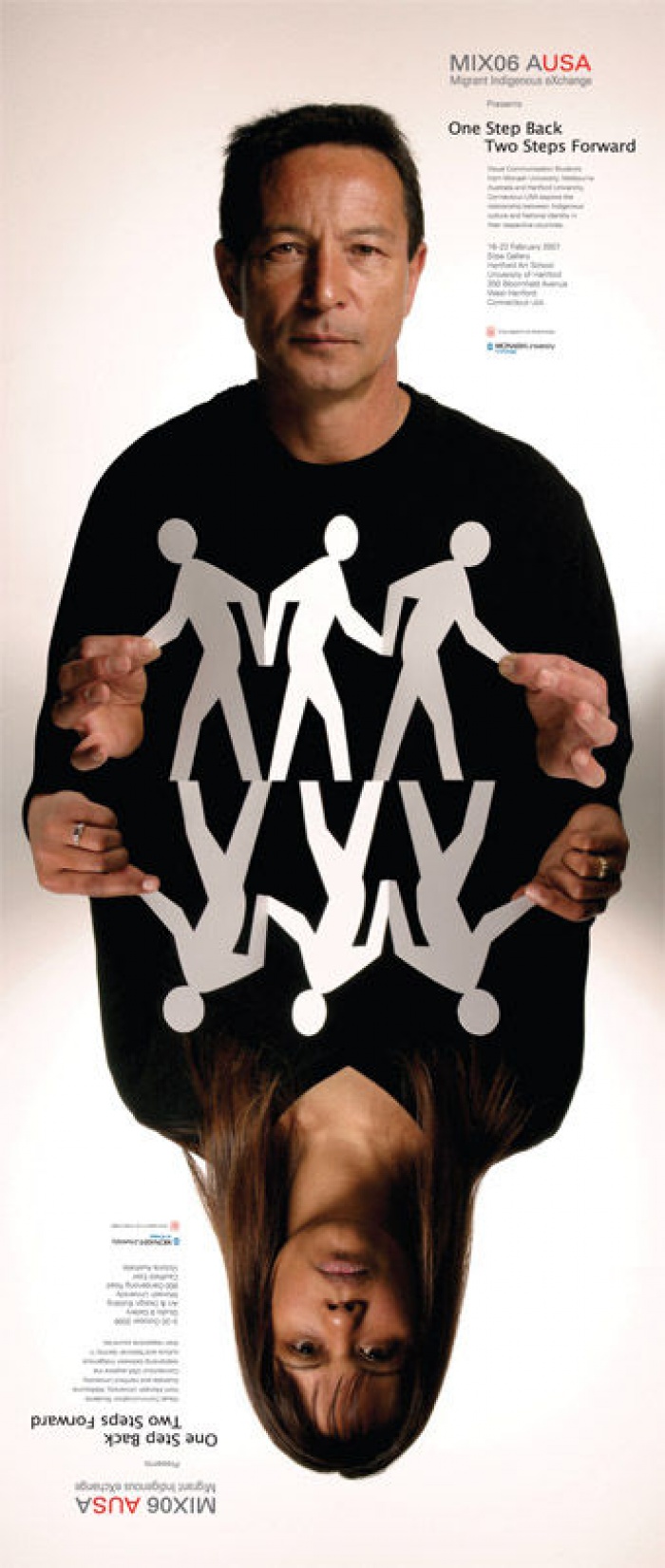 12.09.2006 News
Melbourne (Australia) - MIX06 was a cultural exchange project involving students from the University of Hartford University in the USA and Monash University in Australia. The exchange explored the relationship between indigenous and non-indigenous culture within the context of national identity.
Workshops, research, and collaborative teamwork took place in both countries and included indigenous participation. Now, the results will be exhibited under the title: One Step Back, Two Steps Forward and Icograda is pleased to endorse this event.
The aim of MIX06 is to encourage contemporary discourse between indigenous and non-Indigenous designers/collaborators. It s about recognition of and respect for First Nation and Aboriginal culture.
The brief for the exhibition was based on a simple premise; that the lineage of both North Americans and Australians can be categorised as either Migrant (those whose forbearers migrated from other parts of the world as either Immigrants, Slaves, or Convicts) or Indigenous (First Nation/Aborigine).
The appropriate, ethical and respectful use of Indigenous visual iconography is becoming an important issue around the world - especially when designers are asked to visually represent national identity. This Migrant vs. Indigenous cultural dynamic exists in many countries apart from the USA and Australia countries such as Brazil, Canada, Colombia, Greenland, Malaysia, Mexico, New Zealand, New Guinea, Peru, South Africa, and others.
Hartford and Monash participants of MIX06 USA were asked to revisit their countries cultural identity by creating images that acknowledge indigenous culture as a living culture within contemporary society.
Dates
3-20 October 2006
Faculty Gallery (Concourse Annex)
Monash University Faculty of Art and Design
16-22 February 2007
Silbe Gallery
Hartford Art School, University of Hartford
---

For further information please contact:
Brenda Sanderson
Director
E: bsanderson@icograda.org