ICOGRADA ENDORSES FACE TO FACE 5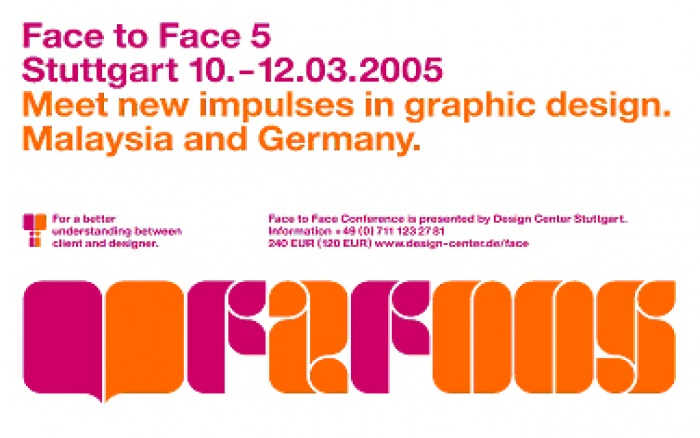 29.12.2004 News
Brussels (Belgium)
- Icograda has endorsed the fifth edition of Face to Face.* The international design event is aimed at all those responsible for visual communication design in companies and at professional designers from all disciplines. The collaboration between event organisers Design Center Stuttgart and Pertubuhan Wakaf Reka Grafik Malaysia (WREGA) will bring a diverse programme that includes a conference, exhibitions and open forums. Face to Face 5 will take place in the Haus der Wirtschaft in Stuttgart, Germany, from 10 to 12 March 2005.
Face to Face 5 is centred around a two-day conference, whose focus on dialogue means that delegates will be able to share perspectives, network and forge contacts. Delegates will get to know not only the global players among the clients and design studios, but also companies and service providers whose market presence is characterised by unconventional, highly innovative products.
From Germany, probable contributors include such well-known studios as United Ideas or Pentagram Design. The latter will be presenting itself together with its client Star Alliance Services. Delegates from Malaysia will include Kamil Yunus from the Freeform Design studio, with its client Dewan Filharmonik Petronas, the well-known Malaysian Philharmonic Orchestra. Ming Tung's presentation will take a critical look at software piracy in Asia. The Chimera studio will take a close look at how to develop an Asian brand - a huge challenge if one considers the cultural and religious diversity of Asia.
Apart from presentations and discussions, the Face to Face Lounge is the focus of the conference, the central meeting point for delegates and speakers. Design Center Stuttgart will again be setting up the "Face it! chatroom", where debate will focus deliberately on the topics at hand.
Finally, Face to Face 5 will be accompanied by several exhibitions. The "Keeping a Visual Eye on Business" and "Man & God" exhibitions illustrate the features and characteristics of both Malaysian cultures and Malaysian graphic design. From Germany, the Bund Freischaffender Fotodesigner (Association of freelance photo-designers) will be presenting prize-winning works, and the results of the Corporate Design Awards competition organised by the Communications Association and a cross-section of four years of the BDG's poster competition will also be on show.
---
For further information please contact:
Design Center Stuttgart
des Landesgewerbeamts Baden-Wurttemberg
Willi-Bleicher-Str. 19
D-70174 Stuttgart
Germany
T: + 49 711 123 2781
E:
design@lgabw.de
W:
www.design-center.de
*Icograda endorsement is a guarantee that the design event complies with approved international guidelines.