ICOGRADA ENDORSES GOOD 50X70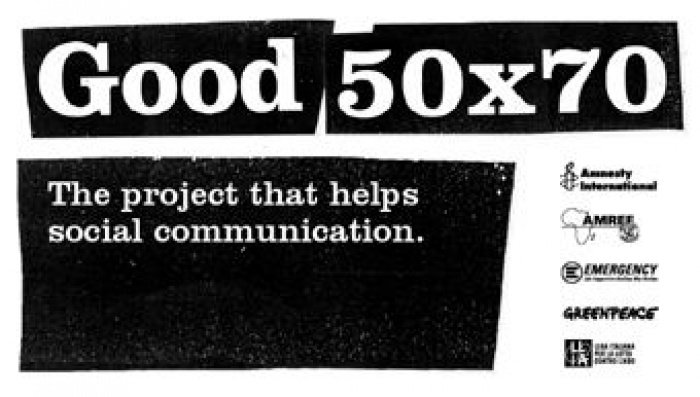 08.03.2007 News
Milan (Italy)
- Icograda is pleased to announce its endorsement of Good 50x70, a new Italian-led project to promote innovation in the field of social communication. The project's aim is to raise awareness in young designers about the relevance of social communication. It is open to students and creatives (graphic designers, art directors, copywriters, photographers, etc.) under the age of 35.
Conceived by Pasquale Volpe in collaboration with Tommaso Minnetti, the project will create posters based on five of the biggest global issues identified by the UN: AIDS, human rights violation, war, underdevelopment and environmental damage. The briefs for each topic have been developed by an NGO working in the area.
Aids:
LILA, the Italian League for the Fight against AIDS is a federation of associations and groups of volunteers, founded in 1987. Both people who are infected by HIV and those who are not, work together in LILA to fight AIDS. There are many local regional centres spread throughout Italy.
Human rights violation:
Amnesty International is an NGO created for and developed around international recognition of human rights. Founded in the UK in the 1961, it has almost two million members, supporters and subscribers in more than 150 countries around the world.
War:
Emergency is an independent, neutral and non-political organisation, founded to provide assistance to the civilian victims of war and landmines. It provides free, high quality, medical and surgical support in war zones, and promotes a culture of solidarity, peace and respect for human rights.
Underdevelopment:
AMREF was founded in 1957 as a small foundation based in Nairobi and in 50 years has become the continent s leading health development organisation.
Environmental damage:
Greenpeace has been campaigning against environmental degradation since 1971 and today has 2.8 million supporters worldwide. Greenpeace is committed to the principles of non-violence, political independence and internationalism.
An international jury has been assembled to select the final results, including Timo Berry, Shigeo Fukuda, Yossi Lemel, Alain Le Quernec, Luba Lukova, Chaz Maviyane-Davies, Armando Milani, Woody Pirtle, Massimmo Vignelli and Lourdes Zolezzi.
The jury will shortlist 30 finalists for each category and then 10 posters will be selected as Good 50 70. One poster from all the categories will be selected as Grand Winner of the contest. The finalists posters will be used to create an exhibition and published in a catalogue.
The project has also received the endorsement of BEDA, the Bureau of European Design Associations, and AIAP, the Associazione Italiana Progettazione per la Communicazione Visiva.
Download the complete project brief .
Download the Call for Entries
here
.
---
For further information please contact:
W:
good50x70.org