ICOGRADA ENDORSES TAIWAN INTERNATIONAL POSTER DESIGN AWARD 2005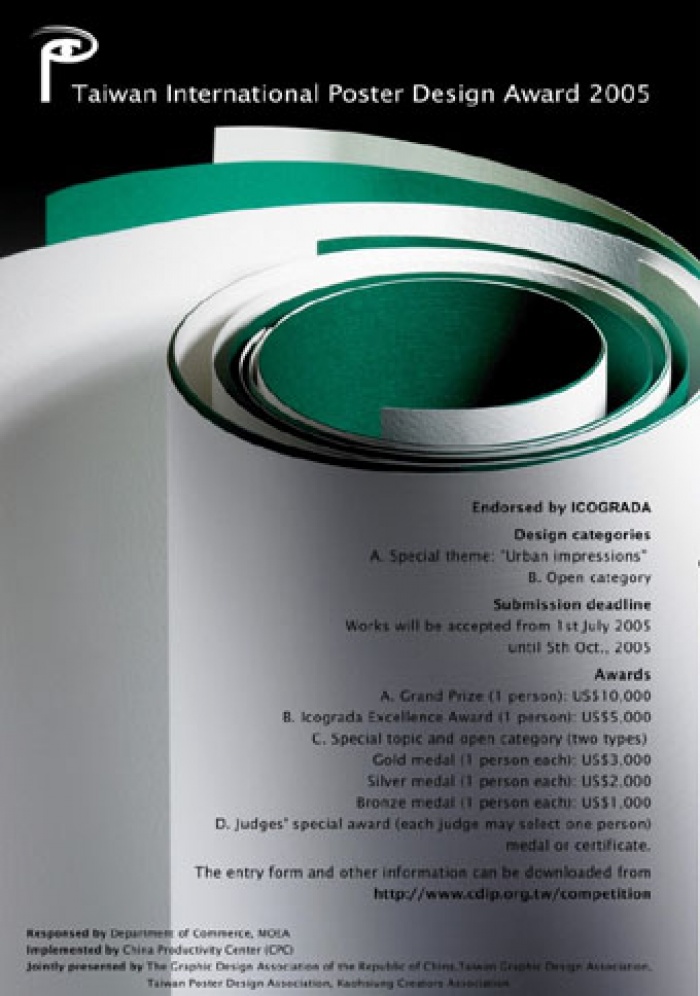 10.07.2005 News
Taiwan (China)
- The Taiwan International Poster Design Award 2005 is being organized by Icograda member, the China Productivity Center, for the purpose of enhancing Taiwan's commercial design talent and providing opportunities for interchange with international designers. The goal is to boost the visibility of Taiwan's design talents and place them in an international context.
The award is being jointly presented by The Graphic Design Association of the Republic of China, Taiwan Graphic Design Association, Taiwan Poster Design Association, Kaohsiung Creators Association. Each of these associations are members of Icograda.
Categories
Open to designers from all regions and countries, entries are being called for in two categories. Designers may submit work developed to address the special theme "Urban impressions" (creative work featuring impressions of a city or cities in the designer's country) or they may submit work in the open category (for any creative design works or other thematic works). Entries will be accepted from 1 July 2005 until 5 October 2005.
Judging panel
At presstime, the confirmed judges included Robert L. Peters (Canada, 2001-2003 Icograda president) ; Ken Cato (Australia, Cato Purnell Partners, AGI Member); Theodora Mantzaris-Kindel (Britain, manager of Image & Identity Department in the Organising Committee for the ATHENS 2004 Olympic Games); Kari Piippo (Finland, AGI Member); Lin Pan-sung (Taiwan, Professor of Fine Art, National Taiwan Normal University, 2001~2003 board member) and Taddy Ho (Taiwan, CEO&ECD/BBDO Taiwan Advertising Limited).
Members of the judging panel are subject to change without prior notice. The panel s decisions are final and may not be overturned in a court of law. Selected entrants will be notified within one week from the day awards are announced.
Participation terms
Work created after January 1, 2004 is eligible and there is no limit on number of submissions. Participants must fill out a statement declaring that their works do not infringe upon other parties' intellectual property rights. Work completed before Jan. 1, 2004) and work that plagiarizes another person's work will be disqualified.
Prizes
There will be one Grand Prize of USD$10,000. The winner of the Icograda Excellence Award will receive USD$5,000. Medals and cash prizes are being awarded for both the special theme and the open category. The gold medal winner will receive USD$3,000, the silver medal will receive USD $2,000 and the bronze medal winner will receive USD $1,000. Each judge may also award one special medal or certificate. These awards are granted in accordance with the regulations of the host country and taxes shall be withheld in accordance with ROC tax laws: 20% for foreign designer, 15 % for ROC domestic designer.
Exhibition of prize winning work
The Grand Prize winner have a solo design exhibition in Taiwan during the following year. All prize-winning work will also be included in the special publication " Taiwan International Poster Design Award 2005" and displayed on the "Commercial Design Improvement Project" website and in publicity materials.
Prize-winning works will be displayed in exhibitions related to the project and be included in touring exhibitions held at university and college commercial design departments from December 2005 to June 2006.
Currently, judging is scheduled to take place on the 20 October, 2005 and prizes will be awarded on 15 November , 2005. This schedule is subject to confirmation.
Complete information is available at:
www.cdip.org.tw/competition
---
For further information please contact:
Taipei Poster Design Association
6F-2, No. 189, Sinyi Rd., Sec. 4,
Taipei, Taiwan 106
W:
www.cdip.org.tw/competition
Mr. Lue Ming-chin,
T. 886-2- 2698-2989, x 2111
F. 886-2- 2698-9532
E:
2111@cpc.org.tw
Ms Chow Hsiu-fang
T. 886-2- 2698-2989, x 2119
F. 886-2- 2698-9335
E-:
2119@cpc.org.tw