ICOGRADA ENDORSES WE'RE A WEIRD MOB - DESIGNING A CULTURAL IDENTITY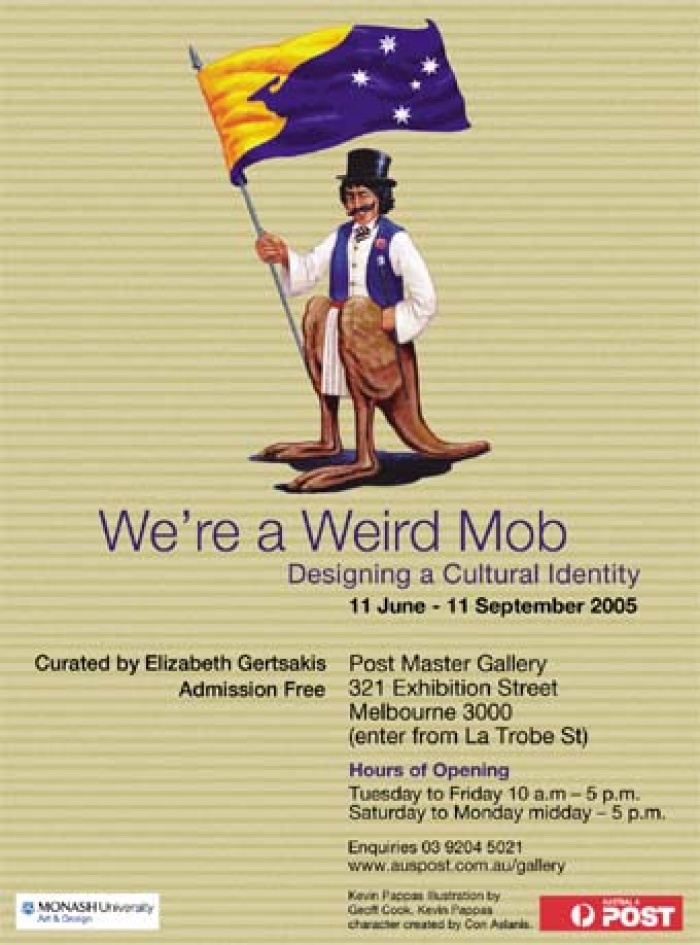 19.05.2005 News
Melbourne (Australia)
- Icograda is pleased to endorse this exhibition focusing on images and icons of Australian identity.
Curated by Elizabeth Gertsakis, the exhibition presents the work of the 1970s All-Australian Graffiti graphic design group, and the more recent flag design concepts behind Russell Kennedy's A Vision Unfurled. It is being mounted with the support of Monash University and Australia Post.
All Australian Graffiti were urban, street wise and irreverent. The illustrators and artists involved were Mimmo Cozzolino, (Co-editor of All Australian Symbols) Con Aslanis, Geoff Cook, Neil Curtis, Izi Mamur, Meg Williams and Tony Ward. Influenced by American cartoonist Robert Crumb, the graphics of Monty Python, and Fysh Rutherford's comic script The Iron Outlaw, they captured the regional and multicultural elements of the day and challenged the minimal international style that was current.
Russell Kennedy's A Vision Unfurled concerns itself with design ideas for a national flag of reconciliation
In conjunction with the exhibition, there will be individual artists talks by Geoff Cook, Russell Kennedy, Mimmo Cozzolino, Neil Curtis, Constantine Aslanis and Izi Mamur.
Programming includes a one day Seminar for tertiary students and academics (3 August), an After hours Panel Forum of All Australian Graffiti for professional designers with AGDA and DIA (11 August) and a Panel Forum for Art, Design and Visual Communications Curriculum for Year 11 and 12 students (16 August).
An education kit and exhibition trail will be available for schools with a focus on art, design and visual communication levels of CSF curriculum.
Adult groups can take advantage of a Free Curator's Talk by Elizabeth Gertsakis on 23 June, 20 July, 24 August and 6 September.
Guided tours of exhibition highlights and the permanent collection are available, $3 per person or $5.00 per person (includes refreshments), subject to minimum groups of five or more.
Bookings for all programs:
T. 03 9204 7727
---
For further information please contact:
John Link
E:
john.link@auspost.com.au