ICOGRADA ENDORSES GET IT LOUDER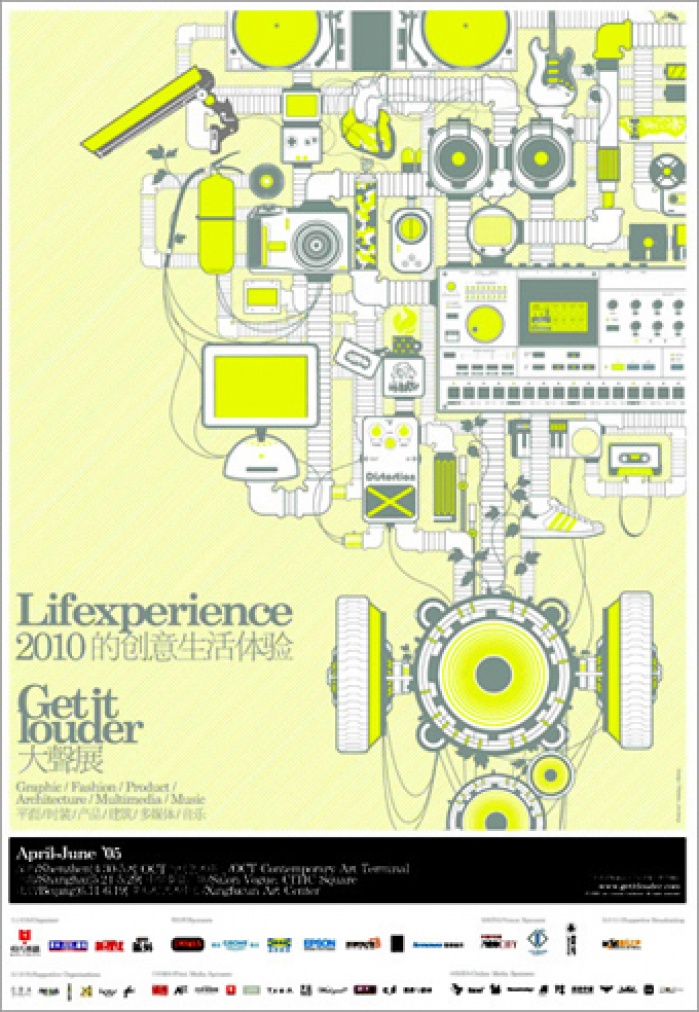 12.05.2005 News
Shanghai (China)
- A visual noise made by young talented designers and artists around the globe. The exhibition is conceived as a platform for showcasing their creativity and personal thoughts, in order to explore their sources of inspirations in their daily lives. It also tends to examine graphic art/design as lifestyles, living attitudes, and as an integral part of urban culture.
The exhibition will focus on young creators with Chinese background working in different places around the world. At the same time, to give the exhibition an international scope, Get It Louder also invited some talented creators from countries such as Australia, New Zealand, Singapore, Germany, Sweden, and USA to join. Rather than focusing on a particular format or medium, the exhibition will bring in fresh and innovative art works in such a diverse range of creative fields as print, web, moving images, photography, video, fashion, and more.
Besides exhibitions in Beijing, Shanghai, and Shenzhen, Get It Louder will have internationally-reknowned designers as our guest speakers presenting their latest work at the venues. It will also feature a sound art performance on the opening day in each city. Get It Louder is the first art/design exhibition and event of its kind held in mainland China.
ARTISTS LINE-UP
Get It Louder has up to 100 participating artists/designers from around the world (mainly Asian-pacific, North America and Europe). 80% of them are of Chinese background, and half are among the new generation of artists and designers in mainland China. The average age of all the artists are 25.
There are over 200 pieces of work in the following categories:
a. Poster, Illustration, and Photography
b. Books, Toys, T-shirts, Fashion, and other product
c. Animation, Video, and Short Films
d. Screen-based Interaction, and Digital Installation
e. Architecture
f. Sound
---
For further information please contact:
www.getitlouder.com/main_en.htm