Icograda General Assembly 23 adopts sustainability framework in Beijing, China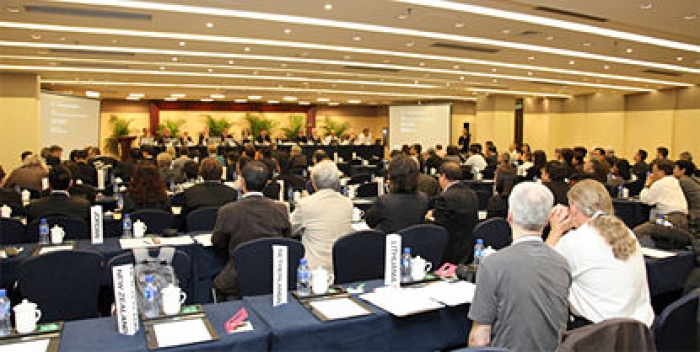 02.11.2009 News
Beijing (China)
- The Icograda General Assembly, meeting from 24-25 October in Beijing, China formally adopted a framework for sustainable practice policy development.
Led by the Icograda Executive Board, the process was championed by Treasurer David Berman (Canada) in consultation with several Icograda Members and stakeholders throughout the 2007-2009 term. In presenting the resolution, Berman said, "Things have never been more fragile for our planet. I don't think we have ever been so clear how much power we have as designers in our world and with that power comes a lot of responsibility. ...We've gone from thinking it is possible that we might have a global effect, to realising that we must have a global effect." Berman acknowledged the AIGA's
Living Principles for Design
(United States) and the GDC's
Working Definition of Sustainable Communication Design
(Canada), both adopted by their respective members earlier in 2009.
The resolution establishes a framework for Icograda to develop policy on how it conducts its operations and programming for adoption by 31 October 2010. It is the international organisation's first comprehensive statement on social, environmental, financial and cultural sustainability, and extends beyond the Council's own actions to embrace the work of its Members in 67 countries and regions around the globe.
In discussion of the framework, the membership agreed that authenticity, transparency and accountability about the sustainable consequences of design should be guiding values in the development of the sustainability policy.
The resolution was adopted unanimously by the General Assembly delegates representing Member organisations from more than 40 countries and regions at the meeting in Beijing, China.
---
Download the resolution ().
For more information, please contact:
Brenda Sanderson
Managing Director
T: +1 514 448 4949 x 226
E:
bsanderson@icograda.org
About Icograda
Icograda (International Council of Graphic Design Associations) is the world body for professional communication design. Founded in 1963, Icograda promotes communication designers' vital role in society and commerce.