ICOGRADA HOLDS ITS FIRST 2005-2007 EXECUTIVE BOARD MEETING IN COPENHAGEN, DENMARK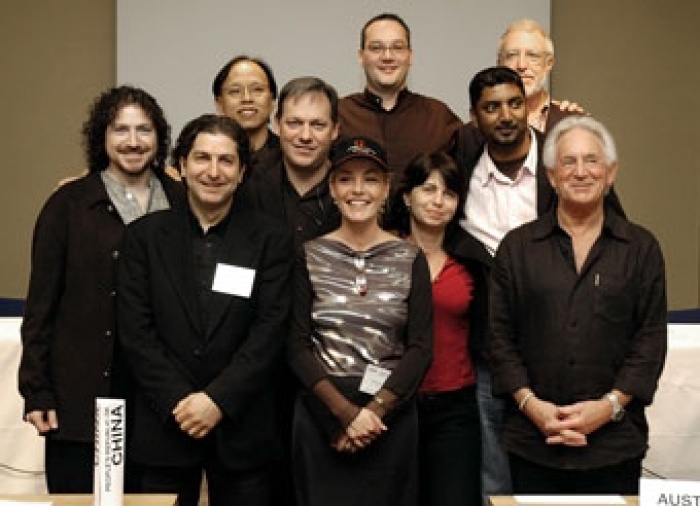 13.10.2005 News
Montreal (Canada)
- On 1 October 2005, the first meeting of the newly elected Icograda Executive Board was held at the 21st Icograda General Assembly in Copenhagen.
Headed by Jacques Lange, a distinguished visual communications professional from Pretoria, South Africa, the new Board is comprised of ten accomplished individuals whose combined knowledge and experience will be put to use very quickly in the execution of an ambitious mandate for the 2005-2007 term.
"It is a great privilege for me to be leading the most geographically representative Executive Board in Icograda's history," said Jacques Lange after the meeting. "Just a few hours after voting took place, the new Board went about planning a strategic framework draft in a highly focused manner, making it quite evident that all members of this group have a clear understanding of their responsibilities and a highly developed sense of what they aim to achieve both individually and as a group."
During the course of the meeting, the Board reviewed current projects and initiatives and redefined its organisational architecture according to a five-clustered model: governance and operational stability; membership growth and development; communications and intelligence; education and professional development; and alliances and consultation.
Some of the key priorities defined for the 2005-2007 term include:
- Streamlining the business plan developed by the outgoing Board;
- Increasing value-added service delivery to members by providing more tangible benefits;
- Capacitating the new Secretariat with high-calibre human resources to execute the business of Icograda more effectively;
- Expanding all Icograda networks by providing appropriate support and revitalising the functions of the Icograda Foundation;
- Continuing to nurture collaborative relationships with IDA partners and other international design-related organisations;
- Substantiating contemporary design discourse by initiating relevant research projects like the World Design Report;
- Establishing structures that will foster regional development, collaboration and empowerment by actively involving Liaisons in regional data-gathering and the hosting of Regional Meetings.
Placing these priorities within the larger context of Icograda's recent accomplishments and longstanding principles, Jacques Lange added: "I believe that the activities of Icograda over the past five years reflect the coming of age of a profession that has now grown comfortably into its role as a catalyst for global development - not just economically, but socially and culturally. Icograda's focus for the next two years will be on fostering inclusivity, collaboration, visibility, learning, sustainability and accountability."
Those interested in reading further about individual 2005-2007 Board Members are invited to consult their on the Icograda website.
---
For further information please contact:
Media Inquiries:
Jenny Jasper
Icograda Communications Officer
T: +1 514 448 4949, ext 234
E:
jjasper@icograda.org