ICOGRADA STUDENT WORKSHOP A CREATIVE JOURNEY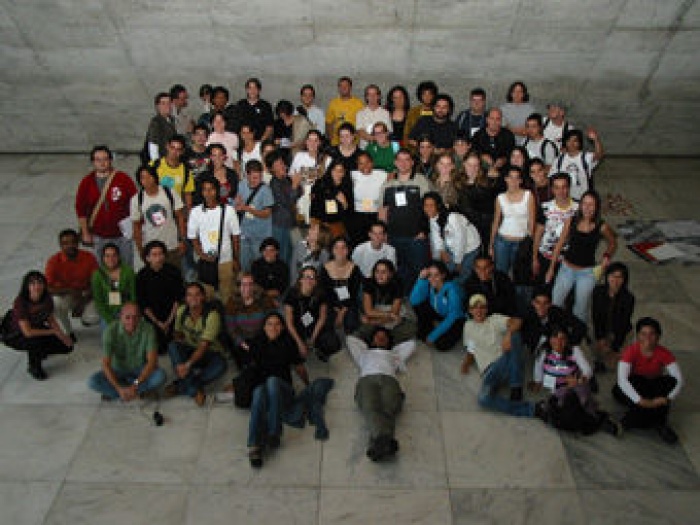 11.05.2004 News
Brussels (Belgium)
- Starting with nothing but a creative vision, participants of the recent Icograda Student Workshop began a four-day journey to capture life in a bustling Brazilian metropolis. The resulting projects were unique and expressive interpretations of an urban identity.
The Icograda Student Workshop in Sao Paulo, Brazil, was held 23-26 April in the Memorial da America Latina. Organised by ADG-Brazil and Icograda, the workshop brought students and professional designers together to explore, examine and record the ways in which the city of Sao Paulo communicates its identity. A total of 56 Brazilian students were split into six groups guided by a workshop leader. The leaders comprised design educators, typography researchers, brand designers and media designers: Priscila Farias (Brazil), Cassio Leitao (Brazil), Kurnal Rawat (India), Halim Choueiry (Lebanon), Gerardo Kloss (Mexico) and Garth Walker (South Africa).
On the first two days of the workshop, the groups ventured into the city to document life on the street and to collect visual artefacts of their travels. Tireless volunteers helped the student groups to safely tour the city, gather project materials and provide logistical assistance. Each group focussed on a particular aspect of Sao Paulo's character: Street Commerce, Creativity, Organised Chaos, Contrast, Cultural Melting Pot, and Individuals and the City. After discussing their observations in a combination of English, Spanish and Portuguese, students busily created graphic interpretations of their topic for the remaining two days.
Volunteer coordinator, Karuna Pillay (South Africa) oversaw the event: "The participants looked with fresh eyes on the common and everyday things. The progression of work was exciting to watch, and all the interpretations were representative of the city of Sao Paulo."
Victor Ferreira Irigonhe, a student from University of Brasilia: "The workshop offers more contact with other designers [than in the classroom]. It is more interactive and involves creativity, research and exploration. It's like a real professional setting, where you have to plan with others to deliver a project...I would do it again!" Artur Tilieri, a student from Mackenzie University in Sao Paulo: "There was lots of discussion and it was sometimes stressful, but the workshop leader kept us going...It was worth it."
Workshop leader Halim Chouiery (Lebanon), closed the four-day workshop with congratulations and a final statement: "Visual communication does not require everyone to speak the same language." Judging from the room full of smiles that day, it was clear that everyone agreed.
---
For more information about Icograda Design Week in Sao Paulo, visit:
E:
secretariat@icograda.org
W:
http://www.saopaulo.icograda.org