in memoriam: charles harrison (1931–2018)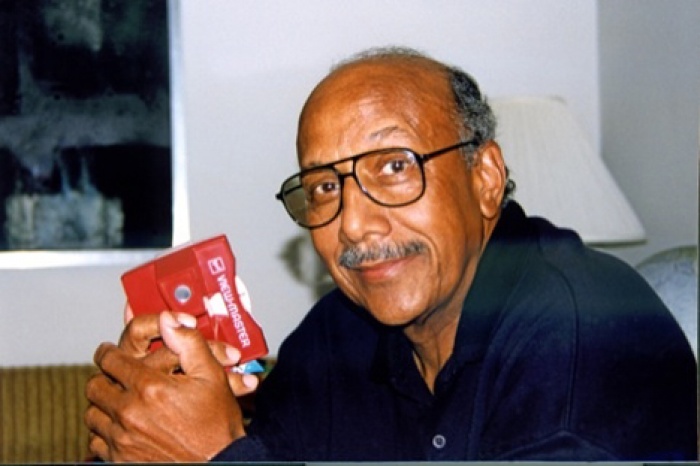 24.01.2019 News
(Photo credit: Black Enterprise Magazine)

"If I were to share one thought with the design community of today and tomorrow it would be to remember that your purpose, 'your gift to the world', is to provide straightforward solutions to real problems for living, breathing human beings." — Charles Harrison
ico-D mourns the loss of Charles "Chuck" Harrison (1931-2018), industrial designer and educator who is famous for his transformation of the View-Master toy and the plastic trash can. As a freelancer, staff and ultimately Head of Design at Sears Roebuck & Company, Charles shaped the everyday lives of Americans through the hundreds of household and workplace goods he designed in the era following World War II through the mid-1980s.

Charles executed over 700 designs in his lifetime. His most iconic work is his first-of-its-kind plastic refuse can designed in 1963 and his redesign of the View-Master in 1958. The lightweight, red plastic alternative to the clunky original version of the View-Master, first produced in 1939, was a worldwide success as a toy found in almost every US household and households throughout the world. Celebrated as one of the first African American's to enter the design field, Charles leaves a legacy as a speaker on topics of design inclusion and education. He is celebrated. He was as an educator at Columbia College Chicago and The School of the Art Institute of Chicago, who worked hard to prepare young designers for entry into the profession, ensuring they made meaningful connections to the industry upon finishing their studies as designers.

Upon his passing, David Rice – Founder & Chairman of the Organization of Black Designers (OBD), the first national organisation dedicated to addressing the unique needs of African-American design professionals, wrote of his friend and mentor Chuck: "What a difference it would have made in my career as a young Black industrial designer if I, and others, had known about the great things Chuck was achieving at Sears & Roebuck. Very rarely did one ever see an article on Black designers — mostly it appeared that Black designers, especially Black industrial designers — did not exist. Even today there are less than 400 African American industrial designers out of an estimated total of 60,000 world-wide."
Charles is the Cooper Hewitt 2008 National Design Award recipient for Lifetime Achievement. He also has received awards from the Industrial Designers Society of America (IDSA), Executive Leadership Council and HistoryMakers, among many others. In 2009, he received an honorary doctorate from the School of the Art Institute of Chicago. Charles holds a BFA in Industrial Design from The School of the Art Institute of Chicago (1954) and an MS in Art Education from the Institute of Design (1963).
He received significant mention in the Encyclopedia of Chicago in the Encyclopedia Brittanica and Charles has been profiled in numerous media including The Washington Post, Chicago Tribune, Chicago Sun-Times, Ebony Magazine, The Crisis Magazine and on the Tavis Smiley Radio Show. In his 2016 autobiographical career retrospective, A Life's Design, Charles writes:

"I came from a family that taught me to see beyond circumstance, find value and create usefulness out of need. The legacy I inherited required that I make myself useful as a son, man, husband, father and artist. If I were to share one thought with the design community of today and tomorrow it would be to remember that your purpose ' your gift to the world ' is to provide straightforward solutions to real problems for living, breathing human beings. As an industrial designer especially, your audience is neither history nor fame, but a couple who worked hard to buy their first home on a quiet street and would love just one more hour of sleep in the morning, even on trash day. Your muse is the kid who needs something to occupy his mind and hands during that long drive to grandma's house. Your biggest critic will be the struggling mother who can't afford to keep replacing her kitchen appliances every time a little piece of ornate, but useless, piece of plastic breaks off."
ico-D wishes to thank David Rice for providing personal quotes and articles related to the work and legacy of Charles Harrison.
LINKS
More about Charles Harrison:
Black Enterprise Magazine
Industrial Designers Society of America
Industrial Designers Society of America obituary
Fast Company
New York Times
Core 77