INAUGURAL PHYLLIS LAMBERT DESIGN MONTRÉAL GRANT AWARDED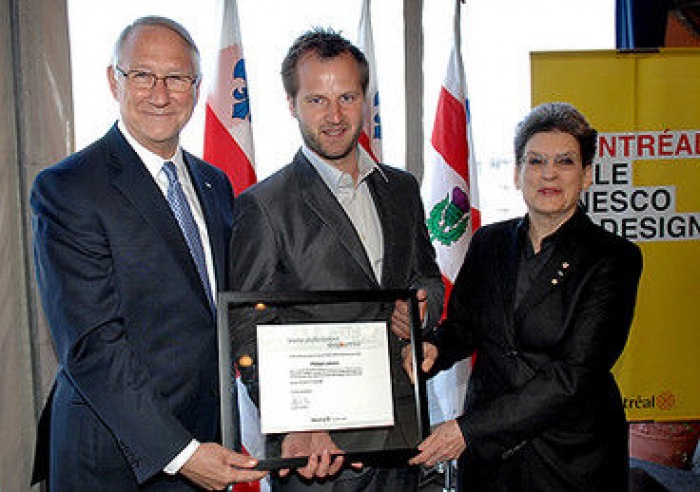 11.06.2008 News
Montréal (Canada)
- The Mayor of Montréal, Gérald Tremblay, today awarded the inaugural Phyllis Lambert Design Montréal Grant to graphic designer and publisher Philippe Lamarre. Created in honour of Phyllis Lambert, founding Director of the Canadian Centre for Architecture (CCA), the $10,000 grant, offered by the Ville de Montréal, will enable the recipient to document and distribute, via a collaborative website, the visual heritage of Berlin, Buenos Aires and Montréal, the three UNESCO Cities of Design. The official grant award ceremony took place at City Hall with Ms. Lambert, members of the jury and guests from the design community in attendance.
"With the Phyllis Lambert Design Montréal Grant, the Ville de Montréal seeks to encourage our city's talented emerging designers to pursue their professional development, but also to enrich their careers through the discovery of other creative cities around the world," Mayor Tremblay said. "UNESCO recently acknowledged our city's huge creative potential in design and the strong concentration of talent here by naming Montréal a UNESCO City of Design. In awarding this grant, the city hopes to stimulate the development of international networks and markets for the next generation of Montréal designers.
For her part, Ms. Lambert said: "I want to thank the Ville de Montréal for this wonderful initiative. Recognizing up-and-coming young people who are talented in design that relates to the city is essential for the advancement of our society. This grant will enable young professionals to expand their knowledge of international design practices, come into contact with a diversity of creative realms, and benefit from a dynamic professional network. In other words, this award is as vital for the City of Montréal as it is for the winner. I want to congratulate the first laureat of this distinction."
Documenting urban visual heritage
Mr. Lamarre believes that vernacular graphic design, like architecture or urban planning, contributes to a city's personality. Vernacular graphic design includes official and commercial signage as well as any other visual element that leaves its mark on the urban landscape. Examples in Montréal include painted advertisements on brick walls and even signs – visual artifacts that, by way of the techniques with which they were created, their style or their content, embody the spirit of their times. Different cultures possess their own pictorial languages that blend typography and iconography in specific ways to guide citizens in their day-to-day activities.
The vernacular graphic design documentation project envisioned by Mr. Lamarre aims to index and classify these visual symbols of the past and present, in turn promoting the architectural heritage of the cities involved as well as presenting and preserving their identities and specific natures. The project, which will take place over a period of eight months, will include travel to Berlin and Buenos Aires, two member cities of the UNESCO Creative Cities Network. The results of Mr. Lamarre's research and documentation will be showcased on a website, which will be the centrepiece of a collaborative project inviting users to post their own images of vernacular urban design in cities all over the world.
2008 Recipient: Philippe Lamarre, graphic designer and publisher
Philippe Lamarre is co-founder of Toxa, a multidisciplinary design studio, and of Urbania, a magazine whose quarterly themed issues are devoted essentially to Montréal and have been acclaimed for their daring tone and design. He is also the producer of the series Montréal en 12 lieux, aired on TV5. His professional practice is notable for its off-the-wall vision of the city, its innovative spirit and its creativity.
The members of the jury, Mirko Zardini, Director of the CCA, Monique Savoie, Director of the Society for Arts and Technology, and Marie-Josée Lacroix, Design Commissioner of Montréal and Director of Design Montréal, were unanimous in acknowledging the grant recipient's talent for exploring and making use of the non-conventional media favoured by his generation of creators to capture the soul of a city.
"Philippe Lamarre offers us a new way of seeing the city, at once informative and enlightened, that focuses on architectural symbols and icons of popular culture. His project for a collaborative website will reach out to an entire new generation that is eager to exchange ideas and share observations about our city and its identity with like-minded communities of Internet users all over the world," Ms. Savoie emphasized.
About the Phyllis Lambert Design Montréal Grant
The Phyllis Lambert Design Montréal Grant, awarded annually by the Ville de Montréal, aims to reward the talent of a Montréal designer or design collective with fewer than 10 years' practice, and having demonstrated exceptional quality in studies and work as well as marked interest in the city. The grant is named in honour of Phyllis Lambert, a great Montrealer and staunch defender of emerging designers. In naming the grant for Ms. Lambert, the Ville de Montréal sought to underscore her remarkable contribution to the international reputation of Montréal and to the quality of life of its citizens, as well as the decisive influence she has had on the quality of urban planning, architecture and design in the city. Ms. Lambert was recently honoured by the Canadian Urban Institute, which named her the recipient of its Jane Jacobs Lifetime Achievement Award for 2008.
For more information about the Phyllis Lambert Design Montréal Grant, visit the
designmontreal.com
website.