Inauguration of Michal Ozmin Design for All Archive and Research Centre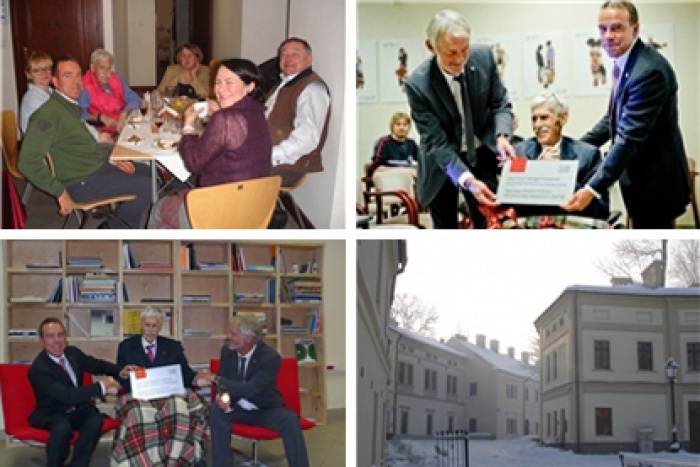 19.12.2010 News
Cieszyn (Poland)
- There were smiles and congratulations on all sides on Saturday 4 December, when EIDD Design for All Europe inaugurated the Michal Ozmin Design for All Archive and Research Centre, hosted in the Silesian Castle of Art and Enterprise in Cieszyn, right on Poland's southern border with the Czech Republic and only a few kilometres away from Slovakia.
But the biggest smile was on the face of the guest of honour: Michal Ozmin is a very determined man, so determined that not even his terminal cancer would stop him from making the long journey from Warsaw to be there with his friends and colleagues at the inauguration of the Centre that now proudly bears his name.
Not content just to cut the ceremonial ribbon, Michal also made the longest speech of the event, carefully detailing his vision of the structure to be developed for the Archive and Research Centre.
Before Michal took the floor, Ewa Golebiowska, Director of the Silesian Castle of Art and Enterprise in Cieszyn, launched the proceedings with a short introduction; Pete Kercher, EIDD Ambassador, gave a brief historical perspective of the development of EIDD and of Design for All; EIDD President Finn Petrén spoke some warm words about the wonderful experience of working closely with Michal over the last eight years, and David Roberts, one of Michal's very first students of design in Dublin and now an eminent lecturer himself, described Michal in another role: that of the man whose impact on the scene of design education in Ireland has been that of a veritable giant.
The Centre will benefit from the guidance of an Advisory Board, while its administration will be in the capable hands of Lubomira Trojan.
What is the Centre?
As the name implies, the Michal Ozmin Design for All Archive and Research Centre comprises two elements. The first is an archive, whose aim is to collect and collate an extensive collection of material, both historical and current, to constitute the essential central knowledge resource that has always been sorely missing in our efforts. The second is a functioning research centre, whose purpose is to make the archive material available for research students wishing to prepare PhD theses and/or develop on particular aspects of Design for All.
The Centre is ideally located for this purpose: in addition to the space necessary for the archives and for scholars to conduct their research, its host structure in Cieszyn has a small guesthouse available, where scholars can be hosted at a very modest cost. While the town of Cieszyn is located astride the ancient Amber Road, in a focal point of gravity in Central Europe, it is quiet enough to encourage study without too many distractions. The town council has adopted the Design for All approach to achieve accessibility in the urban environment as one of its main priorities.
How can you help?
By contributing material for the archive: please add the Centre to your mailing list for hardcopy books, publications, newsletters, magazines, journals, exhibition catalogues and any other material that can help scholars in their study of the many different facets and applications of Design for All, as well as background material about design in general. The archive is multilingual, already containing material in more than 20 European languages and three alphabets contributed by its founders. We practise cultural diversity.
In the near future, the Centre will also start developing a web resource to store virtual archives. Once this has been established, we shall be inviting all members of EIDD to contribute their virtual archives, in whichever language they use, and to copy their virtual communications to the new database.
The postal address for your hardcopy material is:
Michal Ozmin Design for All Archive and Research Centre,
c/o Úlà ski zamek sztuki i przedsiæbiorczoúci / Silesian Castle of Art and Enterprise
Zamkowa 3 a, b, c
43-400 Cieszyn,
Poland
---
About EIDD
EIDD - Design for All Europe is a European network, founded in Dublin, Ireland in 1993 with the name of European Institute for Design and Disability. The original aim of the network, to use design to achieve the inclusion of disabled people in society in European countries, has since been reinforced with inclusion of a more mainstream approach, enhancing the quality of life through Design for All.
www.designforalleurope.org