Iridescent: Icograda Journal of Design Research launched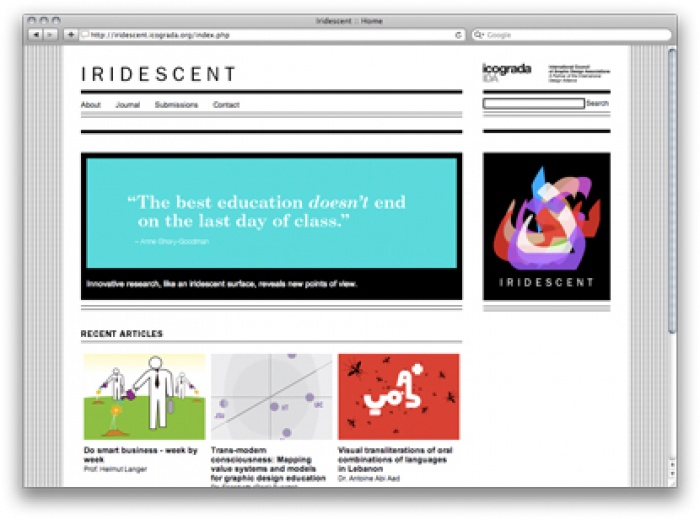 28.03.2010 News
Montreal (Canada)
- Icograda is introducing its newest initiative,
Iridescent: Icograda Journal of Design Research
. Advancing Icograda's strategic aim of supporting the development of design education (theory, practice, and research),
Iridescent
is an online journal fulfilling the vision of the Icograda Design Education Manifesto.
"The concept of a journal was first raised when the Icograda Education Network (IEN) was founded in 2002 at a meeting in Brno, Czech Republic," explains Russell Kennedy, Icograda President. "Today, the IEN includes 77 member institutions from 34 countries, and
Iridescent
will become a key platform to share the research generated by this network and encourage its continued development."
About
Iridescent
Iridescent
is a peer-reviewed publication, inviting scholars worldwide to submit innovative design research. Its aim is to make emerging work available to a broad international audience, establishing a benchmark for design research in the process. Themes will be introduced throughout each two-year term. Research will be reviewed as received and published online continuously.
"By publishing work in any of the six official languages of the United Nations (English, French, Spanish, Russian, Chinese and Arabic), our hope is that
Iridescent
will introduce design research that may not currently have a voice in the international design discourse." says Omar Vulpinari, Icograda Vice President who leads the Education portfolio. "We want to inspire and encourage new and unconventional approaches to research across all design disciplines." The
Iridescent
identity, developed by David Lancashire Design, was developed to reflect this inclusive approach.
The inaugural content of the journal includes papers presented at the Education Conference held during Xin: Icograda World Design Congress 2009 in Beijing, China. Expanding on these papers exploring the current state of design education, two additional themes have been opened for future submissions:
Design education
Defining the value of design
Sustainability
A selection of papers published in each two-year term will be curated as a printed volume. The first printed edition will be presented at the Icograda General Assembly 24 in Taipei, Taiwan (Chinese Taipei) as part of the 2011 IDA Congress.
Editorial Board and Advisory Panel
Iridescent
will be stewarded by an Editorial Board, headed by Max Bruinsma internationally respected design critic, editor and curator, and an Advisory Panel. "The response to our call for interest to participate in shaping
Iridescent
was exceptional and our inaugural Editorial Board and Advisory Panel represents not only academic leadership but the diverse cultural backgrounds that make Icograda's network unique," adds Vulpinari. "We are grateful for the commitment that this group has made on behalf of our Council."
Editorial Board (2009-2011):
Max Bruinsma (the Netherlands)
Rotating guest editors
Advisory Panel (2009-2011):
Audrey G. Bennett (United States)
Sherry Blankenship (United States)
Halim Choueiry (Lebanon)
Renzo di Renzo (Italy)
Susan King Roth (United States)
Ruth Klotzel (Brazil)
Ellen Lupton (United States)
Simon McIntyre (Australia)
Iraj Mirza Alikhani (Iran)
Leila Musfy (Lebanon)
Paul Nini (United States)
Danne Ojeda (Singapore)
Ladan Rezai (Iran)
Sasha Sankova (Russia)
Ajanta Sen (India)
Karel van der Waarde (Belgium)
Ria van Zyl (South Africa)
Veronique Vienne (France)
Omar Vulpinari (Italy)
Yong Xiao (China)
Evert Ypma (Switzerland)
Call for submissions
Iridescent
invites researchers and scholars from all design disciplines to submit their papers and essays. Papers may be submitted in any of the six United Nations languages - Arabic, Chinese, English, French, Spanish and Russian but must include an English language abstract.
Iridescent
follows a double blind peer review process.
To learn more about Iridescent and how to submit, visit:
http://iridescent.icograda.org
---
For more information, please contact:
Diala Lada
Projects Manager
T: +1 514 448 4949 x230
E:
dlada@icograda.org
About Icograda
Icograda is the world body for professional communication design. Founded in 1963, it is a voluntary assembly of organisations concerned with graphic design, visual communication, design management, promotion, education, research and journalism in 67 countries and regions around the globe. The vision, mission and core values of the Council are collectively embodied in the statement 'leading creatively' and manifested through Members' diverse activities to use design as a medium for progressive change.