Global Design Camp—a collaborative student project between Hong Kong Design Institute (HKDI) and Manchester Metropolitan University (MMU)
04.09.2019 Member news
One of the final concepts for Global Design Camp was a "Lean Green Jelly Machine" that would help communities transform spaces by reusing waste by transforming it into mouldable building blocks. (All photo credits to: HKDI)

On 15-19 July 2019, 30 students from multiple design disciplines from ico-D Members and Manchester School of Art at Metropolitan University (MMU) came up with creative design solutions for their "Ideal City" in the Global Design Camp, a 5-day workshop organised by the Design Council of UK and facilitated Jonathan Ball, product designer and design strategist, from 15-19 July at the Manchester Metropolitan University (MMU) campus.
The aim of this innovative project is for design students to build and develop the skills they will need for future economies—the ability to solve complex problems, to think critically, creatively and to collaborate across cultures. Prior to the summer camp in Manchester, students from HKDI and MMU collaborated using virtual communication tools, and started their research on five 'challenge' areas, namely Health, Places, Food, Work and Networks. Upon arriving at MMU, international design teams were formed according to each of the challenge areas and students from across the globe began sharing their visions with their team members. Through an intensive design sprint at MMU, students worked in their global design teams to research, design and test their ideas, receiving feedback from industry experts to help them shape their solutions.

The backstory for this project is described by the Design Council Project Manager Growth & Innovation Jessie Johnson:
"Back in October 2018, Joe McCullagh, Head of Design and Associate Dean at the Manchester School of Art, reached out to Design Council with a bold vision: he wanted to bring students from across the world together to form a global design studio and support them to develop 'glocal' design skills. Timely for us as our Design Economy research (looking at the contribution that design makes to the UK) found that demand for these skills are growing – more than 50% of respondents identified an increasing need for these skills in their sector or industry."

Joe McCullagh explained this further:
'Global societal challenges need global design teams and skills. In this exciting innovative partnership, we have co-created the Global Design Camp to tackle purposefully global societal challenges by working collaboratively and cross-culturally. It is necessary that new models of collaboration and communication are required to maximise the effectiveness of design in addressing societal challenges and importantly to help our future designers develop 'glocal' design skills and understanding.

Shelley McNulty, International Lead for Design at Manchester Met added:
Curriculum innovation is at the heart of Design at Manchester Met and The Global Design Camp is testimony to this. Design students will have the opportunity to acquire new skills with greater understanding of how thinking like a Designer can help tackle societal challenges and contribute to future economies, standing them in good stead for future employment opportunities both nationally and internationally.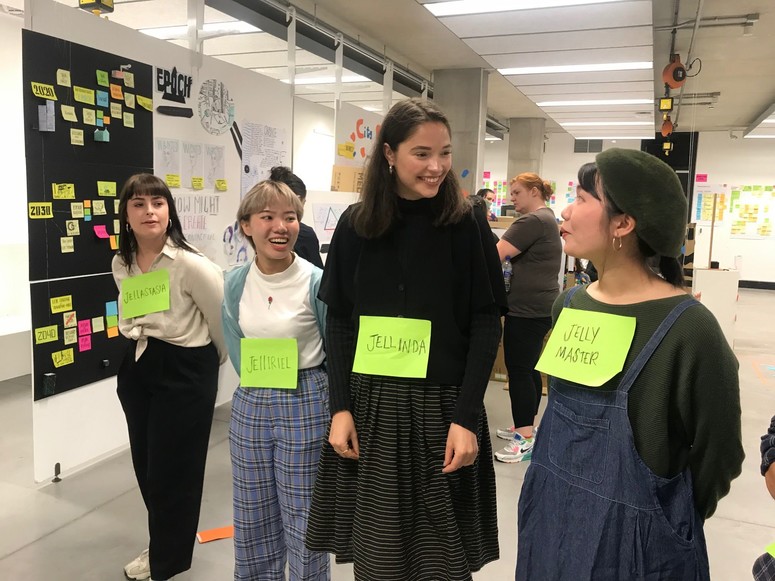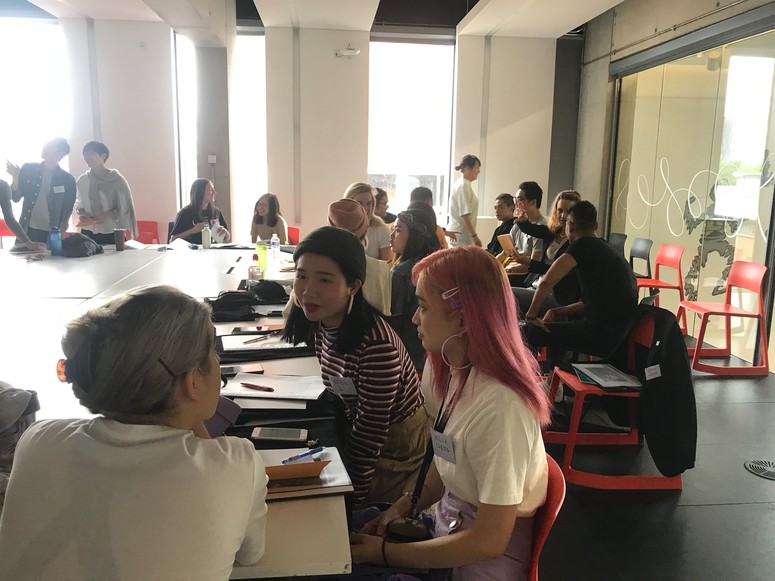 Throughout the 5-day journey, concepts for the student's "Ideal City" were developed through discussions, sketches, notes, and prototypes.
"Not only were we asking them to work with students they had never met before, from different countries and cultures, but to design solutions for 'The Ideal City' while working 7-hour days, 5 days in a row. A slightly different feel to their university courses so far." (Design Council)
The last day of Global Design Camp featured an exciting presentation of each group's creative proposals. Here are some of their very innovative ideas: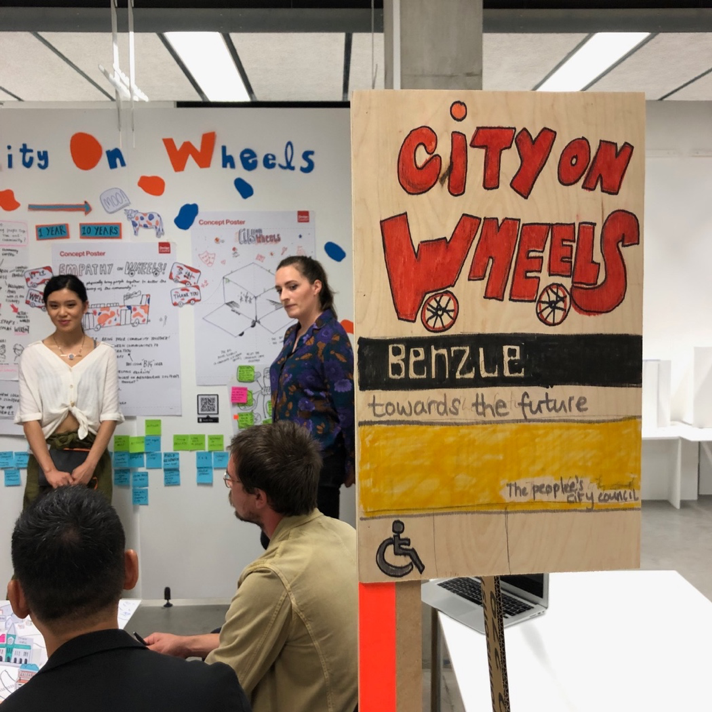 The City on Wheels is designed to bring services to communities in the Ideal City and for communities to host events that concern them.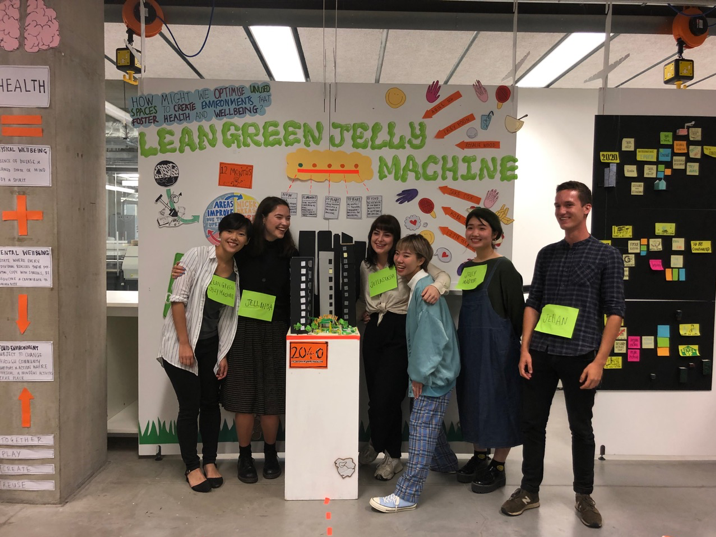 The Lean Green Jelly Machine is a highly conceptual idea that queries how might we optimise unused spaces to create environments that foster health and well-being. The answer? Recycle objects in community locations and use the material to build civic needs such as playgrounds.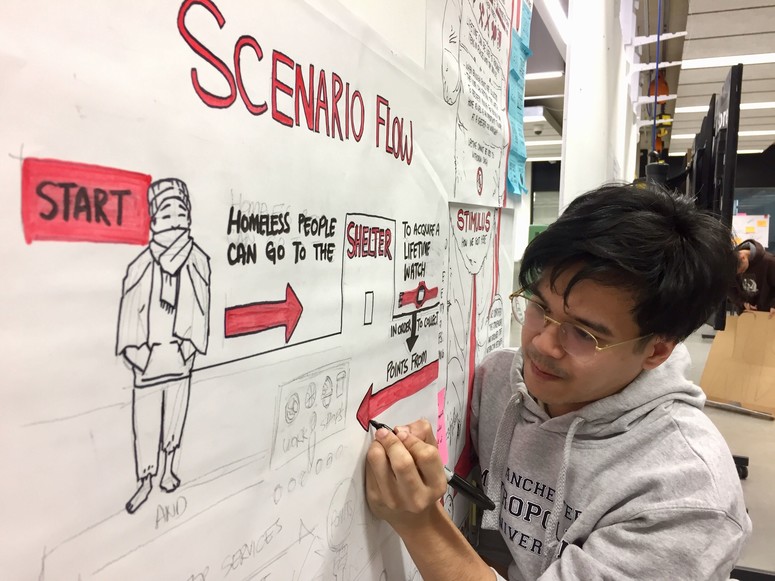 Time for Change was a watch designed for the homeless that would provide individuals with access to shelter while enabling them to earn points by upskilling in key areas and put these points towards food, new clothes and other necessities.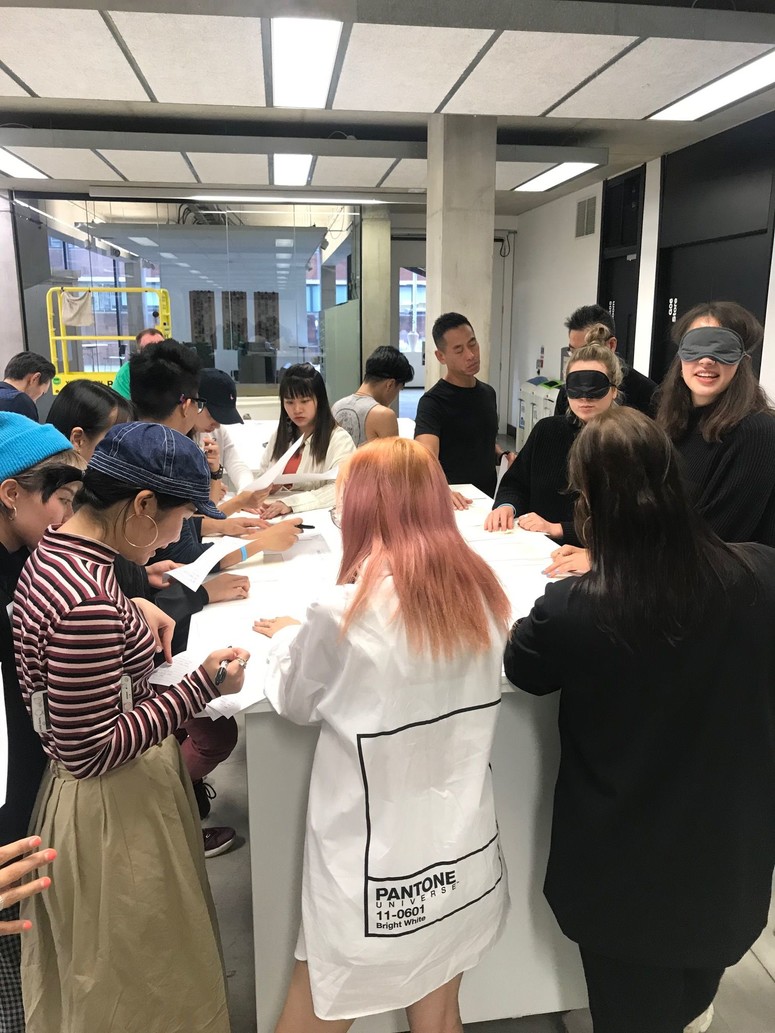 One group focusing on the challenge areas of Food created a YUMM Passport for children through which they could earn rewards upon completing different key skills, such as food waste skills, cooking skills, food growing skills, planet knowledge etc.

One participant reported:
"It was an exciting experience to work with teammates with different ethnic, cultural and design backgrounds – from fashion, product and architectural designs, to visual communication, transmedia and advertising design. Together we shared and listened to each other's perspectives, and came up with a design that would respond to the needs of a diverse population."

Students of Global Design Camp are busy developing their initial concepts into gallery-ready exhibits, and their 'Ideal Cities' will soon be on display later this year at Design Manchester in November and the Business of Design Week in Hong Kong in December.


(Photo credit: Design Council)
LINKS

Design Council article: "What happens when you bring 30 students together, living 5,976 miles apart, and ask them to design 'The Ideal City' in just 5 days?"
By Jessie Johnson, Design Council UK
Official website:Hong Kong Design Insititute (HKDI)
ico-D Member profile page:
Official website: Manchester School of Art
ico-D Member profile page: Manchester School of Art