Monash student urban garden project wins Aspen Design Challenge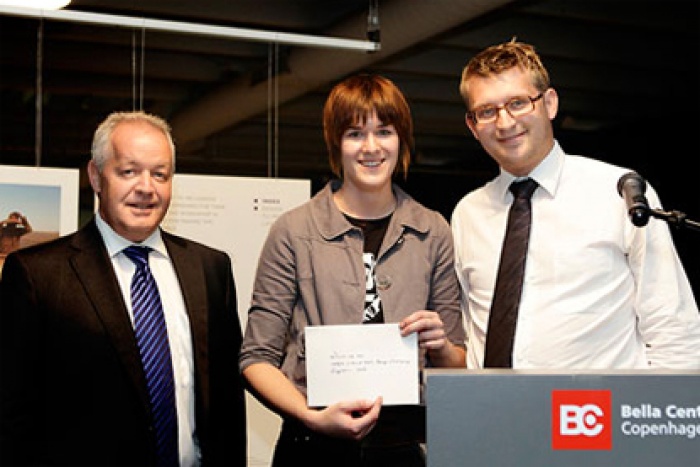 01.09.2009 News
Copenhagen (Denmark)
- Joanna Szczepanska from , Melbourne, Australia, was announced as the winner the INDEX:AIGA Aspen Design College Challenge, "Designing Water's Future" for her design Veggie Patch. This winner of the worldwide competition among students to develop design that meet the growing global water challenges was announced at the design fair CODE09 (Copenhagen Design) in Bella Center, Copenhagen.
Joanna Szczepanska was congratulated by the Danish minister of the environment, Troels Lund Poulsen, who highlighted the collaboration of cutting edge design and green technology as a cause for celebration. "This is a project that has a good chance of making it to the reality, especially with the backing of the money," said Troels Lund Poulsen as Joanna Szczepanska was awarded the $10,000 prize.
Above: Posters describing Joanna's design for "Designing Water's Future"
Edible urban garden
The winning design is an edible garden for urban landscapes. It allows people living in the city to cultivate food in restricted space in urban areas. The design addresses the problem of food miles, water waste and packaging and has various features that makes it interesting to those concerned about the climate:
Modularity

: VeggiePatch is adaptable to small urban spaces as it can literally be bought by the meter, in 30cm increments, off a roll or sheet. Its size and contours are determined by the user's requirements, with four initial base contours to choose from.

Composition

: VeggiePatch has the capability to vermicompost food waste within each one of its pockets, closing the loop in the food cycle.
Irrigation: VeggiePatch has Irrigation lines molded into the product, reducing need for external components, additional materials and making assembly and recycling easier.

SeedDisks

: Allows users to quickly and easily sew seeds. Their format prevents over planting, eliminates the need for excessive seed packaging, and provides protection and nutrients for seedlings as they grow.

Materials

: Using post-consumer and industrial waste such as ceramic coated cardboard, banana paper and tyre crumb for its construction, Veggiepatch provides recycled materials with new applications providing a chance to be viewed in fresh ways. The materials selected not only support the products functionality, economic viability, but final disassembly and recycling.
Cradle to cradle
Joanna Szczepanska explained, that her work was inspired by the book "Cradle to cradle - Remaking the Way We Make Things" by William McDonough and Michael Braungart.
The Veggie Patch is simple to produce and can be produced by anyone in any part of the world. "The plan is to start producing them in Melbourne. I am going to do one more prototype and the we will start," said the 25-year old Joanna Szczepanska who is moving from Australia to Antwerpen this fall to study a Master in Man and Humanity at the Design Academy. "I have learned so much form participation in the Design Challenge. The design experts and business people that has worked with us, helped me refine my project in to a five minute talk."
Water challenge exhibition
The INDEX:AIGA Aspen Design College Challenge has been running since May last year, and more than 700 students from 28 countries have participated. From the 700 participants, an international jury selected seven finalists that are on display at CODE09.
The exhibition is a joint project between INDEX:, THE CONFEDERATION OF DANISH INDUSTRY and CODE09. The prize is sponsored by JL-FONDET.
Read more about Designing Water's Future at
www.aspendesignchallenge.org
See Joanna's design, as well as others by Monash University Students, in the .
---
For further information, please contact:
Jennifer Bender
Manager, communications and marketing
AIGA | the professional association for design
T: +1 212 807 1990
F: +1 212 807 1799
W:
www.aiga.org
About the INDEX: | AIGA Aspen Design Challenge
The Aspen Design Challenge is a joint project developed by AIGA and INDEX: with the purpose of engaging the millennial generation in solving an emerging set of global issues. The idea for "Designing Water's Future" grew out of discussions at the World Economic Forum in Davos, Switzerland, led by Brian Collins, chairman of Collins:, New York-based communications and design firm, and journalist J. Carl Ganter, co-founder of Circle of Blue, the international network of leading journalists, scientists and communications designers that reports the global fresh water crisis.
www.aspendesignchallenge.org
About "Designing Water's Future" Partners
INDEX: is a nonprofit organization based in Copenhagen that focuses on design to improve life worldwide. INDEX: works through a global network to ensure access to the best knowledge on design and the cutting edge of contemporary thinking. The network consists of designers, businesses, organizations and design institutions that collaborate in disseminating and applying the latest knowledge in the field of "Design to Improve Life."
www.indexaward.dk
Circle of Blue is the international network of leading journalists, scientists and communications designers that reports and presents the information necessary to respond to the global freshwater crisis. Circle of Blue is a member of the Clinton Global Initiative and is a nonprofit affiliate of the internationally recognized water, climate and policy think tank, the Pacific Institute. Circle of Blue also publishes WaterNews, the daily go-to source for global water news and data.
www.circleofblue.org
COLLINS: is an innovation-led communication and design firm dedicated to inventing branded experiences and digital interactions that shape both companies and people for the better.
www.COLLINS1.com
About AIGA
A Professional Member of Icograda, , is the premier place for design - to discover it, discuss it, understand it, appreciate it, be inspired by it.
AIGA's mission is to advance designing as a professional craft, strategic tool and vital cultural force. AIGA stimulates thinking about design through journals, conferences, competitions and exhibitions; demonstrates the value of design to business, the public and government officials; and empowers the success of designers at each stage of their careers by providing invaluable educational and social resources.