MONTREAL DESIGNATED AS A CITY OF DESIGN BY UNESCO: A FIRST IN NORTH AMERICA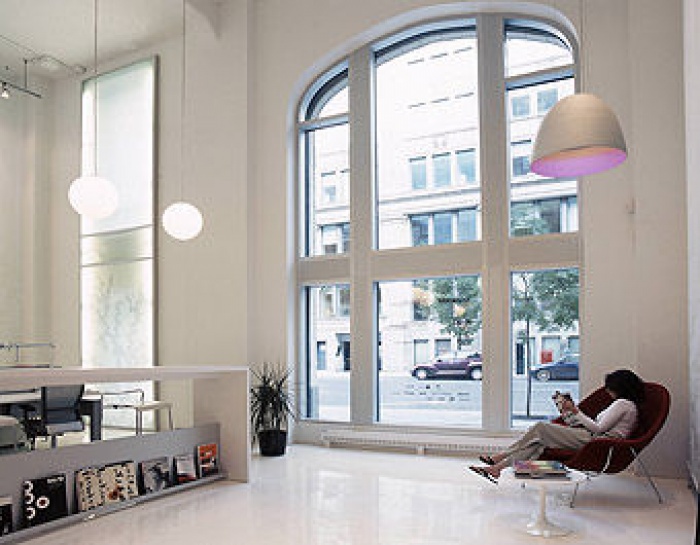 17.05.2006 News
Montreal (Canada)
- "The Global Alliance for Cultural Diversity has designated Montreal as "UNESCO City of Design" as part of the Creative Cities Network," announced today Gerald Tremblay, Mayor of Montreal, and Benoit Labonte, member of the executive committee responsible for culture, heritage and design.
With this honour, Montreal becomes the first North American city to join the recent UNESCO City of Design network after Buenos Aires (August 2005) and Berlin (November 2005), in addition to other cities recognized by UNESCO in other fields of excellence, including literature, music, food, cinema, folk art and digital arts.
Through this award, UNESCO recognized the effort and enthusiasm of the public and private sectors, Montreal civil society, as well as the city's potential for economic and social development in the field of design. With the participation of the design community, Design Montreal, applied for this honour at the request of Benoit Labonte and the Montreal executive committee. The certificate will be presented by Mr. Koichiro Matsuura, Director-General of the United Nations Educational Scientific and Cultural Organization as part of a visit to Montreal scheduled for the month of June.
"After becoming the headquarters of the International Design Alliance (Icsid and Icograda) last year, this UNESCO award represents major international recognition for Montreal and all our creators and players involved in the fields of design, culture and economy," said Mayor Tremblay. "This title rewards the sustained efforts by Montreal and its partners since the publication of the Picard Report in 1986 which focused on design as one of the priorities of metropolitan economic development. Montreal already exports knowledge in the field of strategic design promotion, since its original Commerce Design Montreal concept was picked up by the cities of New York, Saint-Etienne and Lyon, and it will continue to do so as part of the "UNESCO Creative Cities Network". Design is also one of the elements of the Imagining - Building Montreal 2025 game plan, in which Montreal committed itself to becoming one of the world's most attractive cities, through design quality and innovation," added Mayor Tremblay.
"Design is a strategic strength that Montreal must develop. The honour bestowed by UNESCO acknowledges both past experience and our visible commitment in the field of design. It must now serve as an incentive lever to accelerate implementation of the recent municipal action plan Montreal, Design de ville / Ville de design, launched in September 2005. We firmly believe that a strong combination of design, architecture and urban development contributes directly to the quality of life in Montreal, highlights the sense of pride of Montrealers, as well as the interest of visitors and investors," said Benoit Labonte.
Montreal is a city where design and designers, be they involved in the fields of interior, industrial, graphic, fashion or architectural design, represent a dynamic force of cultural and economic life. According to recent statistics, design is responsible for 20,356 jobs in Montreal's metropolitan area and economic spin-offs of more than $750 million. Also, 65.3% of Quebec workers involved in the field of design live in the metropolitan area. Montreal is the only North American city to have established, as early as 1991, a bureau dedicated exclusively to the development and promotion of design. Important achievements are owed to this bureau, including the Commerce Design Montreal competition, which has contributed to the rise of Montreal as a city of design.
Montreal is clearly part of the network of cities of knowledge in the field of design with four universities teaching design, architecture and urban planning, as well as five university research chairs in those fields. Montreal is also home to a rich network of high-level establishments dedicated to the promotion and dissemination of design, including the Canadian Centre for Architecture, Centre de design de l'UQAM, as well as the Montreal Museum of Fine Arts with its decorative arts collection. Montreal also hosts numerous design-related events, several of which occur in May, referred to as Design Month. They include the Montreal International Interior Design Show and the Gala des prix de l'Institut de Design Montreal.
According to the interim director of the Arts and Cultural Business Division, Mr. Indrasen Vencatachellum, "The global alliance of UNESCO has created the Creative Cities Network to support cultural pluralism and to make creativity an essential engine of economic and social development. This network wishes to promote development by using the potential of local cultural industries through partnerships with the public and private sectors, sharing sound practices and knowledge internationally. By using this network as a springboard, cities pool their experiences to help each other to strengthen local skills and increase the diversity of cultural products available on the national and international markets."
---
For further information please contact:
Cabinet du Maire et du Comite Executif
Bernard Larin
T: +1 514 872 9998