NEW NAME! NEW LOOK! NEW RECOGNITION!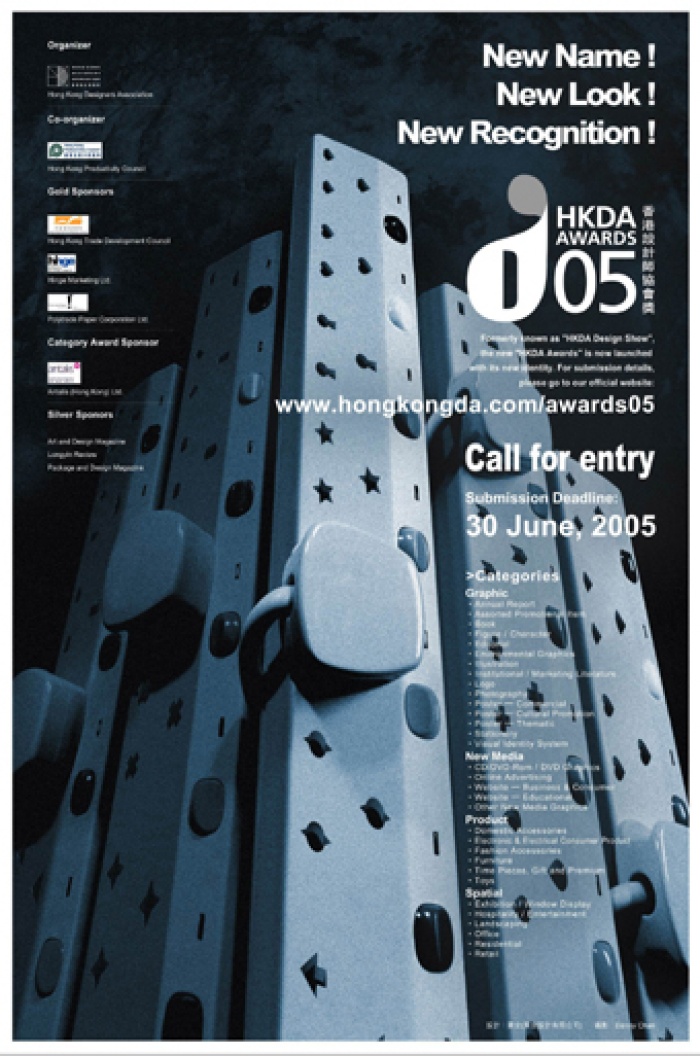 12.05.2005 News
Hong Kong
- Formerly known as "HKDA Design Show", the new "HKDA Awards" has been launched with a new identity. Since its inaugural ''First Picture Show'' held in 1975 by HKDA, the event has become the one of the most important multi-disciplinary design competition/exhibition in the Asia Pacific region.
To be held biennially in Hong Kong, the ''HKDA Awards'' cover various design disciplines from graphics, product, interior, spatial, illustration to new media.
In the latest ''HKDA Design 02 Show'', more than 2,200 entries were submitted in the Hong Kong and Asia sections including entries from mainland China, Taiwan, Macau, Japan, Malaysia, the Philippines, Singapore, South Korea and Thailand.
This year, the two sections will be merged and entries from Hong Kong and other Asia Pacific regions will be judged together.
A panel of judges comprising distinguished designers of international acclaim will adjudicate all entries. Winners will be awarded trophies and certificates at the ''HKDA Awards Presentation Dinner'' to be held in Hong Kong, tentatively scheduled for November 2005. All winning entries will be exhibited in Hong Kong during the same period and published in the ''HKDA Awards Book''.
Entry deadline 30 June 2005
Eligibility
HKDA Awards 05 is open to all designers and registered bodies and companies in the Asia Pacific region. Entries must have been entirely designed in Asia Pacific region and first released between 28 May 2002 > 30 June 2005.
Disqualification
Hong Kong Designers Association will reserve the right to disqualify any entries not prepared in accordance with the regulated format, and entry fees will not be refunded.
Return of Awards and Non-Awarded Entries
All the awarded and non-awarded entries will not be returned. Awarded entries may be deposited in the Hong Kong Heritage Museum Design Collection. Non-awarded entries will be returned only with a letter of request submitted with the entries by the local entrants. Entrants are required to collect the entries in person with further notice from Hong Kong Designers Association regarding collection location and time.
Hong Kong Designers Association reserves all rights to exhibit and/or publicize the prize-winning and other entries at their discretion.
Liability for Loss and Damage
While every precaution will be exercised in the handling of entries received by Hong Kong Designers Association, the Association can accept no liability for any loss or damage of any kind whatsoever for any entry submitted.
Design Registration & Patent
It is the responsibility of the entrant to protect designs by design registration or patent. All matters regarding design copyright of the entry work will be at the responsibility of the entrant.
---
For further information please contact:
F: +852 2527 5468
E:
info@hongkongda.com
W:
www.hongkongda.com/awards05/about.asp