OPENING OF MOSCOW GOLDEN BEE 8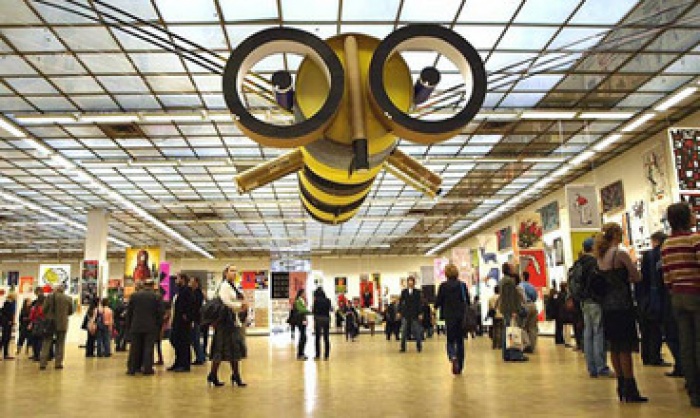 02.09.2008 News
Moscow (Russia)
- On 1 September, 2008, Moscow saw the opening of the , the International Biennale of Graphic Design. This event invites both professionals and the general public to discover the best works of graphic designers from all over the world.
At the core of the Moscow biennale is the poster, a special genre in graphic design. Posters show the very essence the profession's culture, demonstrating creative concepts and modern plastic tendencies. After looking through about three thousand posters, the Pre-selection Committee, representing designers from 43 countries, chose over 700 works for the final Golden Bee 8 exhibition. With the exception of Russia, Iran and Poland represent the largest number of posters, outnumbering the usual favorites, Japan and China.
Two additional anniversary nominations are represented at Golden bee 8. The nominations are "Futurism 100" and "New Cyrillics 300".
Nomination "Futurism 100" is devoted to centenary of the artistic movement which gave an impulse to avant-garde of the 20th century. Nomination "Futurism 100" is the first input of graphic design into this process. The pre-selection committee has chosen about 100 projects of various genres of graphic design for the final competition.
The second additional nomination, "New Cyrillics 300", is dedicated to 300 anniversary of the renewed Cyrillic alphabet. It is represented by nearly 200 projects that give a comprehensive overview of modern artistic search in the realm of typeface design.
As part of the event this year, the exceptional jury members will give public lectures and presentations, which are especially important for students and young designers.
The event will run until
12 September 2008
.
Read the complete text on
Rene Wanner's Poster Page
.
---
For more information, please contact:
Russian State Library
Centre of Public Relations
Vozdvizhenka 3/5
Moscow
Russia 119019
E:
serov@dubki.ru
W:
www.goldenbee.org