Oslo and Grafill chosen to host 2018 European Design Awards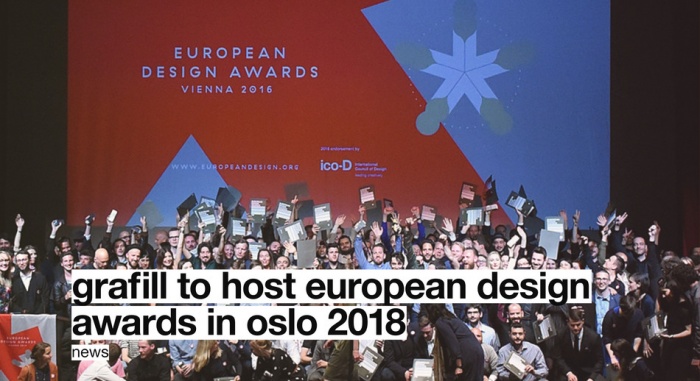 18.01.2017 News
The European Design Festival is hosted in a different European city each year, and for the twelfth edition, European Design Awards have chosen Oslo as it's host city and ico-D Member to be in charge of the event. The festival will make Oslo a meeting place for designers and illustrators from all around Europe.

"We are proud that European Design Awards has chosen Oslo and Grafill as its partner for the 2018 chapter. This gives us a unique opportunity to set Norwegian design and illustration in a European context. We have great expectations and look forward to collaborate towards our common goal."
—Kari Bucher, CEO of Grafill.
In the spheres of design, culture and architecture, Oslo is one of the most booming and cutting-edge cities in Europe, and with the festival Grafill will get Europe's focus on Oslo. "This was the cornerstone of our decision," said Demetrios Fakinos, Managing Director of European Design. They look forward to continuing the cooperation with Grafill in 2017.

"After having worked purposefully towards this, we are proud and happy to receive the news. Norway has a high international standard in regard to design and illustration, and European Design's decision recognizes this. In the last five years, Norway has excelled in both European and international competitions, including participation in the ED-Awards. By achieving this host role, while being deeply involved in the program, concept and the event itself, we believe that Grafill is also being firmly planted on the European map. Now begins the exciting work and collaboration, in which we would like other active partners to join with us in order to create a successful and exciting event," said Dag Solhoug Laska, Deputy Chairman of the Executive Board.

"From an industry standpoint, this is a unique opportunity to promote Norwegian design and illustration, while we are showcasing what we can offer. With Grafill's long experience with the Visuelt festival, we will stand firm in partnership with European Design to deliver a complete success. With the competing cities that were in consideration, we will be honored to bring this event to Oslo," he added.
Links
EU Design Awards Official website
Submission page here.
(The Norwegian organisation for Design and Illustration)
Grafill Official website

For more information, please contact:
Kari Bucher, CEO, 932 17 291, kari@grafill.no
Eva Boldermo Bergan, Head of Information, 997 04 302, eva@grafill.no