:output launches free online portfolio site for design students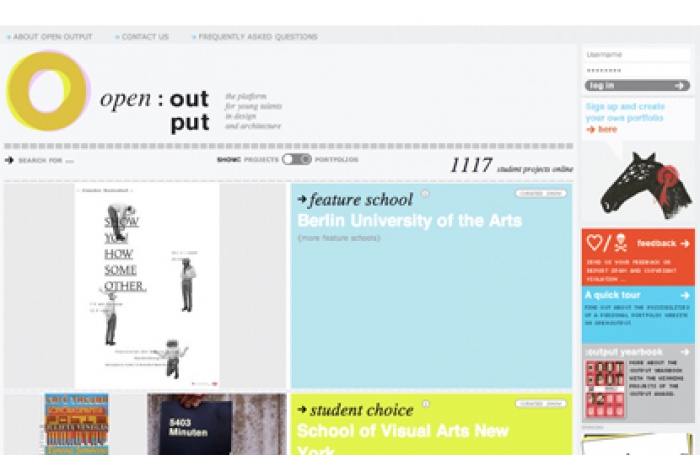 15.11.2009 News
Amsterdam (The Netherlands)
- :output, the organiser of the , has announced the launch of
www.open-output.org
, a new online portfolio platform for students in design and architecture.
This platform allows students to create their own portfolio websites free of charge and benefit from the power of a large network. With already more than 1000 projects online, students are able to simply log in and create an account.
With an open-output.org, students can:
create a personal portfolio website
upload an unlimited number of projects
include images and videos
include project descriptions and downloads
add a cv and personal skills
edit all parts of the personal portfolio at any time
Visitors to open :output can quickly find the most interesting projects from the top art schools and universities around the world. Every other week, open-output.org features a selected university (feature school show) or ask students from one particular school to make their selection of outstanding projects (student choice show). Visitors can also find the best works from the :output award in the ":output hall of fame".
All students who open an account before 30 November 2009 have the chance to win one of 15 Pantone formula guides or one of 15 subscriptions to "Greenpeace Magazin".
Find out more at:
www.open-output.org
---
For more information, please contact:
:output
Keizersgracht 8
1015 CN Amsterdam
The Netherlands
E:
info@open-output.de
W:
www.inputoutput.de
About :output
open:output is made possible by the > :output FOUNDATION. :output is a non-profit organisation based in Amsterdam. The goal of the foundation is to support young talents and provide a platform for the exchange of ideas on design education and the design profession.
By offering this unique collection open :output attracts thousands of visitors and makes student work seen by professionals, potential employers, university teachers and fellow students.
The use of open :output for students and visitors is 100% for free. Any revenues made through sponsorship or advertising flow back into projects of the :output foundation to foster talents, provide a platform for exchange and support design education worldwide.