Poster for tomorrow announces the 'Draw Me Democracy' global workshops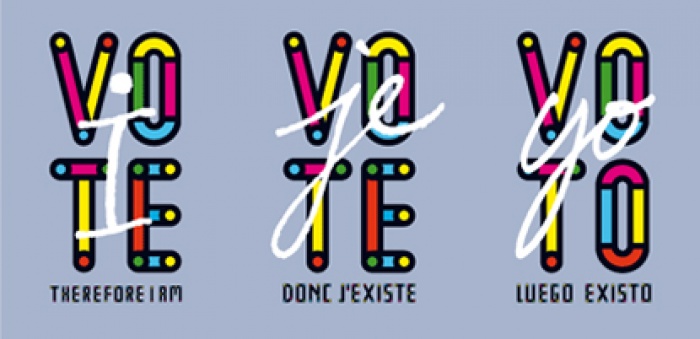 22.02.2012 News
Paris (France) - Poster for tomorrow has announced their new "Draw Me Democracy" (DMD) project. This series of international workshops is one of the few global projects that the UNDEF, the United Nation Democracy Fund, has ever financed.
The aim of DMD is to help young artists, designers and communication professionals take an active role in democratic and/or human rights-related processes. The workshops aim to help participants find their own strong creative voice. In this context, the empowerment of women is at the core of DMD priorities.
DMD will accomplish these goals through a series of 12 one-week, free poster design workshops across 12 key countries scattered around Africa, Asia, Eastern Europe and Latin America. The workshops aim to strengthen the participants knowledge and skills in the fields of design, social communication and advocacy advertising.
A design educator will host each workshop for 5-10 NGO/CSO representatives and 15-25 students. The educator will lead participants through structured classroom work to maximise the learning and skills benefits.
A future series of workshops will follow 6 months later, taking place both among the 12 original countries and bringing the opportunity to more designers in other countries.
Call for Participants
Draw Me Democracy is seeking designers and representatives of NGO/CSO's communication department. The aim of Draw Me Democracy is to promote empowerment both at the individual and institutional levels. The organisers believe that members of society who find and use their own free creative voice are empowered to more easily achieve and maintain democracy and an open society.
Workshops are free of charge. Apply through the DMD online application form. The organisers will screen all applications and select 20-35 participants for each workshop.
Selected participants will be asked to design poster artwork before, during and after the workshop.
Workshop Locations and Leaders
La Paz, Bolivia - Valérie Pettis (United States)
Gaborone, Botswana - Luba Lukova (United States)
Bogota, Colombia - Andrew Lewis (Canada)
Quito, Ecuador - Timo Berry (Finland)
Tbilisi, Georgia - Antoine Abi Aad (Lebanon)
Kumasi, Ghana - Natalia Delgado (Mexico)
Mumbai, India - Esteban Salgado (Ecuador)
Nairobi, Kenya - Rafael Vivanco (Peru)
Guadalajara, Mexico - Alan Le Quernec (France)
Karachi, Pakistan - Will Georgi (United Kingdom) and Tommaso Minnetti (Italy)
Sfax, Tunisia - Michel Bouvet (France)
Dniproperovsk, Ukraine - Susana Machicao (Bolivia)
Full details of the workshop locations are available on the Poster for tomorrow website.
Local creatives citizens and NGO/CSO are invited to apply to the workshops online.
---
For more information, please contact:
dmd@posterfortomorrow.org