"POSTERS FOR CULTURAL DIVERSITY" ONLINE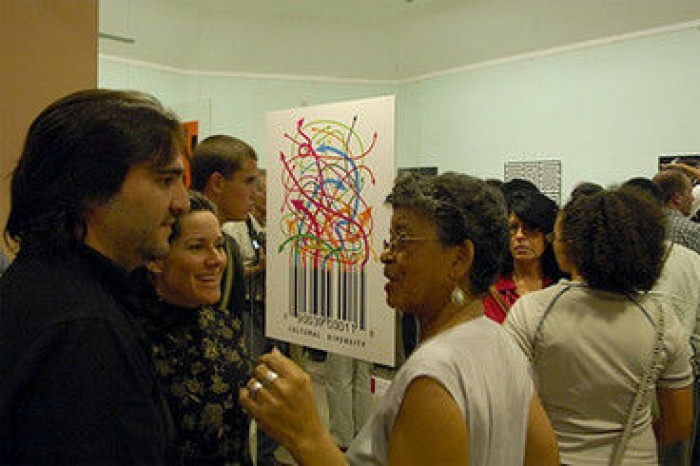 19.03.2008 News
La Habana (Cuba)
- A highlight of
Design/Culture: Icograda World Design Congress 2007
was the international poster exhibition organised by Prografica under the patronage of the UNESCO Regional Office for Latin America and the Caribbean. Curated by Hector Villavere, the exhibition consists of 104 posters created by designers from 32 countries, with 49 of from Latin America.
In his introduction to the exhibition, Herman van Hooff, Director of the UNESCO Regional Office, recognised the key role of communication design: "Diversity of ideas, of styles, of world views, in sum, of cultures are present in this exhibition... .There is no question that graphic design, with all its aesthetic values and its artistic persuasion can play an important role in the protection and promotion of cultural diversity." He went on to describe the exhibition as "a significant contribution towards the achievement of the main goals of the UNESCO Convention on the Protection and Promotion of the Diversity of Cultural Expressions (2005)."
Now, the posters are available online as a resource for the international community through the Prografica website. Each selection includes a biography of the designer who created the work. "This is an exceptional addition to Icograda's resource library. It is an invaluable collection to explore the diversity of expression from around the globe," said Brenda Sanderson, Icograda's Managing Director. "We appreciate the contributions of each designer, and especially those of the Prografica members, whose dedication has made this possible."
About the exhibition
www.prografica.cult.cu/expocarteles.php
See the work
Follow the link below and click on each name to see the work
www.prografica.cult.cu/expo_participantes.php
---
About Prografica
The Cuban Progr?fica Committee (
Progr?fica
) is a non-governmental organisation and a Professional Member of Icograda. Progr?fica enjoys the sponsorship of the Cuban National Council of Visual Arts (CNAP). From 20-26 October 2007,
Progr?fica hosted "Design/Culture: Icograda World Design Congress 2007" in La Habana, Cuba.
About Icograda

Icograda (The International Council of Graphic Design Associations) is the world body for professional communication design. Icograda promotes communication designers' vital role in society and commerce and unifies the voices of graphic designers and visual communicators worldwide. The vision, mission and core values of the Council are collectively embodied in the statement 'leading creatively' and manifested through our Members' diverse activities to use design as a medium for progressive change. Icograda is a member of UNESCO's Global Alliance for Cultural Diversity.
UNESCO's Global Alliance for Cultural Diversity

UNESCO's
Global Alliance for Cultural Diversity
explores new ways to turn creativity in developing countries into sustainable cultural industries. It aims to promote cultural diversity, support economic development and encourage job creation in a range of fields including music, publishing, cinema, crafts and the performing arts. Launched as a pilot project in 2002, the Global Alliance will now use its experience in developing public-private partnerships to support programmes and activities implemented under the Convention on the Protection and Promotion of the Diversity of Cultural Expressions.