SEOUL CITY GOVERNMENT HOST OFFICIAL WORLD DESIGN CAPITAL™ 2010 CEREMONY IN SEOUL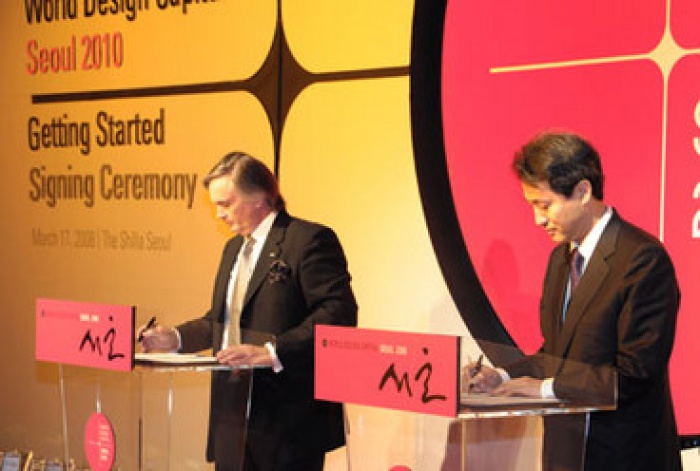 19.03.2008 News
Seoul (Korea)
– On behalf of the Seoul Metropolitan Government, Mayor Oh Se-hoon signed a memorandum of agreement with the International Council of Societies of Industrial Design (Icsid) during a ceremony on 18 March 2008 at the city as the World Design Capital™ (WDC™) 2010.
Approximately 300 people attended the official signing ceremony to celebrate WDC Seoul 2010. Invited guests included Icsid President Prof. Carlos Hinrichsen accompanied by the Icsid Executive Board and the WDC Founding Chair Prof. Dr. Peter Zec, Diplomatic Corps from 41 countries, City Council Members, District Mayors, figures of the international and domestic design community, as well as other city officials.
The city government announced its intention to showcase Seoul as a city that attracts creative talents because of its creativity and innovation. Leading up to 2010, the Korean capital will truly be seen as a global city of design by implementing related projects and building on its image as a glamorous tourist attraction.
During his celebratory speech following the signing, Mayor Oh expressed his firm commitment and confidence in design by stating "in addition to our amazing economic achievement, winning the WDC title is a great opportunity and excellent challenge for us to make a fresh leap forward through design. The year 2010 will be a platform to present Seoul as a global city of design."
At a press conference held after the signing ceremony, Icsid President Carlos Hinrichsen extended his support for Seoul's vision for the project by stating, "Seoul will be an exemplary World Design Capital as it develops a strong programme for 2010." Former Icsid President and WDC Founding Chair Prof. Dr. Peter Zec provided attendees with the background on the creation of the WDC competition and expressed his delight for Seoul.
---
For more information, please contact:
Ms. Younghee Song
Seoul Metropolitan Government – WDC Division
T: + 82 2 6361 3567
E:
wdc2010@seoul.go.kr
Ms. Andréa Springer
Icsid Communications Manager – WDC Organising Committee
T: + 1 514 448 4949 ext. 232
E:
aspringer@icsid.org
About World Design Capital (WDC)
While there are many awards that recognise individual accomplishments in design, the World Design Capital™ (WDC) designation is unique as it aims to focus on the broader essence of design's impact on urban spaces, economies and citizens. The designation provides a distinctive opportunity for cities to feature their accomplishments in attracting and promoting innovative design, as well as highlight their successes in urban revitalisation strategies.
www.worlddesigncapital.com
About the International Council of Societies of Industrial Design (Icsid)
The International Council of Societies of Industrial Design (Icsid) is an international non-governmental organisation for professional industrial design. Founded in 1957, Icsid currently counts over 150 members in more than 50 countries, representing an estimated 150,000 designers worldwide. Icsid members are professional associations, promotional societies, educational institutions, government bodies, corporations and institutions – all of which contribute to the development of the profession of industrial design.
www.icsid.org
About the International Council of Graphic Design Associations (Icograda)
The International Council of Graphic Design Associations (Icograda) is the world body for professional communication design. It is the representative international non-governmental organisation, unifying the voice of graphic design, visual communication, design management, design promotion and design education. Founded in London in 1963, Icograda holds consultative status with UNESCO, UNIDO, ISO, IFFRO and WIPO.
About the International Design Alliance (IDA)
In a major step for the global design community, Icsid and Icograda have committed themselves to forming the collective voice of design through the creation of the IDA. The IDA is positioned as the design advocate working with international organisations, governments and industry.