Posters selected for Golden Bee 9: Moscow International Biennale of Graphic Design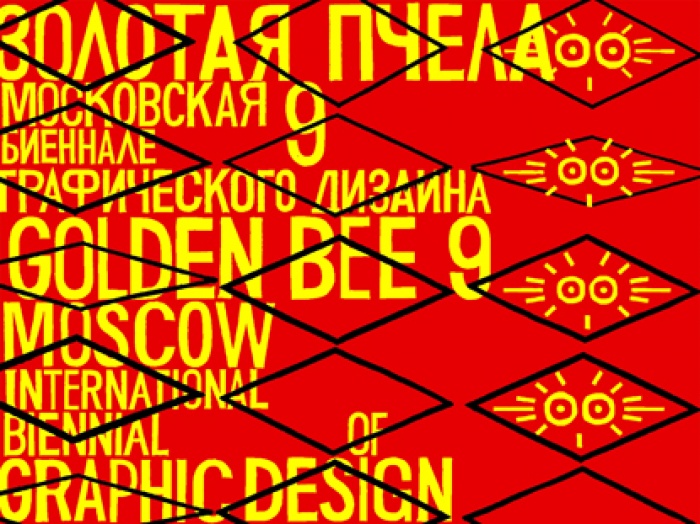 08.08.2010 News
Moscow (Russia)
- Designers from 50 countries around the world have been selected by the Pre-Selection Committee to take part in Golden Bee 9. These works will be on display in the Central House of Artists from 25 August - 3 September 2010.
Organised in part by the , Golden Bee - Moscow International Biennial of Graphic Design, collects the best world achievements in graphic design. For this edition, individuals and groups of artists were invited to submit an unlimited number of works under the categories of Poster, Graphic Design and Music, Graphic Design and Religion, Graphic Design and New Media and Special project 'All Gold of the World'.
This year's Pre-Selection Committee consisted of:
Galina Bunina, Russia
Yuri Gulitov, Russia
Elena Kitaeva, Russia
Tagir Safaev, Russia
Olga Severina, Ukraine
Nikolay Shtok, Ukraine
Alexander Sinyagin, Russia
Yuri Surkov, Russia
Boris Trofimov, Russia
Arkady Troyanker, Russia
Ilya Yudovich, Russia
From the
full list of designers
, Golden Bee Grand Prix and Golden Bee Award Diplomas will be awarded for each category as well as special awards such as the Russian Academy of Fine Arts and Academy of Graphic Design Diplomas, Rodchenko Award, Golden BeeLoved Super Cup, IBCC Prize, etc.
Prizes will be awarded by the International Jury, composed of:
Igor Gurovich, Russia
Dylan Kendle, United Kingdom
Stefan Sagmeister, United States
Ahn Sang-Soo, South Korea
Niklaus Troxler, Switzerland
Catherine Zask, France
As part of a full programme of events, the Awards Ceremony will take place on 2 September 2010 at 20:00 at the Central House of Artists Concert Hall.
Find out more at:
www.goldenbee.org
---
For more information, please contact:
Russian State Library
T: +7 (495) 697 7756
Serge Serov
President of the Biennale
T: +7 (495) 611 5966
E:
serovserge@gmail.com
E:
W:
www.goldenbee.org