Q: WHAT DO JIMMY CHOO, ALLAN ZEMAN, KARIM RASHID AND RON ARAD HAVE IN COMMON?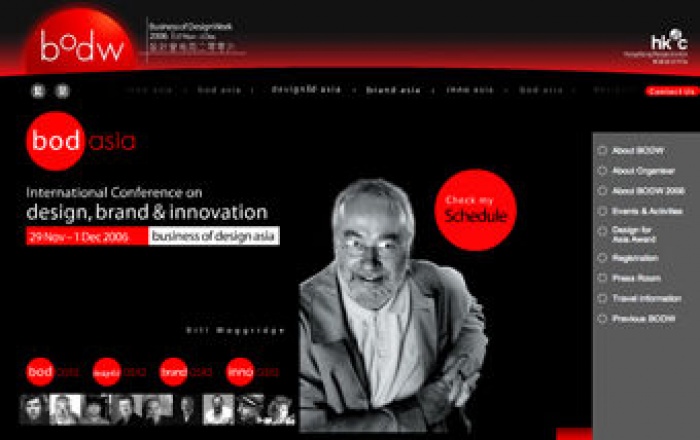 14.11.2006 News
Hong Kong (China)
-
A: They are all speaking at Business of Design Week 2006, Asia's leading international event dedicated to design, brand and innovation

Business of Design Week (BODW) 2006, Asia's leading international event dedicated to design, brand and innovation, will be held from Monday 27 November - Saturday 2 December in Hong Kong. Now in its fifth year, Business of Design Week has become one of the most significant annual events on the international design calendar. Hong Kong hosts this gathering of high calibre thought leaders who come to share their experiences and visions for the future of brand, design and innovation.

Combining an international conference and forum, a design exhibition, an award presentation and other concurrent activities, the six-day event explores the mutual relationship of design and business from a global perspective.

This year, over 10,000 participants and more than 70 international speakers will come together from around the world to debate and discuss, learn and listen, share and collaborate, helping to make BODW 2006 the biggest and best yet.

The main event of the week-long programme, the Business of Design (BOD) Asia international conference (29 November - 1 December), focuses on the importance of robust design industries for economic and cultural growth. Renowned international speakers include:
- Jimmy Choo. An internationally-renowned couture shoe designer and master craftsman.
- Karim Rashid. A leading global figure in the field of design, best known for the diversity of his projects, and for bringing his minimalist high design aesthetic to a mass audience.
- Ron Arad. One of the most influential product designers of our time, known for his talents in experimenting with processes and with advanced technologies.
- Stefan Sagmeister. One of today's most important graphic designers whose work won a coveted Grammy Award.
- Yung Ho Chang. One of the world's most closely-watched Chinese architects. Professor and Head of the Department of Architecture at MIT and a multi-award winning architect.
- Zandra Rhodes. One of the new wave of British designers in the 1970's. A multi-talented designer famous for her flair for challenging fashion conventions.

In addition, this year's Design for Asia Award winners will be announced during Business of Design Week and presented at HKDC Annual Award Gala Dinner on 30 November. "We'll be paying tribute to companies and individuals from around the world that have generated business success through good design that reflects, or has an impact on, the Asian lifestyle at the Design for Asia Award," said Freeman Lau, Chairman, Board of Directors, Hong Kong Design Centre.

To find out more about Business of Design Week 2006, visit the official website www.bodw.com.hk.

---

For further information please contact:
Tammy Li
T: (852) 2533 9988
E: tamli@webershandwick.com

The Hong Kong Design Centre is an associate member of Icograda.