ANTIAIDS-UKRAINE: 2 INTERNATIONAL POSTER AND COMPUTER ANIMATION COMPETITION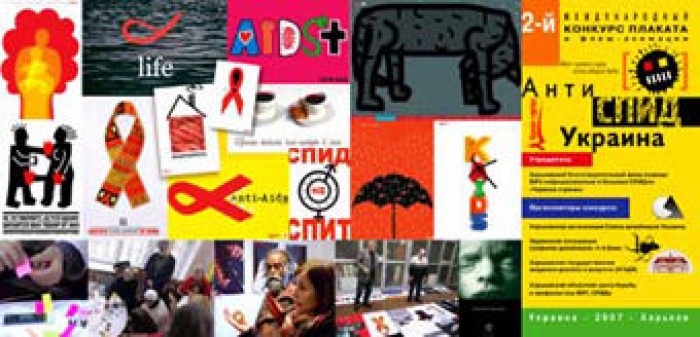 13.11.2006 News
Kharkiv (Ukraine)
- In 2007, twenty years will have passed since the first HIV infection case was registered in Ukraine. A whole generation has grown up in this time. This generation lives with this disease. We understand that to great extent this is a behavioral disease. And as a result, youth our future - turned out to be most vulnerable to it. This has become a fact for any country.
The poster as a peculiar means of communication can become one of the most effective means of education of young healthy generation, healthy first of all from the point of view of a moral point of view. We cannot overcome AIDS yet. But we can and we must change the attitudes of young people towards the problem, the attitude towards their health. We can try to influence their motivation to healthy way of life, to strengthen the instinct of healthy life in their consciousness, to help them be healthy and happy.

It is for this reason, that the Chervona Strichka Kharkov Regional Charitable Foundation for Assistance to HIV/AIDS Affected People has come together with
- The Kharkov Organization of the Ukraine Designers' Union
- The Ukrainian Association of the Graphic and Design Artists "The 4th Block"
- The Kharkov State Academy of Design and Arts
- The Kharkov Regional Center for AIDS Prevention and Control
to organise AntiAIDS-Ukraine: 2 International Poster and Computer Animation Competition.

Goals And objectives of the competition
- Spread HIV/AIDS prevention and motivate young people to a healthy way of life.
- Include of the best competition work as a part of the existing HIV/AIDS Poster Exhibition exhibited throughout the world.

This is the second international competition 'AntiAIDS-Ukraine'. 110 designers from 15 countries sent 230 posters to the first competition. The exhibition created from these posters has become international and it has already been shown in different cities in the Ukraine and other countries.

Criteria for submission
Poster:format not more than 60?90 cm; offset, silk-screen or plotter printing.
Computer animation: FLASH film, animated image, dynamic poster, social advertisement.

The works are submitted in an uncompressed AVI format (PAL, 720x576 px, 25 frames per second, duration not more than 30 sec), executed by any program means.

Eligibility
The participants in the competition may be physical persons or organisations.

Language of official communication
Ukrainian, Russian and English.

Deadline
1 March 2007

The Prize Fund
The best of the submitted works are awarded with encouragement and special prizes. The prize fund of the competition is 5000 USD.

Selection committee
- Valerii Galchenko (Ukraine)
- Vladimir Kakurin (Ukraine)
- Vladimir Lesniak (Ukraine)
- Mikhail Opalev (Ukraine)
- Maria Ruban (Ukraine)

International jury
- Oleg Veklenko (Ukraine)
- Maja Wolna (Poland)
- Chaz Maviyane-Davies (Zimbabwe)
- Sergei Serov (Russia)
- Parisa Tashakori (Iran)

Complete Regulations
to download the complete competition regulations.


---

For further information please contact:

Chervona Stricka Charitable Foundation:
6 Borby Street, Kharkiv, 61044 Ukraine.
T: +38 057 713-44-78
F: +38 057 392-09-08
E: chervona_strichka@ic.kharkov.ua
W: