q.media champions VCUQatar Students' attendance at Cannes Lions International Advertising Festival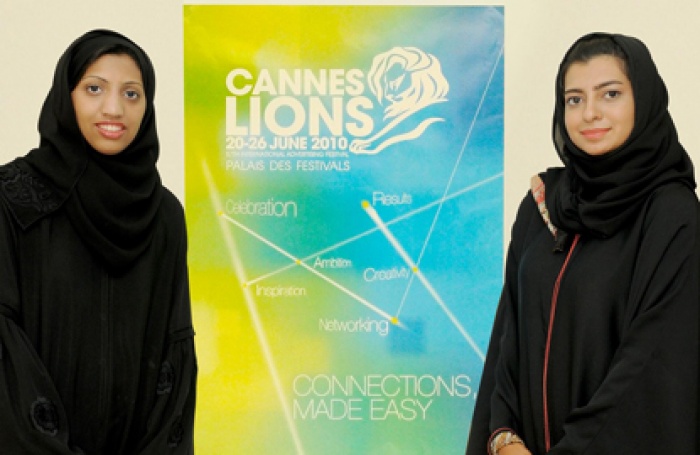 21.06.2010 News
Doha (Qatar)
- is proud to announce two Qatari senior Graphic Design students have been selected by q.media to participate in the Cannes Lions International Advertising Festival from 20-26 June, 2010.
Fatima Mousa Zainal, a senior Graphic Design student was nominated for the award and will be accompanied by another senior Graphic Design student Narwa Adel Al-Mutlaq for the week-long activities in the truly global meeting place for professionals in the communications industry. As sponsor of the award, q.media is offering full delegates passes to the students which will entitle them to attend all Festival seminars, workshops, opening and closing ceremonies and give them the privilege to view the best creative works (promo, media, design, press, outdoor, film, etc) and shortlists from all over the globe.
H.E. Sheikh Al Hussain Bin Ali Al Thani chief executive officer of q.media said, "We truly believe that the best and wisest investment is in future generations. The purpose of this initiative is to introduce future Qatar-educated graphic designers to the Advertising World stage and offer them ringside seats to see how excellence and creativity are being appraised, acclaimed and rewarded."
The Cannes Lions International Advertising Festival is a global festival for those working in advertising and related fields. The seven-day festival, incorporating the awarding of the Lions awards, is held yearly at the Palais de Festivals in Cannes, France. Over 15 000 of delegates from around the world attend the festival to view 25 000 shortlisted works and attend seminars, workshops and master classes. The week's activities include four award ceremonies - culminating with the Film, Titanium and Integrated Lions awards - as well as an opening and closing gala.
q.media was chosen by the International Advertising Festival to be responsible for promoting the Cannes Lions and the Dubai Lynx Festivals in Qatar and for supporting creativity within the Qatari flourishing advertising community. This representation is yet another recognition of qmedia's leading role in Qatar within the media and advertising industries. "We want to support the Qatari talents' creativity spirit and above all, inspire them and motivate them in their academic journey and later on professional endeavours. Also, the purpose of this initiative is to promote this massive world-class event in Qatar and hope to see Qatari made works entering this exceptional competition in the future," added H.E. Sheikh Al Hussain Bin Ali Al Thani.
Assistant Dean for Student Affairs at VCUQatar Valerie Jeremijenko said, "The opportunity to have two students attend the Cannes Advertising Festival is simply incredible and we look forward to a very fruitful relationship with q.media. I am sure that this award will be much sought after in the future."
Besides sponsoring the students attendance at the Festival, q.media, in partnership with VCUQatar, will also be organising an exclusive one-day event whereby 2010's winning entries from all over the world will be showcased to VCUQatar students. This event will be also attended by the Qatari advertising community. "It would be an excellent opportunity for the students to mingle with key players from the industry and boost their motivation and determination," concluded H.E. Sheikh Al Hussain Bin Ali Al Thani.
---
For more information, please contact:
Priya D'Souza
Media Officer
Virginia Commonwealth University in Qatar
PO Box 8095
Doha, Qatar
T: +974 4927807
F: +974 4817058
E:
plddsouza@qatar.vcu.edu
About q.media
q.media is a pioneering media house founded in 2004 to provide the most innovative and efficient media tools for premium audience delivery. Apart from representing a number of global televisions, radio channels, magazines and newspapers in Qatar and the wider Middle East, qmedia has collaborated with world class French company JC-Decaux, and is now the fastest growing outdoor media company in the Middle East.
www.qmediame.com
About Cannes Lions, the 57th International Advertising Festival
The Cannes Lions International Advertising Festival is the world's biggest celebration of creativity in communications. As the most prestigious international advertising awards, more than 22,500 entries from all over the world are showcased and judged at the Festival. Over 6,000 delegates from 90 countries attend seven days of workshops, exhibitions, screenings, master classes and high-profile seminars by the likes of Sir Martin Sorrell, Kofi Annan, or Steve Ballmer.
www.canneslions.com
About Virginia Commonwealth University in Qatar
Established in the United States in 1838 and in Qatar in 1998, Virginia Commonwealth University offers students from all over the world the opportunity to earn Bachelor of Fine Arts degrees in fashion, graphic, interior design and painting & printmaking and Master of Fine Arts degrees in design studies. A team of highly skilled professors provide rigorous curricula that prepare students to assume leadership roles in the professional design field of their choice. VCUQatar is supported and funded by the Qatar Foundation.
www.qatar.vcu.edu
About Qatar Foundation for Education, Science and Community Development
Founded in 1995 by His Highness Sheikh Hamad Bin Khalifa Al Thani, Emir of Qatar, and chaired by Her Highness Sheikha Mozah Bint Nasser Al Missned, Qatar Foundation is a private, non-profit organisation committed to the principle that a nation's greatest natural resource is its people. The headquarters of Qatar Foundation are located within its flagship project, Education City, a fourteen million square-meter campus which hosts numerous progressive learning institutions and centres of research, including branch campuses of six of the world's leading universities, plus a cutting-edge research and development centre.
www.qf.org.qa