RGD Ontario invites submissions for Design at Work 2010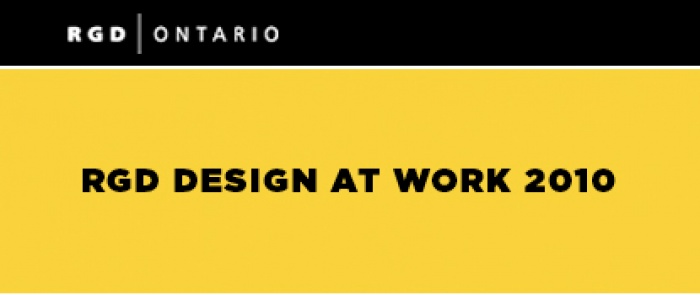 17.05.2010 News
Toronto (Ontario)
- The (RGD Ontario) presents Design at Work, a juried exhibit of professional graphic design demonstrating how design creates value for business.
For Design At Work, RGD Ontario invites submissions from R.G.D. and Provisional RGD members whether they own graphic design firms, are employed within a graphic design firm or are employed in a design department within a corporation or institution.
Projects must have been created, conceived or produced between 30 June 2008 and 1 June 2010. An R.G.D. or Provisional RGD must have been the Creative Director, Art Director or Principal Designer on the project.
Self-promotional work is not eligible for consideration. An actual client, whether internal or external, must have been involved.
Approximately 50 projects in eight categories will be selected by a jury of marketing and design executives. Each jury team of client and designer selects an identified number of projects to be included in the annual publication and exhibit. Each team also selects one project as their "judges' pick" to receive special recognition in the book, exhibit and media.
Winners will be showcased in a printed publication, which will be distributed to 1500 brand and marketing executives across Canada. In addition, it will be distributed at trade shows and conferences in which RGD Ontario is involved.
Deadline: 11 June 2010, 17:00
Find out more:
www.designatwork.ca
---
For more information, please contact:
Contact RGD Ontario
The Association of Registered Graphic Designers of Ontario (RGD Ontario)
96 Spadina Avenue, Suite 503
Toronto ON
M5V 2J6 Canada
T: +1 888 274 3668
T: +1 416 367 8819 (in Toronto)
F: +1 416 367 9150
E:
info@rgdontario.com
W:
www.rgdontario.com