Chicago International Poster Biennial hosts 2nd Biennial Jury Exhibition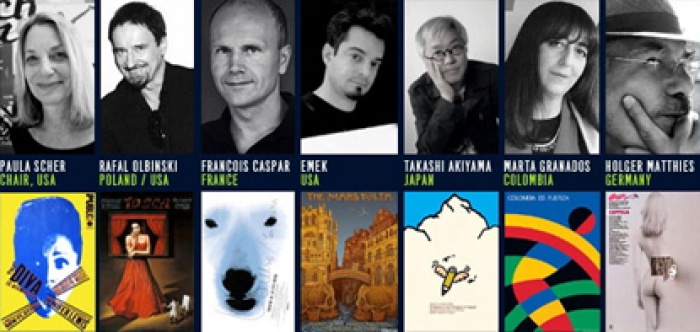 17.05.2010 News
Chicago (United States)
- On 29 May, take part in the highlight of the jury weekend: the grand opening of the 2nd Biennial Jury Exhibition. Hosted by the Chicago International Poster Biennial Association (CIPBA), this exhibition will feature nearly 100 works of these seven masters.
Have a glass of champagne and snag a copy of the gorgeous 120-page color catalog of the exhibition and a 24 in x 36 in Biennial poster by Paula Scher, printed by our friends at the Graphic Arts Studio in Barrington, IL.
The evening will also feature a raffle and live auction of Miki Shim-Rutter's famous poster dresses—each transforming one of the judge's posters into a wearable work of art.
Make your reservation now! Space is limited.
661 West Diversy Pkwy, Chicago
Students: USD $25 / Others: USD $50
Price includes official 2nd Biennial poster by Paula Scher, exhibition catalog, and champagne.
Register for a discounted pass to all three jury weekend events:
Rafal Olbinski and "Freedom on the Fence," Friday 28 May
Biennial Jury Exhibition Grand Opening, Saturday 29 May
Takashi Akiyama, Sunday 30 May
Students: USD $40 / All Others: USD $80
Find out more:
www.chicagobiennial.org/news
---
For more information, please contact:
Project Coordinator
Chicago International Poster Biennial
T: +1 312 494 5250
E:
info@chicagobiennial.org
About the Chicago International Poster Biennial Association (CIPBA)
The CIPBA works with design professionals and students, professional associations, educational and civic institutions, and members of the public to advance our mission of promoting visual literacy as a professional responsibility, advancing international cooperation as a social imperative, and celebrating cultural diversity as our greatest tool for understanding and peace. With the endorsement and backing of Icograda, the CIPBA produces world-class competitions, public exhibitions, widespread distribution of publications, and innumerable educational initiatives.
www.chicagobiennial.org