RGD seeks entries from across the globe for first-ever Social Good Design Awards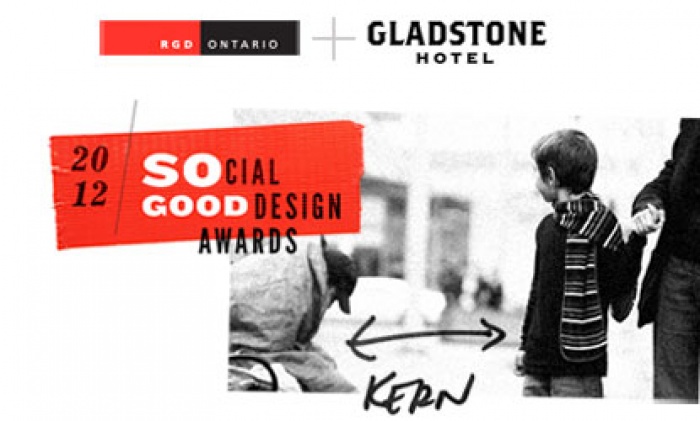 23.08.2012 News
Toronto (Canada)
- The (RGD) and the
Gladstone Hotel
invite international submissions for the first-ever Social Good Design Awards. The "So Good" Awards honour graphic design projects done under the theme of communication design for social good; work with the power to incite action and make meaningful change in the way we live our lives.
Today's graphic designers have an ever-greater responsibility to visualise the significant issues facing our society and find new and powerful ways to incite change in the way we behave. When we approach these issues creatively, we can make a real difference in the world. Ultimately, it is time for us to apply our creativity to shift thinking toward alternative solutions to ethical issues that impact our lives and the world we live in.
The Social Good Design Awards is an exhibit that gives voice to the important work designers are doing and can do to change the way we think and act.
Winning projects will be on display in an exhibit at Toronto's Gladstone Hotel from 9-18 November 2012 and in a printed catalogue. An awards reception will take place on Saturday, 10 November.
Categories
Non-profit client-initiated projects
Example: Brand identity for a museum
For-profit client-initiated projects
Example: Website funded by an energy company to reduce energy use
Designer-initiated projects
Example: Poster design for a petition to demonstrate support of an issue that is of concern to the designer
Eligibility
RGD and the Gladstone Hotel invite submissions of communication design projects from all designers worldwide. Projects must have been created, conceived or produced between 1 September 2007 and 1 September 2012. Conceptual concepts are welcome.
Judges
Fees
CAD $30 for non-members
CAD $15 for members*
*Including members of RGD, GDC, SDGQ and members of other Icograda Associations
Deadline
Entries, forms and fees must be received by 19:00 on Monday, 24 September 2012.
For details on submission requirements, categories and selection criteria, visit
www.rgdontario.com/sogood
.
---
For more information, please contact:
Association of Registered Graphic Designers of Ontario (RGD Ontario)
96 Spadina Avenue, Suite 210
Toronto ON
M5V 2J6 Canada
E:
programs@rgdontario.com
About RGD Ontario
RGD Ontario was created by an Act (Bill Pr56) of the Ontario Legislature in
1996 to grant graphic designers who qualify the right to use the designation
Registered Graphic Designer (R.G.D.). RGD Ontario is the only graphic design
association in North America to have this kind of legislation. RGD Ontario is a Professional Member of Icograda.
rgdontario.com