IIT Guwahati, IDC and IIT to host sixth Typography Day in 2013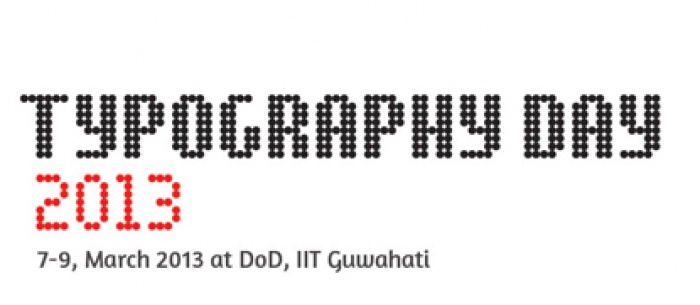 21.08.2012 News
Guwahati (India)
- From 7-9 March 2013, the sixth Typography Day take place at the Department of Design (DoD) at the Indian Institute of Technology Guwahati (IIT Guwahati), hosted in collaboration with the (IDC), Indian Institute of Technology Bombay (IIT Bombay) with support from India Design Association (InDeAs) and Aksharaya.
The theme for this year's event is 'Display Typography'. The event will feature a day of workshops on Typography and Calligraphy followed by two days of conference dedicated to display typography. The international conference which will be devoted to addressing issues faced by type designers, type users and type educators. The conference includes presentations of invited keynote speakers, eminent academicians, blind juried papers, industry professionals, research scholars and students. The event will also host an exhibition of selected posters and typographic works of students and faculty members from Design Institutes in India.
The event is planned over three days:
Day 1: Workshops on Typography + Meet on 'Research in Typography'
Day 2-3 : Conference focusing on 'Display Typography'
The Conference will focus on the following issues:
Experiments and Explorations in Display Typography design.
Display Typography design with multilingual scripts.
Display Typography design in native (indigenous) Scripts.
Display Typography design within local contexts.
Research activities in Display Typography.
Visit:
www.typoday.in
Poster Design Competition
Design a poster to express the following words in your own script:
'Between the Lines' – within the context of your World
Design a Poster to express the meaning of the above phrase using your native script and language. Calligraphic or digitally created letterforms or existing fonts, or a combination of these can be used for the poster.
For more details:
www.typoday.in/poster.html
Call for Papers
Organisers invite a 300-600 word abstract (with examples) in three categories:
Concerns in Display Typography Design (Academic Research/Presentations).
Innovative applications of Display Typography Design (Industry Presentations/Case Studies).
Student projects in Display Typography Design (Student Projects)
For more details:
www.typoday.in/paper_call.html
---
For more information, please contact:
Udaya Kumar Dharmalingam or Sougata Karmakar
Typography Day 2013,
Department of Design
IIT Guwahati
Guwahati 781039
Assam, India
E:
typographyday@gmail.com
T: +91-361-2582500, +91-361-2582463, +91-361-2582464
F: +91-361-2690762