SAPPI PRESENTS IDEAS THAT MATTER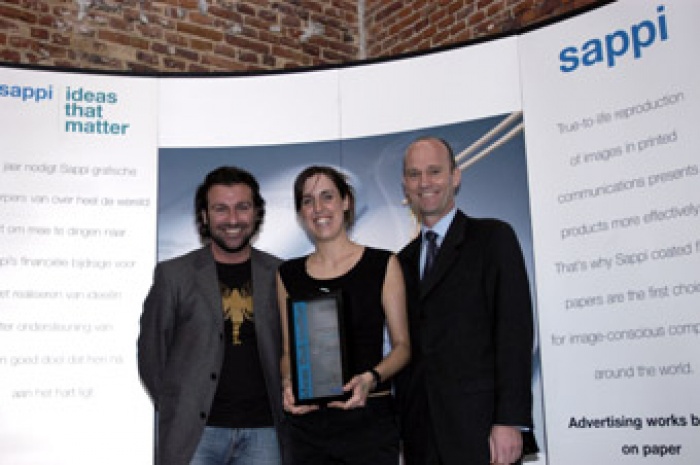 26.04.2005 News
Brussels (Belgium)
- Sappi, the world s leading manufacturer of coated fine paper used in the production of high quality promotional material, is currently presenting a series of creative communication campaigns that support worthy causes across Europe. The exhibition was opened at the fascinating Hooy Kaye Museum on 20 April and will remain open until 5 May 2005.
At the opening of the exhibition, Sappi thanked all the participants and congratulated the winners on their excellent creative concepts and the innovative ideas they used in their proposed campaigns.
The international panel of judges in this year s European-leg of Sappi Ideas that Matter praised the quality and number of well conceived and designed print campaigns," confirmed Sappi Fine Paper Europe s communications manager Craig Halgreen. In 2004 eight campaigns were selected from 244 applications from 21 countries and we are proud to be involved in the realisation of these designs. 35 applications were received from designers in the Benelux.
One of the eight funded campaigns is in support of the Belgian non-profit organization called the Vlaamse Alzheimer Liga . Designed by Nathalie Willems, the creative campaign consists of a series of posters and cards that raise awareness of the consequences of Alzheimer disease and support relatives of people who suffer from Alzheimer disease. The campaign is a prominent feature in the exhibition.
Sappi s Ideas that Matter programme offers graphic designers grants of up to Euro 50,000 for the realisation of their creative ideas that support social, environment and humanitarian causes. Sappi commits Euro 1 million to this programme annually. The designers are required to submit their creative concepts, along with a description of the campaign, its objectives, an estimated cost for implementation and information about the non-profit organisation that looks after the chosen cause when they apply for the grant.
The successful campaigns are selected by an independent committee of graphic designers on the basis of their creativity and potential effectiveness in promoting the cause. The 2004 European selection committee came from Austria, Belgium, Denmark France and Italy.
This is the sixth year that Sappi funds designs for worthy causes and graphic designers are once again invited to submit their applications before 31 May 2005. Application forms can be requested by
Ideas.That.Matter@sappi.com
, or by a visit to
www.sappi.com
.
---
For further information please contact:
Anneleen Otte
B-3620 Lanaken
Belgium
T: +32 89 719 688
F: +32 89 719 690
E:
Anneleen.otte@sappi.com