SHIGEO FUKUDA PASSES AWAY AT 76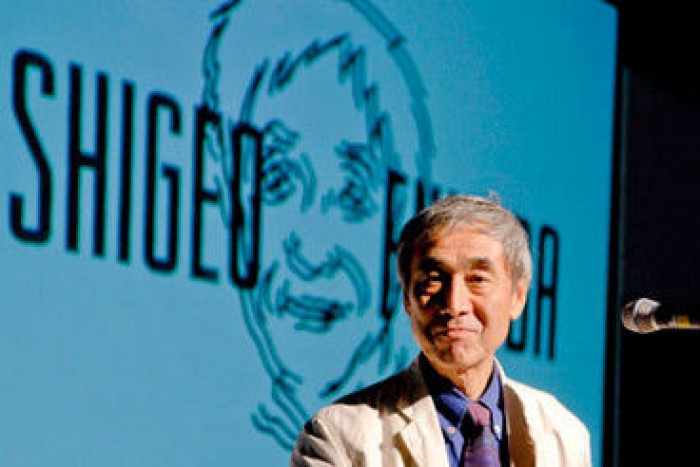 15.01.2009 News
Tokyo (Japan)
- At the age of 76 years old, Mr. Shigeo Fukuda passed away suddenly in Tokyo on Sunday, 11 January 2009 as the result of a subarachnoid hemorrhage. As one of the founding members and directors of the Japan Graphic Designers Association (JAGDA), Mr. Fukuda contributed profoundly to the development of the Association. The whole creative industry and society of Japan was struck with this sad and sudden news. His funeral has already been held with family members.
Mr. Fukuda was deeply respected member of the Icograda community, serving as a Vice President of the Executive Board from 1993-1995. He was exceptionally generous with his wisdom, wit and time during numerous Icograda Congresses, Design Weeks and events, including
Visualogue
, the 2003 Icograda World Design Congress in Nagoya, Japan. Most recently he spoke and led a student workshop at the , Korea in July 2008.
"He was one of the greatest ambassadors of design and Icograda. His designs and illustrations were the extension of boundless passion and universal joy for living. His grace and wit will be greatly missed, yet we will always cherish and celebrate his work and caring friendship." said Prof. Don Ryun Chang, Icograda President.


Above: Fukuda's poster for the 2003 Icograda World Design Congress, Nagoya, Japan (left) and his contribution to the 2007 Icograda international exhibition, Posters for Cultural Diversity (right).
© Shigeo Fukuda


Born in Tokyo in 1932, Shigeo Fukuda graduated from the Tokyo National University of Fine Arts and Music in 1956. His main field of activities were graphic design and three-dimensional design. He taught at his alma mater from 1973 to 2002, in the Graphic Design Department of Yale University in 1982 and 1984, and served as guest professor at a number of universities in Japan, China and Taiwan (Chinese Taipei).
Fukuda held solo exhibitions in New York (IBM Gallery, 1967), San Francisco (Asian Art Museum, 1987), Quimper (Quimper Center D'Art Contemporain, 1991), Buenos Aires (Museo Nacional de Bellas Artes, 1993), Toyama (Museum of Modern Art, Toyama; 1995), Tokyo (National Museum of Modern Art, Tokyo; 1997), Warsaw (Poster Museum at Wilanów, 1995), and China (Xi'an, 2002; Chengdu, 2003; and Turpan, 2004).
During his career he was awarded many important international prizes including the 1972 International Poster Biennial, Warsaw gold prize; the 1985 Moscow Poster Biennial first place, Russia; the 1995 Helsinki Poster Biennial Grand Prix, Finland; the First Prize in Slovakia (1993); Savignac Prize at the Salon International de l'Affiche at UNESCO, Paris (1995).
Fukuda was inducted into the Art Directors Club (ADC) Hall of Fame in New York in 1987, and in Tokyo in 2006. In Japan, he received the 1976 Recommended Artist's Award from the Ministry of Education, the 1997 Ministry of Trade and Industry meritorious service prize, and the 1997 Purple Ribbon Medal.
He served as president of JAGDA (2000-2009), as a committee member of the Tokyo ADC, and as a Japanese representative to AGI (Alliance Graphique Internationale). In 1986 he received the Honorary Royal Designer for Industry distinction from the Royal Society of Arts, London.
In honour of Shigeo Fukuda, Icograda invites you to contribute personal recollections and tributes on the
Icograda blog
.
---
For more information, please contact:
Chika Kudo
JAGDA Secretariat
Japan Graphic Designers Association Inc.
Midtown Tower 5F
9-7-1 Akasaka
Minato-ku, Tokyo
107-6205 Japan
E:
kudo@jagda.org