'STANDARDS FOR A SAFER WORLD': 36TH WORLD STANDARDS DAY, 14 OCTOBER 2005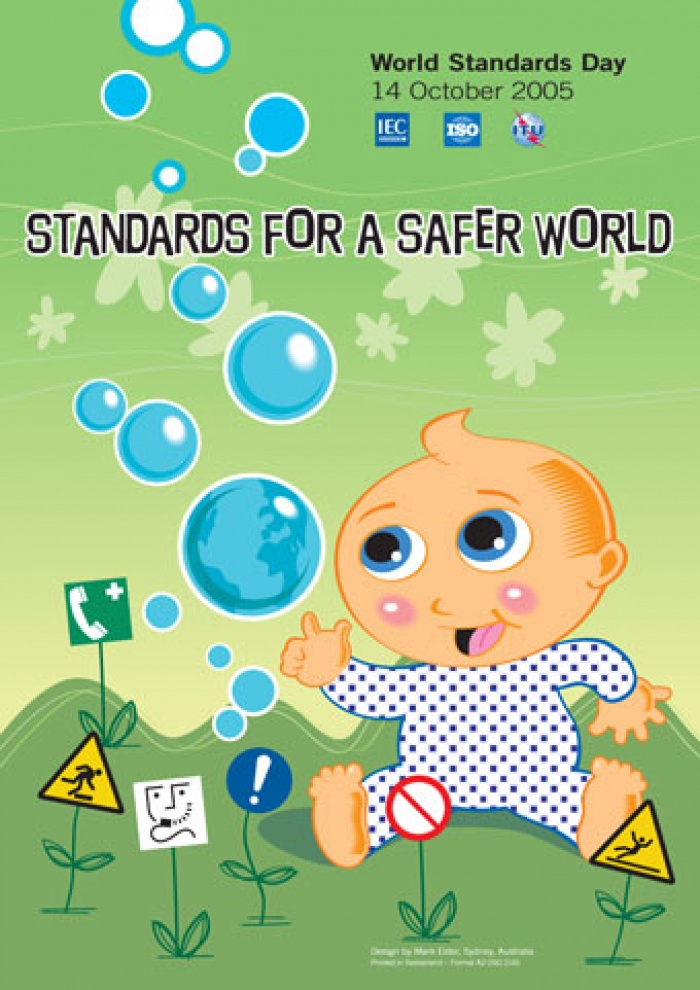 10.10.2005 News
Geneva (Switzerland)
- Each year on 14 October, the members of IEC, ISO and ITU celebrate World Standards Day, which is a means of paying tribute to the collaborative efforts of the thousands of experts worldwide who develop the voluntary technical agreements that are published as international standards.
International Standards accommodate people's desire to live in a safer, more secure world by providing a valuable safety net. 'Standards for a safer world' is the theme of the message signed by the leaders of the three principal international standardization organizations to mark World Standards Day 2005.
The three signatories are Mr. Renzo Tani, President of the International Electrotechnical Commission (IEC); Professor Masami Tanaka, President of the International Organization for Standardization (ISO), and Mr.Yoshio Utsumi, Secretary-General of the International Telecommunication Union (ITU).
"Standards developed at the international level through IEC, ISO and ITU are available for use at the national and regional levels to meet the needs of society at large, the market and government regulators," the three leaders point out. They see standards as vital in disseminating best practices and new technologies, while avoiding new barriers to trade that national security and safety regulations may create.
Both product-specific (for example, for laptop computers) and system safety standards (such as functional electrical safety in a factory), for those technologies involving electricity, electronics and related technologies are produced through the IEC. Product standards allow goods to be certified to internationally recognized safety standards. Hazard abatement measures - against electric shock or the effects of electromagnetic emissions - are also addressed in IEC standards.
Safety concepts applied to construction, transport, the home and the workplace feature in the ISO standards portfolio. From machinery safety standards, food safety and quality (including a new food safety management system), protection of car drivers and occupants (through child restraint systems, anti-locking braking systems and airbags), to safety in buildings, including fire and alarm systems, ISO standards help to make work, the home and transport safer.
In the field of cybersecurity, ITU is taking a leading role, developing standards to combat cyber crime such as identity theft. The organization is also working on standards to allow the prioritization of calls during disasters such as hurricanes and transportation accidents, clearing communications networks of non-urgent calls.
"IEC, ISO and ITU together offer a complementary portfolio of thousands of International Standards specifically focusing on safety and security," declare the three organizational heads. "Implementation of IEC, ISO and ITU International Standards, both nationally and regionally, help to make the world a safer place; and our standards currently under development address the new safety and security challenges of the 21st century. Together, IEC, ISO and ITU are producing 'Standards for a safer world.'"
---
For further information please contact:
ISO contact:
Roger Frost
Press and Communication Manager
T: +41 22 749 01 11
F: +41 22 733 34 30
E:
frost@iso.org