THE CITY OF MONTREAL LAUNCHES NOUVELLES VILLES DE DESIGN/NEW DESIGN CITIES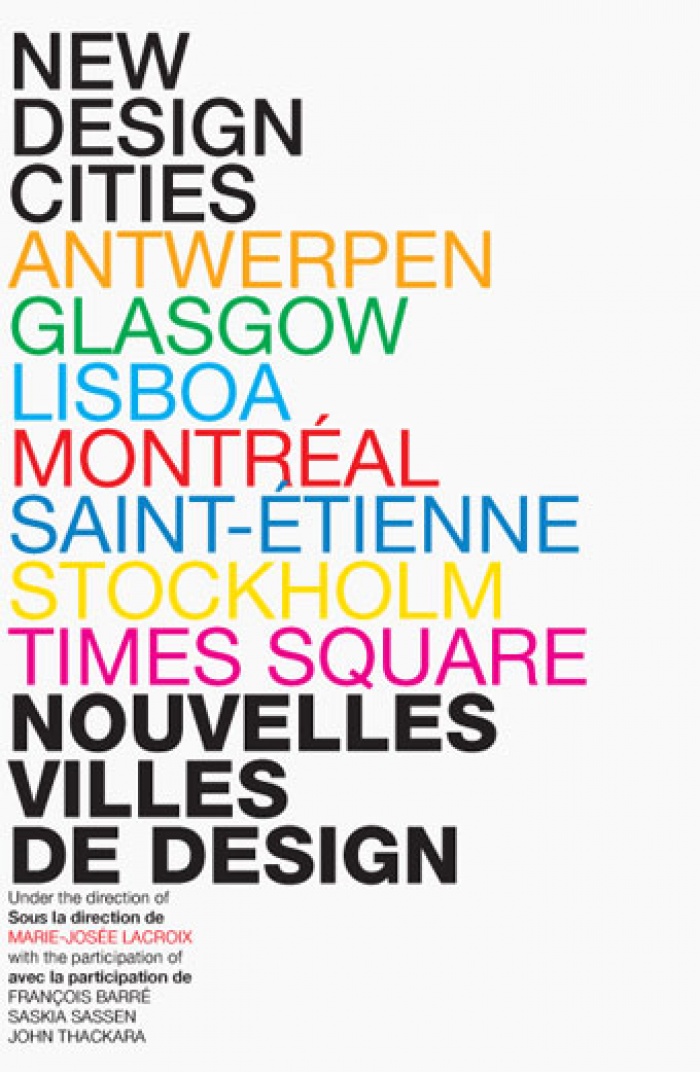 09.10.2005 News
Montreal (Canada)
- On 22 September 2005, the city of Montreal launched the book
Nouvelles villes de design/New Design Cities
, which is based on the proceedings of the symposium which was held in Montreal from 6>8 October 2004, as part of the 'Dix-septiemes Entretiens du Centre Jacques Cartier'. The launching of this publication coincides with the introduction of the city's new design action plan.
The book
Nouvelles villes de design/New Design Cities
is a second step, after the symposium, in the implementation of a network of synergy and awareness among emerging cities of design, initiated by the cities of Montreal and Saint-Etienne. The symposium has greatly influenced the book's editorial approach, under the supervision of Marie-Josee Lacroix, Design Commissioner for the city of Montreal, as well as its lively graphic design, signed by Montreal-based orangetango agency.
Anvers, Glasgow, Lisbon, Montreal, Saint-Etienne, Stockholm and New York's Times Square are at the heart of this 330-page, richly illustrated, bilingual book. Like the symposium from which it stems, this book involves case studies (i.e. actions or events) that are at the foundation of the emergence process of these seven cities as cities of design. These concrete examples are supported by reflections by three imminent thinkers of the modern city: Francois Barre (Paris), Saskia Sassen (Chicago), and John Thackara (Amsterdam and Bangalore).
The historic characteristics and major assets of design are used as an introduction for each city/territory. The texts, by symposium-attending experts (promoters and design thinkers) enrich the cities' portraits through the opinions of mayors, renowned or emerging designers and some of the cities' dedicated residents.
The book
Nouvelles villes de design/New Design Cities
is a tool for reflection as well as a source of inspiration for all the key players involved in urban development, including elected city officials and municipal employees, urban planners, policy managers and managers of design promotion programs, experts involved in international marketing and travel promotion, designers of all fields, teachers and researchers as well as urban tourists and city dwellers.
Published in Quebec by Infopresse, with the collaboration of Editions Pyramyd in France, this book will be available in bookstores throughout Europe and North America. The purchasing price is CAD $39 (approximately USD $33.15 or EURO 27.50). For those wishing to order the publication directly from the publisher, they are invited to contact Julie-Veronique Aubin at the e-mail coordinates given below.
Nouvelles villes de design/New Design Cities
is a publication of Commerce Design Montreal, an initiative of the Ville de Montreal in association with the government of Quebec and the Ville de Saint-Etienne, in partnership with its Ecole regionale des Beaux-Arts.
---
For further information please contact:
Julie-Veronique Aubin
Les editions Infopresse
Montreal, Quebec
E:
julie-veronique.aubin@infopresse.com