STEFAN SAGMEISTER EXHIBITION IN SLOVENIA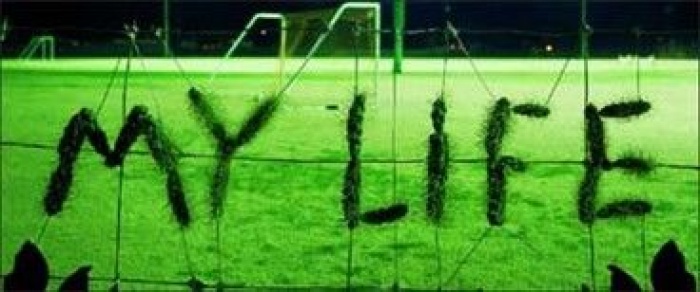 25.11.2007 News
Llubljana (Slovenia)
- The NLB Galerija Avla in Ljubljana will host the opening of Stefan Sagmeister's "Things I have learned in my life so far" on Thursday, 29 November 2007 at 20:00. The exhibition will be on display from 29 November 2007 - 18 January 2008. A special feature of the exhibition is the interactive installation Cobweb, which senses human movement
Events accompanying the exhibition include a display of billboards along Tivolska Cesta near the tobacco factory in Ljubljana, from 19 November - 13 December 2007 and a lecture by Stefan Sagmeister in Cankarjev Dom, on Wednesday, 28 November 2007 at 18:00.
Stefan Sagmeister was born in 1962 in Austria. He received his MFA in graphic design from the University of Applied Arts in Vienna and, as a Fulbright Scholar, a master's degree from Pratt Institute in New York. He formed the New York-based Sagmeister Inc. in 1993 and has since designed branding, graphics and packaging for clients as diverse as the Rolling Stones, David Byrne, Lou Reed, Aerosmith and many others. Having been nominated five times for the Grammies, he finally won one for the Talking Heads boxed set. His list of clients includes the American Institute of Graphic Arts, Guggenheim Museum, HBO and Time Warner.
Stefan Sagmeister's creative world is marked by his innovative way of merging the unmergeable. A profound understanding of the creative process is evident in his work he uses technical solutions and instruments as tools for creating beautiful "hybrids", which level the conventional boundaries between categories.
He has earned practically every important international design award. Solo shows of Sagmeister Inc.'s work have been mounted in Zurich, Vienna, New York, Berlin, Tokyo, Osaka, Prague, Cologne and Seoul. He teaches in the graduate department of the School of Visual Art in New York, and lectures extensively on all continents. In 2001 a best-selling monograph about his work titled
Sagmeister: Made You Look
was published by Booth-Clibborn editions.
Besides the visual excellence they carry, the series of exhibited posters presented under the title
Things I Have Learned in My Life So Far
are also the result of the unique circumstances surrounding their origin. After running a design studio in New York for seven years, Sagmeister decided in 2000 to conduct an experimental year, a year in which he would design no projects for clients but instead investigate how his work might change with no outside briefs or deadlines attached. Along with the many other things he did that year, he kept a diary. When the studio reopened to clients a year later, they started to get job requests with extraordinary amounts of freedom attached. This turned out to be much more challenging than he had expected.
The author describes the formation of the series in the following words: "As the weeks went by and my search for content became increasingly frantic, I wound up looking through that previous year's diary and found a list under the title 'Things I have learned in my life so far'. While the list was written down in a hurry, it was straightforward and honest (I try not to lie in my diary). All of the maxims were meant exactly as written, and though some might be banal, they contain no cynicism or mockery."
The posters were created as a reflection on things that make him happy and the finding that practically every statement (thing) is in some way related to design. The exhibited posters are related in content. At the moment when the eyes take in the last poster in the series, we get to the point of the whole sentence (maxim). The typography is composed of letters creatively designed from quotidian materials which have special meaning for the artist (e.g. various kinds of food, furniture, construction materials, macroscopic shots of parts of the body or painted body parts). The results are exceptionally interesting and colourful visual chains, which in multiple parts tell a particular maxim or thought.
The exhibition includes 28 posters in eight complete series, in which we can find the following statements: Having guts always works out for me; Everybody thinks they are right; Assuming is stifling; Thinking life will be better in the future is stupid; and I have to live now, among others.
Additionally, a projection of films will be organised in the NLB Gallery Avla, which serves to enhance the exhibited content, as well as an "interactive cobweb" sensitive to human movement, which is continually torn apart by visitors, in the end revealing the original maxim.
Along Tivolska Cesta near the tobacco factory there will be a display of 12 billboards, shown from 29 November to 13 December 2007, which round out Sagmeister's design series. On display there will be two series of posters furthering the author's understanding, such as "Trying to look good limits my life" and "Starting a charity is surprisingly easy."
In the author's words: "This is a design exhibition put together for non-designers. I have always found designs produced for designers - similar to music for musicians and art for artists - sadly insular and consequently boring. The pieces were commissioned (and paid for) by clients, and executed by a design studio using design tools within media relating to design. With all the talk about the blurring borders between art and design, I still find the two quite separate in New York day-to-day life, each employing its own distribution systems and media. My favourite quote on the difference between the two comes from the American minimalist Donald Judd: 'Design has to work. Art does not.' If I design a chair and push it to become more and more uncomfortable, gradually minimising its utility until I cannot sit on it anymore, there will be a point where it ceases to be a chair and becomes sculpture. The pieces in this publication have to work."
The author will hold a lecture on graphic design on the eve of the opening of the exhibition, Wednesday, 28 November 2007, at 18:00 in lecture room Kosovelova dvorana at Cankarjev Dom. The number of seats is limited, so please reservee your space by e-mail emzin@guest.arnes.si until 12:00 on 27 November (After your reservation has been confirmed, you may pick up your free tickets at the information centre in Cankarjev Dom).
Sagmeister will attend the opening on Thursday, 29 November 2008 at 20:00. The exhibition will be on display between 08:00 and 18:00 until 18 January 2008.
---
For further information please contact:
Jasna Rackov
Emzin, Institute of Creative Production.
Metelkova 6, Ljubljana
T: +386 1 430 35 44
M: +386 31 685 067
emzin@guest.arnes.si
This exhibition has been organised by Emzin, Institute of Creative Production, in cooperation with the Ministry of Culture of the Republic of Slovenia, Europlakat d.o.o., Osterreichisches Kulturforum Ljubljana, the City of Ljubljana, Department of Culture and Research, and Aris Jabolko, d.o.o. (www.aris-jabolko.si).