STUDENTS TACKLE GLOBAL ISSUES AT ICOGRADA DESIGN WEEK IN SEATTLE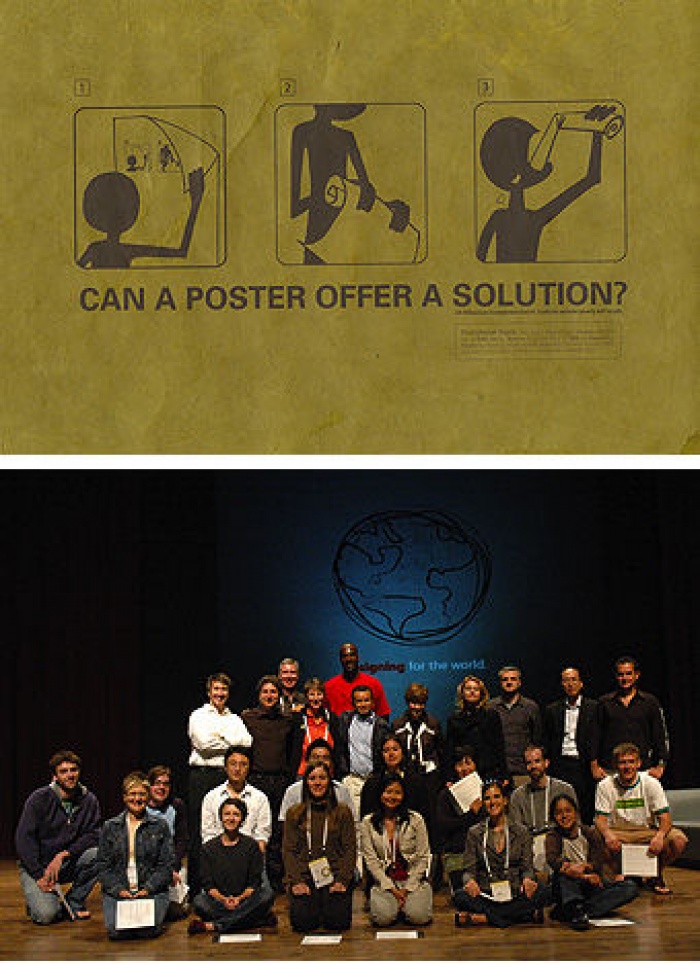 17.07.2006 News
Seattle (United States)
- During Icograda Design Week in Seattle from 9-15 July 2006, more than 70 students had the opportunity to participate in the Student Workshops that began the week. The workshops were chaired by Christopher Ozubko, Director of the School of Art at the University of Washington.
Under the leadership of an international group of design educators, the students workshopped five of the eight of the
UN Millennium Development Goals
(MDGs):
- Combat HIV/AIDS, malaria and other diseases
- Eradicate extreme poverty and hunger
- Promote gender equality and empower women
- Achieve universal primary education
- Ensure environmental sustainability
Julie Larsen, of the United Nations Programme on Youth, introduced the MDGs to the participants during the opening session on 9 July. From there, the students were divided into eight groups and spent the next four days developing individual posters addressing their group's MDG theme.
The results were presented by each workshop leader during the
Over the Fence
seminar on 13 July and displayed for conference attendees from 13-15 July. From the posters produced, Heather Anderson, of the University of Stout Wisconsin, was selected by an international jury as the winner of a two week trial internship at
Fabrica
, Benneton's Communications Research Centre. Runners up received software provided by
Adobe
.
The complete collection of posters is available
online
.
If you are interested in exhibiting the poster collection, please contact the Icograda Secretariat.
---

For further information please contact:
Brenda Sanderson
Icograda Director
bsanderson@icograda.org
---
About Icograda Design Week
Icograda Design Week in Seattle (9-15 July 2006) was an international forum for discussion about the role of design in the face of incredible change in the world. It addresed how designers can contribute to a healthy world economy while being mindful of the cultural, environmental and political impact of design. Icograda Design Week in Seattle was organised in partnership with the
AIGA Center of Cross-Cultural Design
.
About the International Council of Graphic Design Associations
The International Council of Graphic Design Associations (Icograda) is the world body for professional communication design. Founded in 1963, it is a voluntary assembly of associations concerned with graphic design, visual communication, design management, design promotion and design education. Icograda promotes communication designers' vital role in society and commerce and unifies the voices of graphic designers and visual communicators worldwide. The vision, mission and core values of the council are embodied in the statement 'leading creatively' and manifested through our members diverse activities to use design as a medium for progressive change.
About AIGA
AIGA, the professional association for design, is committed to furthering excellence in design as a broadly-defined discipline, strategic tool for business and cultural force. AIGA is the place design professionals turn to first to exchange ideas and information, participate in critical analysis and research and advance education and ethical practice.